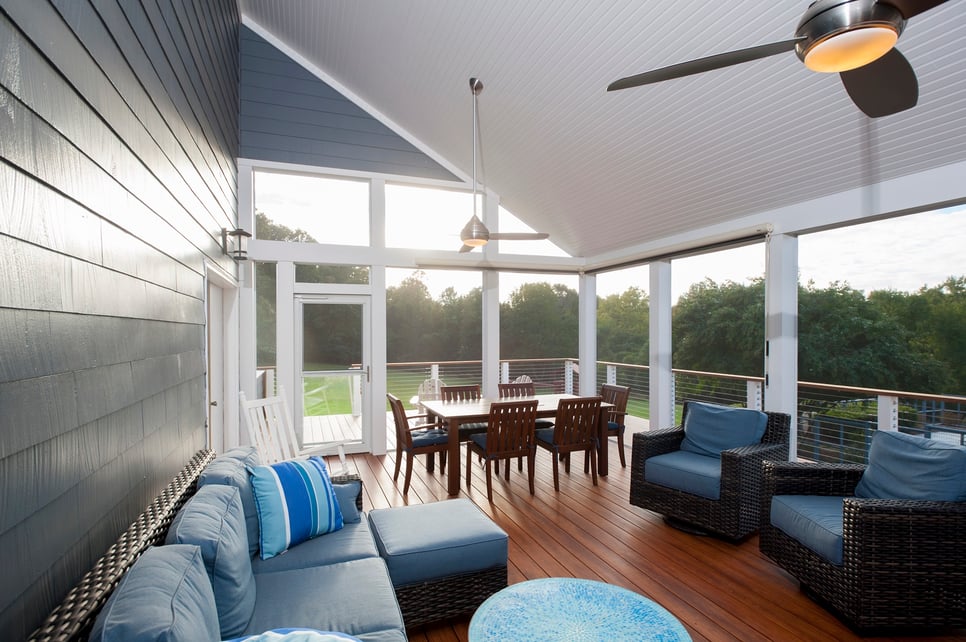 When building a screen porch for your home, you have a number of different decisions to make, including the screen color, style, and material. The primary reason that people want to build a screen porch is for protection against bugs, but you may also have aesthetic concerns that need to be met.
Here are some tips to determine the best options for your project.
The Best Screen Material: Fiberglass vs. Aluminum

Fiberglass and aluminum are the two main choices for a screen material that helps protect against bugs. The holes in both types of screens are small enough to keep insects out, but for most projects, fiberglass is the best choice. The only exception is when you want to match a pre-existing aluminum screen for an older or historical home. Then, for aesthetic reasons, you may want to opt for aluminum to match.
Why is fiberglass the superior option?
Fiberglass screen doesn't rust, corrode, or stain. Aluminum does.

Fiberglass is more flexible and durable than aluminum screens.

Fiberglass doesn't rip or scratch as easily as aluminum—fewer rips means fewer bugs.

Fiberglass has far more color choices and styles than aluminum.
Read more about the benefits of fiberglass for your screen porch.
The Best Screen Color: A Rainbow of Options

Most screen materials only offer a few options for colors, such as silver, yellowish-gold or brown, and bronze, but fiberglass screens come in almost any color you can imagine. Your contractor can show you the options available for your project's needs, taking into account the screen style you select.
If you choose aluminum as your screen material, you will have three main color choices: silver, charcoal, and black. Be aware that silver aluminum screens tend to produce a glare in bright sun. For this reason, charcoal or black are more popular choices for aluminum, and they also appear almost invisible from the inside.
You'll also need to select a color for the frame that holds the screen in place. Typically, homeowners select a color to match the house's trim. For fiberglass screens, we recommend the Screen-Eze system, which offers white, sand, and bronze.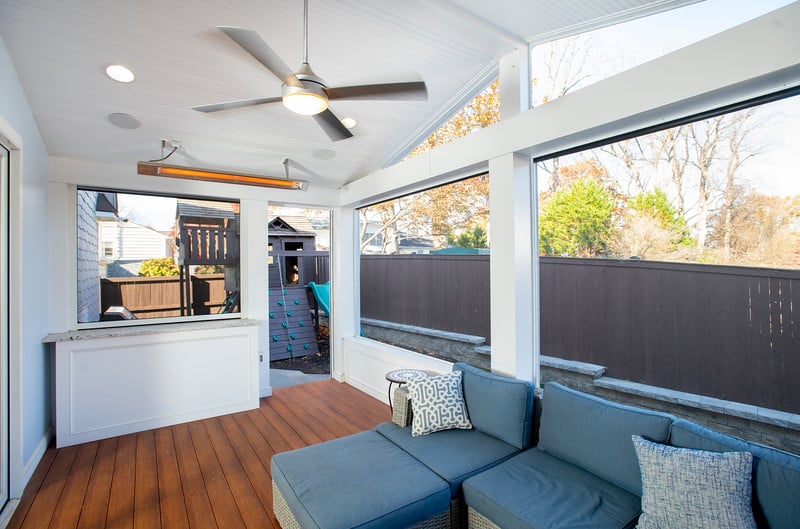 The Best Screen Style: What Are Your Needs?

Determining the screen style that's best for you depends on what you want from your screen, so the first step is defining your goals for the project.
Visibility: Do you want to maintain your current view of the countryside, a body of water, or even just your backyard landscaping? You can find fiberglass screen styles that are completely invisible, allowing you to maintain that gorgeous view while still gaining protection from bugs.



Privacy: Do you want privacy from neighbors or a nearby roadway? A dark-colored mesh screen can provide just that by making it more difficult to look into your porch. In a shaded porch, the area covered by the screen will be darker than the exterior, causing the mesh to act like a mirror. Light is reflected from the surface of the screen, shielding those outside from looking into the porch.



Shade: Are the sun's strong rays interfering with your ability to enjoy your porch? Again, dark-colored screens can be a solution, since they provide some shade on the interior, or you can select special solar screens that provide additional protection against the UV rays. These solar screens also block the heat, providing a cooler temperature inside the porch, which can be up to 15 degree less than the outside.



Protection from Pets: Do you have a dog or cat that may pose a hazard to your screen? The typical fiberglass screens are durable enough for most pets, but if you have a dog or cat who really enjoys scratching, you may want to opt for a pet screen. These very thick screens have thicker fibers that hold up to a pet's claws. You can learn more at PetScreen.com.
Each of these considerations plays an important role in the usability and look of your screen porch, so it's important to weigh the pros and cons, and consider the specific needs of your home. Be sure to go over each with an experienced contractor since he or she can help direct you to the best selections for your screen porch.