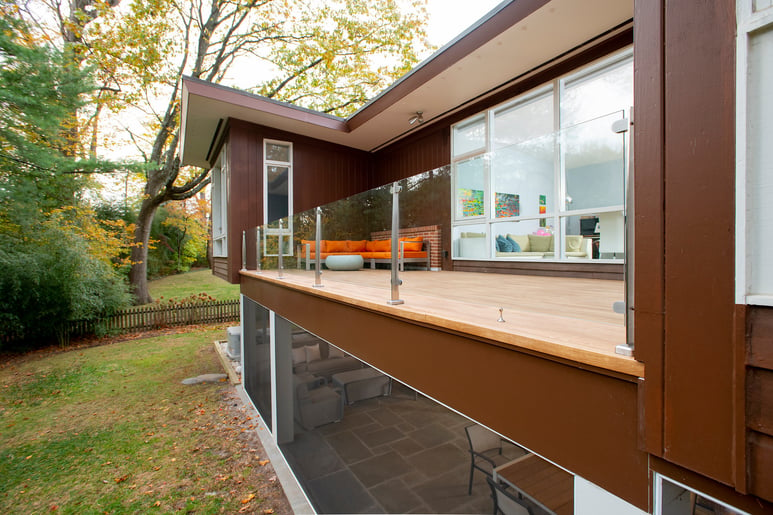 Pros and Cons of Glass Deck Railings
Railing systems are becoming varied and intricate. One specific type we are seeing more and more is the glass rail. Glass deck railing systems are unique deck products that promise to add a modern flare to deck and patio design ideas for decks in Virginia and Maryland. Their visual appeal and durability, courtesy of glass railings and stainless steel balusters or glass balusters, are not matched by many other porch railings, including cable deck rails. However, so-called invisible railings for decks and porches aren't going to be the perfect fit for every new outdoor living space.
Pros of Installing Glass Railings
Glass railings offer a clean, contemporary look to trump any deck railing system. For many, glass deck handrails constitute the design gold standard and provide the most visual appeal.
If your deck, patio, or veranda looks out onto a view, glass is an excellent way to ensure that view is preserved or otherwise unobstructed. Provided the glass you're installing is entirely transparent, you and your guests will have a great vantage point from your custom decks in Maryland.
Because glass appears neat and finished, it is one of the only porch railing systems that can incorporate multiple design elements without looking cluttered or hodgepodge. This gives you more versatility and options when it comes to the actual design of your outdoor space.
Solid wall structure creates a barrier around the perimeter of your deck
Unlike other handrails for decks, glass creates a solid barrier between the wood deck posts or glass balusters and the ground below. Therefore, if you have an elevated deck or screened porch, glass decking products like SunRail Glass by Atlantis Rail Systems can minimize the inconvenience of losing — and potentially breaking — small objects like kid toys over the edge of that space.
Most glass railings are made from one-quarter inch thick tempered glass. That means it's very unlikely to break or crack under normal everyday stressors and use, which makes them a worthy complementary feature to low-maintenance decking.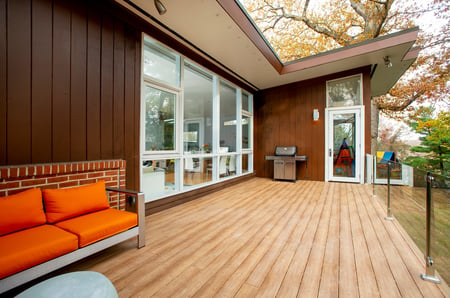 Deck design rendering with glass railings for decks in Maryland
Cons of Installing Glass Railings
At $400 to $600 per linear foot, glass railing systems are among the most expensive available on the decking market. However, this shouldn't come as a surprise given the benefits they offer to homeowners and custom screen porch builders in Maryland.
Price does fluctuate, however, according to how the glass is attached to an outdoor space. Some options include metal clips, stainless steel clips, or a wood system (which involves creating a kind of picture frame around the glass). Stainless steel is the most expensive option, followed by wood, and then metal.
Just like windows, glass railings need to be cleaned on the inside and outside in order to keep them looking their best. Especially because these railings are exposed to the outside, cleaning is needed quite regularly depending on how spotless you want your tempered glass panels to be.
For some, this is merely an inconvenience. However, if the design of the outdoor space makes reaching those glass railings difficult, these cleanings can become problematic.
Acrylic Glass Deck Rails versus Tempered Glass Handrails
If you're interested in glass railings but find the price prohibitive, there is an option for acrylic glass deck rails. While less expensive, acrylic glass handrails scratch more easily than their tempered glass deck rail counterparts. If you have young children or playful dogs, you run a higher risk of superficially damaging the acrylic glass railing system. While it's not going to damage with every light touch, acrylic deck handrails may not be cost effective if you're not careful around them.
If you'd like more information about the installation, price, or specifics of glass railings and how they might fit into your outdoor living space, please feel free to contact a representative of Design Builders, Inc.