Ease of installation is EcoSmart Fire's largest selling point behind running on a renewable, clean-burning biofuel, sourced from bioethanol burners. However, installation methods vary based on the model being purchased. Are you buying an outdoor fireplace, an EcoSmart firebox (pictured), a fireplace insert, or bioethanol fire pit? Keep reading to learn some basic tips and facts about installing the most prevalent and popular EcoSmart fireplace.
A General Note About Designer Ethanol Fireplaces
EcoSmart Fire units are specifically designed to be easily installed. This is largely how the product stands apart from outdoor wood-burning fireplaces and other units with more intensive, messy, and disruptive installation processes. EcoSmart Fire fireplaces and fireboxes are meant to go in quickly, easily, and efficiently, so you'll be ready to start using your unit quicker than with other fireplaces.
Bioethanol Fireplace Inserts

These zero-clearance units fit into existing but closed-off fireplaces or single or double-sided walls. Installation of these fireplace inserts doesn't require:
These aren't required because burning bioethanol does not result in any smoke.
Chimneys are designed to vent the harmful byproducts and gases that result from burning, but those aren't in play when burning biofuel.
Gas or Electricity Connections
Every unit contains an internal reservoir in which to put the bioethanol. Pipes and cables through the wall, therefore, are never necessary.
Designer Fireplaces
These are perhaps the easiest of all EcoSmart Fire products to install because there is no installation required! These are freestanding units available in many different sizes, shapes, colors, and models. All you have to do is unpack, and you're ready to go.
These pieces are sometimes referred to as "portable furniture" because you can move the units from room to room. So, if you're entertaining in the living room one night, it can be a centerpiece there, but it can simply be relocated to another room at any time thereafter.
Above Right: EcoSmart Fire 1000SS designer fireplace. Below Left: EcoSmart fireplace grate closae up. Photos provided by EcoSmart Fire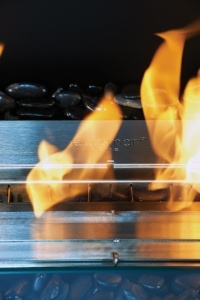 Outdoor Fireplaces
Like the designer fireplaces, these are also freestanding models, and EcoSmart offers a variety of these models as well. No installation. No mess. No hassle. Also like the designer models, these units are entirely portable, so you can just as easily enjoy your chosen model poolside or on your patio.
The materials on these exterior units are particularly durable and weather resistant.
Fireplace Grates
Whether you're installing in a recessed area, an unused wall cavity, or a blocked-off fireplace, EcoSmart's fireplace grates install in a three-step process: unpack, fit and fuel, and ignite.
The entire installation cycle takes just minutes.
What Are the Benefits of Easy Installation?
The most obvious benefit is time. You can be up and running with your fireplace in minutes, so if you're in a time crunch before a big event or just want your fireplace sooner rather than later, easy installation can be a big benefit.
After time, two other major benefits include:
Generally, traditional fireplace installation can get very messy. Whether you're renovating, building, or just redecorating, the dust and debris of more intensive installations will often necessitate you covering furniture, rugs, and floors. You'll have to ensure nothing gets damaged from that resulting mess, and that's not to speak of the potential for damage (dented floors, chipped paint, dinged doorjambs) whenever an installation process requires outside workers.
Having to oversee a project like the installation of a natural wood-burning fireplace can be surprisingly disruptive to your life. It might mean taking some time off work to let workers in and out, or it might mean giving up a weekend to facilitate that process. There are no such concerns with EcoSmart.
For more information about EcoSmart's installation process or the cost of installing an EcoSmart Fire fireplace in Maryland and Virginia, please don't hesitate to leave Design Builders a message!