Location plays a big role in the cost of a screen room, but an average screened-in, pressure-treated wood porch will run about $135 per square foot in the Maryland, Virginia, and Washington DC area.
When comparing bids, make sure you're looking at comparable services. The price should include all plans, the permit, inspections, and clean-up. Clean-up is a big one that many contractors don't add to their bid, but you should ensure it's included.
A construction crew tracking in and out of your yard every day can leave your backyard destroyed – dirt everywhere, shoe tracks, dead grass. A good contractor will budget between $500 and $1500 for possible yard repairs, which can include re-sodding and seeding, to return the yard the way they found it. Design Builders now uses steel footers thru PierTech where possible. This process cuts down dramatically on the damage caused to your backyard bc we don't dig huge holes. We drill steel footers into the ground until they hit rock. you can learn more about PierTech steel footers here.
Of course, there are many other factors that can influence the final price of your project. You want to make sure take all of them into consideration before you begin a project.
5 tips for making the best investment for your screened-in porch.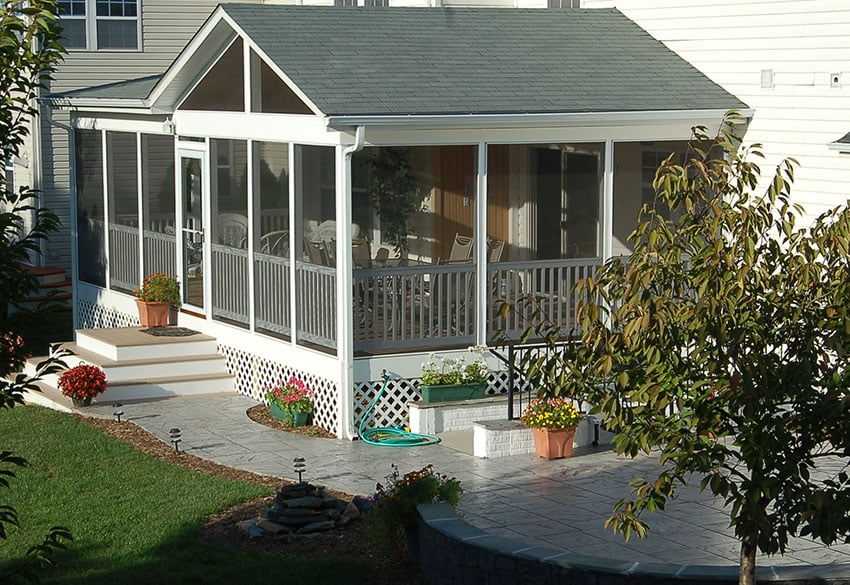 1. Material costs make a big difference
An average 16' x 16' screened-in porch will cost around $40,000 with pressure-treated wood and not a lot of accessories. But if you opt for fancier materials, such as exotic hardwood or Zuri Decking and put in special features, such as decorative columns and a wrought iron handrail system, the price tag can climb to $50,000 or even higher.
2. Don't skimp on size
Of course, the size of your porch is a significant factor in pricing, but you don't want to build a porch that's too small for your needs. Generally, you want to start by determining how you plan to use the porch and what particular furniture you want it to house. For instance, if you want a table and sitting area, a 16' x 20' porch is a good size. But if you opt for a 12' x 12' just to save money, it's going to be difficult to use no matter what you do.
3. Be open about your budget
Many people are wary about telling their contractor their budget. "If I tell you my budget is $35k, then you'll make it cost that much." But by being upfront about your budget, the contractor can help you get the most for your money, steering you clear of expensive materials and features that don't make sense for you. The key is to find a contractor that you trust and are willing to work with.
4. Consider how long you're in the home
If you plan to sell in a few years, then investing in a material that saves you maintenance costs over the next 30 years doesn't make as much sense. Decorative frills and electrical features can be neat additions, but they do add up quickly. And they typically don't improve your return on investment when it comes time to sell your home.
5. Don't build on an existing frame
It just doesn't make sense. It's the cheapest part of the project, but it's also the most important to the integrity of your porch. If your frame was built a decade ago or more, there have been significant improvement to construction and building codes since then, and it's also likely the support is rotting underground. You'd be building a new porch on a substandard structure. Learn more about why it's not a good idea.
So when you're looking to cut back on costs, materials is the first place to look. After all, you can get the same exact space, the same exact room for a lot less money just by changing the materials.
The key is determining your needs, the features that really matter to you, and what's really worth the investment for you. If you're working with an experienced contractor you trust, they can help guide you to the best and most cost-effective solution for you.