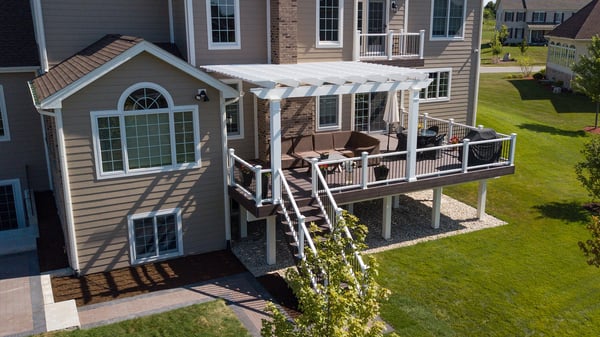 If you've decided to add a pergola to your outdoor living space, congratulations! These structures add utility, beauty, elegance, and resale value to any home. With so many options, though, the actual process of choosing the right pergola can be daunting. If your head is spinning with materials and styles and sizes, here's a surefire way to get the right pergola for your home.
Step #1: Ascertain Your Budget
The first step of the pergola-buying process is knowing how much you're looking to spend and what kind of a structure you're going to get for that number. A reputable contractor or design and build firm can help walk you through what's realistic to expect. Say, for example, you have a hard-and-fast budget of $2,000 and want a 16' by 16' structure. That's probably just not going to happen. If your budget and dream pergola are closer in number, though, an experienced company might be able to help you figure out how to implement some clever solutions that get your vision and your budget to match. Reach out to a qualified local firm when you're ready.
Step #2: Think through Your Design Needs
Once you've cleared the hurdle of budget, the next important thing to think through is the functionality of that pergola. Do you want it to provide shade? A canopy solution could be ideal for you. Do you want that canopy stationary or retractable? Do you want the pergola to frame an outdoor room? Do you want lights or heaters or fans? (Read here for one compelling reason to add a fan to your DMV pergola.)
The specifications of what you want could affect the structure and material, so it's important to talk through these wants with your firm or contractor. The following are just a few examples: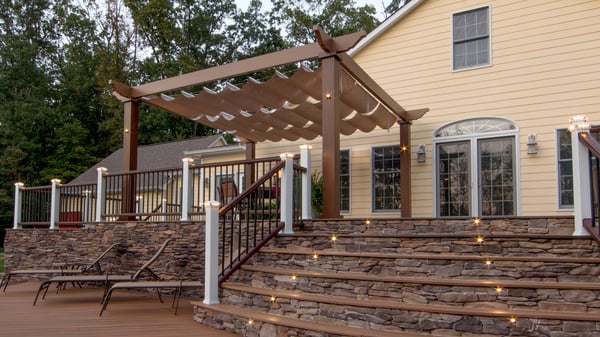 A retractable canopy could put too much tension on a fiberglass pergola. If you want this feature, you'll have to opt for cellular PVC with an aluminum core or straight aluminum.
If you want a curved structure, you'll have to go with aluminum as well. Alternately, you could bend the aluminum beam and then wrap that in cellular PVC.
Fiberglass structures are painted, so the pieces are all finished in a color. If you go with a company like Structureworks, you'll have a set number of colors to choose from, and those are included in the price, but a custom color-matching option is also available for an extra fee. If you desire multiple colors on the same piece, that would also be feasible for an extra fee.
As you're thinking through these options, you'll have to keep revisiting your budget to ensure you're not overstretched. Upgrading to an aluminum structure (as opposed to a vinyl or fiberglass one) could end up making the structure cost prohibitive, so make sure your design features don't end up making the project out of reach.
Step #3: Know Your End Game ahead of Time
Pergolas are basically made to fit, meaning after they're installed, you're not well set up to adjust or to add major features. This means you have some preplanning to do before committing to a final design.
Say, for whatever reason, you don't want heaters right now. Perhaps it's simply not in the budget, or maybe you don't anticipate using that space in chilly weather. If you think you're going to add heaters down the line, though, chase the wires through the structure now. That way, you can simply cap the ends, and when you're ready, an electrician can just add the box, and the wires are already set. Maybe you never end up adding those heaters. It's still better in the long run to be ready for them just in case.
If you choose a pergola from Structureworks, one of the well-known names in this industry, even their lowest cost vinyl solution has an aluminum core for stability and for chasing wires through. This keeps unsightly wires hidden, and it allows for those after-the-fact additions without any significant issue.
The process of picking a pergola can be overwhelming, but if you've committed to this addition in 2020, know it's a particularly great time to invest. Design Builders, a custom design and build firm servicing the Virginia, Maryland, and DC regions, would love to talk through your options. Reach out today!