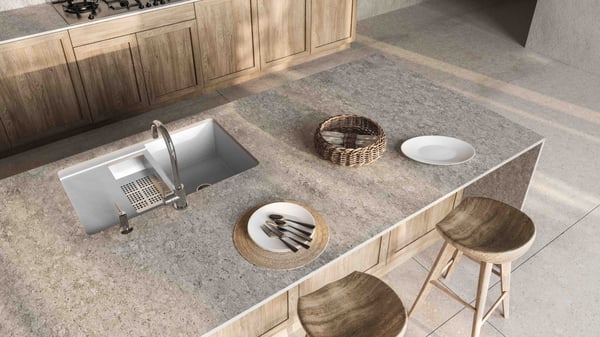 Why Your Virginia or Maryland Outdoor Living Space Needs Dekton
When you're investing in an outdoor living space, you want to know you're picking materials that will look (and function) great for decades down the line. If you're a homeowner in the Northern Virginia or Maryland area and you're considering an outdoor living space, here are the top reasons to put Dekton products on your short list.
4 Reasons Dekton Products Are Ideal for Virginia and Maryland Homeowners
From outdoor kitchens to screen porches, if you're considering adding an outdoor living space to your Virginia or Maryland home, Dekton could be the architectural surface for you. Here's why.
Dekton Is UV Resistant
In the past, outdoor countertops were primarily limited to granite and, if you were looking for a more industrial look, concrete. With advances in material technology, though, Dekton eventually stepped into the exterior architectural surface space.
With its UV-resistant properties, Dekton products will not fade or discolor—even when used in full exterior exposure. This is great news for anyone living in Virginia or Maryland, both of which can experience seasons of full, intense sun.
Heat Isn't a Problem for Dekton
Just as DMV summers can be sunny and bright, they can also get quite hot. But Virginia and Maryland homeowners who invest in Dekton don't have to worry about that heat negatively affecting those products.
Dekton is rated up to 400 degrees Celsius, or about 752 degrees Fahrenheit. Even the hottest July day isn't going to come anywhere near warping, cracking, or discoloring any Dekton product you chose for your screen porch, patio, deck, or outdoor kitchen.
The only additional consideration here would be heat retention and the comfort of daily use. Especially if you're using Dekton as a paver or flooring solution that might get barefoot traffic, consider opting for lighter Dekton colors. These are going to hold less of that heat and offer a more comfortable day-to-day experience.
Dekton Is Contemporary…but Timeless
Many homes and properties in Northern Virginia skew toward more traditional builds. This applies to the home construction itself, as well as the design touches.
While you can certainly go bold and dramatic with the striking, modern aesthetic of Dekton products, they can also be incorporated into exterior design in more subtle, nuanced ways.
This can range from your color choices (a more monochromatic choice over something with prominent veining) to how the product itself is used (as an accent choice rather than a bold centerpiece of your outdoor living space)
Whether you prefer a seamless, minimalistic, contemporary space or a more traditional blend of design and materials, Dekton lends a sophisticated, modern appeal to any new build or renovation.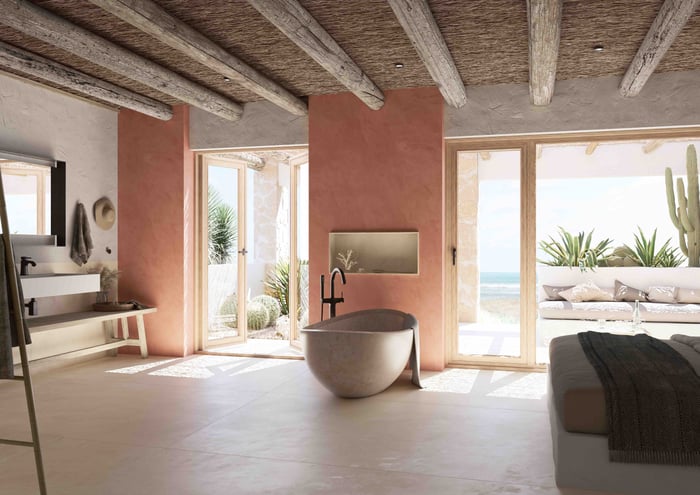 Dekton Is Tailormade for High-End Projects
While Dekton can technically be used in any outdoor living project, it's often reserved for higher-end undertakings.
For one, there's the ability to customize your Dekton product. This makes it a clear choice for homeowners who aren't just looking to use "out of the box" materials and design solutions. Dekton can be customized in terms of:
Color
Pattern
Texture
Finish
Slab thickness
Slab size
There are also features designed into Dekton that make it ideal for projects that aren't your standard cookie-cutter endeavor. This includes the ability to get slabs up to about 125 inches. When you can order slabs of those large dimensions, you're often able either to eliminate or greatly minimize unsightly seam lines or joints.
These small but important touches are key details in the kind of custom, high-end projects that are typical in the Northern Virginia and Maryland construction markets.
Wondering What Materials to Use in Your Northern Virginia or Maryland Outdoor Living Space?
Designing any outdoor living space can feel overwhelming. Especially if you're creating a custom area, there are design, layout, and material choices to make at every turn.
If you have any questions about Dekton or how it would fit into your upcoming outdoor living space build, feel free to reach out.
We're Design Builders, a custom, high-end design and build firm operating in Northern Virginia and Maryland, and we're always happy to answer your questions!