Get to Know the Entire Dekton Product Line
If you hear "Dekton" and think "countertops," you're not alone. Dekton is one of the leading names in high-quality, durable countertop material, but it's far from the product's only use. Dekton is a highly versatile architectural surface with many different applications—inside and outside the home. Learn more about the full suite and range of Dekton products.
1 Way You Know to Use Dekton…and 8 Ways You Don't
Indoor use. Outdoor use. Kitchen. Bathroom. There are lots of ways to love and use Dekton.
Interior Kitchen Countertops
Dekton is primarily known for its countertop applications. Whether you're looking to install in a kitchen, a bathroom, or some other space in your home, Dekton offers an unparalleled counter product.
Several characteristics make it ideal for everyday countertop use:
Stain resistance
Scratch resistance
Fire and heat resistance
Bathroom Countertops
Dekton isn't just a material for chopping vegetables and preparing meals. It's equally useful for bathroom countertops.
Because it's such a nonporous material, you don't have to worry about water absorption or mold. Even in bathrooms, where it's likely to be consistently wet, humid, and moist, Dekton resists the negative effects of water exposure.
Dekton's stain resistance and heat resistance also make it a natural choice in bathrooms. Remember, bathroom countertops have to contend with makeup, lotion, straighteners, and other products that could easily damage or stain lower-quality counters.
Even over long periods of time, Dekton in your bathroom will look as pristine as the day it was installed.
The only caveat around scratch resistance is that it can vary by color and finish. XGLOSS finishes, for example, can be more prone to visible scratches than other Dekton color and finish combinations. If you have any questions or concerns, always talk to your design and build team or installation expert.
Exterior Countertops
Due to the extreme durability of Dekton, it's an ideal choice for outdoor countertops. This can include installation in outdoor kitchens, screen porches, or other outdoor living spaces.
When you're subjecting your countertops to variable weather, everyday use, UV exposure, and all other outdoor conditions, you need a material you know can hold up against the elements.
Not having to worry about chips, dings, or outright replacement means two things.
One, you can relax and use your space more naturally.
Two, the lifetime value of that countertop material is higher. Even if the initial price tag is more, you can end up saving money in the long run due to years of less maintenance, repair, and replacement costs.
Interior or Exterior Floors and Paving
Several characteristics of Dekton make it an ideal choice for flooring or paving of different varieties:
Scratch resistance. Stop worrying about shoes, scraping furniture, or pets causing unsightly surface damage to your flooring.
Impact resistance. Those accidentally dropped bowls or other day-to-day impacts won't require an expensive repair job.
UV resistance. This material an ideal candidate for outdoor use, maintaining its color and finish even in intense, direct sunlight.
Large slabs. The ability to use large slabs offers visual continuity and fewer seams, if desired.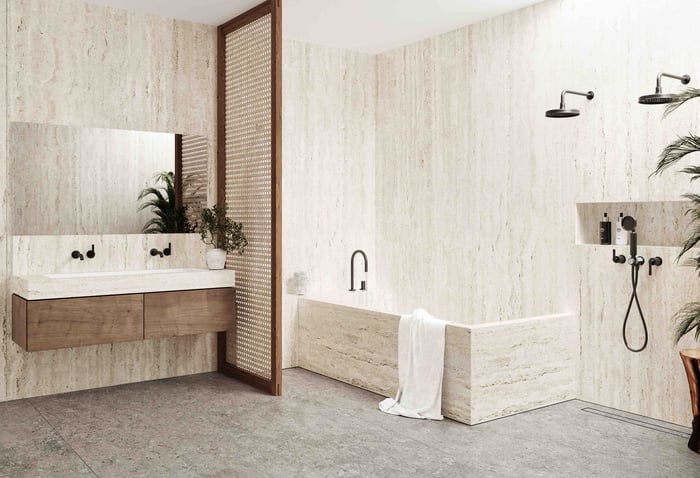 Cladding
Whether you're outright matching cladding to countertops or flooring or choosing a complementary design, Dekton offers an array of colors and styles for any exterior or interior wall cladding.
Again, the ability to purchase Dekton in large slabs means you don't have to deal with excessive seams or jointing in your space.
Using Dekton as wall cladding gives you a chance to create an upscale, elegant, high-end feel in a visually interesting way.
The material's extreme durability makes it a particularly natural choice for outdoor use, but their cladding works in interior or exterior spaces.
Custom Furniture
Looking for a truly unique, personalized, custom use of the Dekton material? Explore its application as cladding on interior or exterior furniture.
The variety of thicknesses (4 mm, 8mm, and 12mm) ensures you can execute whatever vision you have for the custom furniture in your space.
Dekton has been used in custom-designed:
Bookshelves
Drawers
Tables
Doors
The wide variety of products means you can go for an exact match to other Dekton applications or a complementary look.
Shower Trays
Want to increase the comfort and aesthetics of your shower even more? Opt for Dekton as your shower tray material.
Every project is bespoke and customized to your specifications and needs.
The durability, lack of water absorption, variety of colors and finishes, and antislip features all combine to make Dekton a great option for any shower.
Bathroom Sink
Create a seamless, visually appealing transition from countertop to sink by using Dekton as the actual sink material as well. This small design touch helps you achieve a more unique look than any standard porcelain sink can offer.
Bathroom sinks are notorious for enduring a lot of daily use. Dekton's durability, scratch resistance, and ease of maintenance will all help your bathroom look pristine—without a lot of maintenance, upkeep, or elbow grease.
Commercial or Residential Facades
Whether for commercial or private residential use, Dekton is a unique, functional, and timeless solution for building facades. Every project has different specifications and requirements, and the customization of Dekton makes it ideal for that application.
Dekton facades offer:
Chemical resistance
Dimensional stability
Resistance to the cycles of freezing and thawing
Low maintenance upkeep
Large-format slabs (with varying thicknesses)
For even more technical characteristics and specifications, check out the full breakdown on Dekton facades.
How Will You Use Dekton Products in Your Northern Virginia or Maryland Home?
Interested in incorporating Dekton into your new outdoor living space? Have any questions about this versatile product?
Make sure to check out our related blog: 10 Dekton Benefits That Make It Ideal for Outdoor Living Spaces.
If you have any follow-up questions, don't hesitate to reach out to us at Design Builders. We offer high-end custom outdoor living spaces to the Northern Virginia and Maryland markets, and we're always happy to answer your questions!