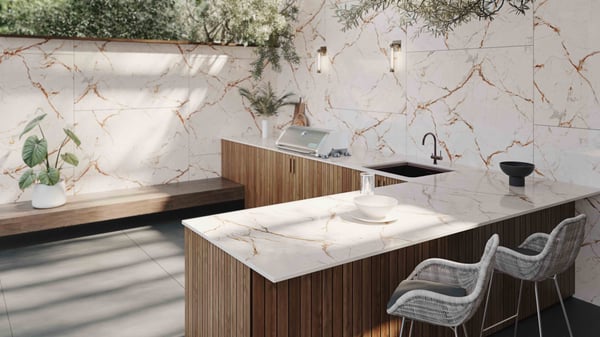 How Dekton Architectural Surfaces Can Be Used for Custom Furniture
If you thought Dekton was just for interior countertops, think again! Dekton products are incredibly versatile and can be used in numerous ways—both inside and outside the home. This includes as custom furniture, which can be the ideal complement to your outdoor living space.
6 Benefits of Using Dekton in Your Custom Furniture
When you choose to design furniture with Dekton, you're getting a beautiful, timeless, durable product. Here are some of the other key reasons people choose Dekton for this kind of application.
Dekton architectural surfaces come in 4, 8, or 12 mm thicknesses. This ensures, no matter your design aesthetic, there's a product to match your needs.
It also offers some variance in the price point and can accommodate more homeowners' budgets.
Matching or Complementary Piece to Your Dekton Countertops
If you've already invested in Dekton countertops, their custom furniture could make a lot of sense for your outdoor living space. By sticking with Dekton, you have the option to either match those countertops by using the same color and material, or you can choose a complementary color from the extensive catalog of available Dekton colors.
Interior or Exterior Applications
Whether you're looking to custom create furniture for inside your home or you want this product for your new screen porch, outdoor kitchen, or deck, Dekton is a viable product.

With its extreme durability and UV resistance, Dekton furniture can confidently be used inside or out.
Cost-Effective Material Relative to Natural Stone
Many pieces of exterior furniture, such as tabletops, use marble as their surface. Given its durability and beauty, this makes sense. However, that material quickly becomes very expensive.
A product like Dekton allows you to capture that visual beauty and structural integrity but at a more reasonable price point.
Again, when you're working with something like marble or other natural stone, those pieces of furniture can become very heavy.
Maybe you're concerned about the safety aspect of children or pets around these items. Perhaps you're simply wondering about the logistics of moving and rearranging them. Either way, Dekton is a much lighter material that solves those potential issues.
All Other Dekton Benefits
When you use Dekton for a custom furniture piece—especially one that's going to be used in an exterior environment—you get to enjoy the laundry list of general Dekton benefits.
This includes:
-Ease of maintenance
-Fade, scratch, and stain resistance
-Durability and strength
-Variety of color options
-Non-combustible properties
Whatever you throw at a piece of Dekton furniture (acetone, marker, heat, scratches from keys or dishes), the architectural surface will very likely be able to handle it.
Types of Custom Furniture You Can Create with Dekton
What kind of custom furniture can you create with Dekton?
Here are just some of the most common uses:
Bookcases
Drawers
Tables
Kitchen doors
Want to Finish Your Outdoor Living Space with a Piece of Custom Dekton Furniture?
Thinking about building or renovating an outdoor living space in your Northern Virginia or Maryland home? As a versatile, durable, timeless material, Dekton is one of the most popular choices among residential homeowners.
If you're interested in learning more about all the ways it can be used in your exterior space, contact us today.
We're Design Builders, a design and build firm that specializes in high-end outdoor living spaces in the Maryland and Northern Virginia markets, and we're always happy to answer your questions!