10 Benefits of Dekton by Cosentino
Outdoor kitchen countertops. Flooring. Cladding. However you're thinking about using Dekton by Cosentino, this versatile, high-quality material offers some distinct advantages. Discover the primary Dekton benefits to better decide if this brand is right for your upcoming outdoor project.
Top 10 Advantages of Dekton by Cosentino
The key benefits of Dekton surfaces are:
10 Reasons Dekton Could Be Right for Your Outdoor Living Space
Looking for a durable, stunning, versatile architectural surface? Here are ten reasons you don't need to look any further than Dekton.
Variety in Dekton Slab Dimensions
Dekton is available in varying slab sizes up to 3,200 mm (approximately 125 inches). Depending on your design needs, these large slabs are ideal for minimizing or even eliminating seam lines and joints.
This creates a more seamless visual presentation.
You also have a lot of variety in available slab thicknesses.
30 mm

20 mm

12 mm

8 mm

4 mm
However you intend to use Dekton, it can be fabricated to the dimensions that ensure the highest performance for that application.
Nonporous Material
Dekton is created using a proprietary process called Sinterized Particle Technology. (What is Dekton, anyway? Learn all about it.)
One of the results of this process is that Dekton is a nonporous material. This means it does not absorb liquids, which offers a variety of benefits:
Extremely resistant to staining

Easier material to clean and to maintain

Highly sanitary material
With porous products, you have to worry about things like mold and bacteria penetrating the material itself. Even when used in outdoor living spaces, this isn't a concern with Dekton.
Variety of Dekton Applications
Dekton is a highly versatile material. It can be used in a variety of interior and exterior applications:
Countertops

Floors

Cladding

Facades

Sinks

Shower trays

Custom furniture
While Dekton is primarily known as a countertop material, this is far from its only use.
Given its range of applications and durability, it's an ideal, high-quality, long-lasting material for many exterior uses.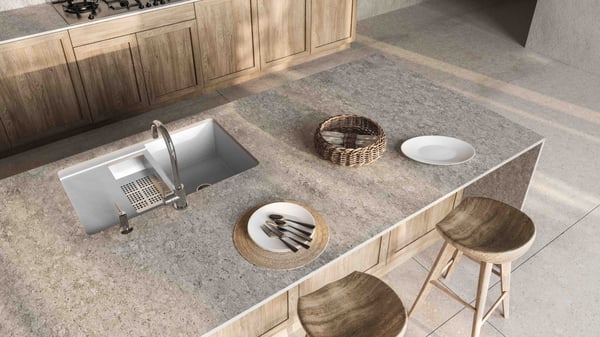 Wide Range of Colors
Whatever your design preferences or project needs, Dekton has an array of color options. There are also numerous finishes and textures to suit your personal aesthetics and project type. This includes ultra glossy, matte, and even velvet.
Within the Dekton line, there are well over fifty different color options. This ranges not only from white and light colors to darker tones, but it also encompasses different patterns and veining.
Dekton is a synthetic material, but the color you choose can replicate the look of anything from marble or other natural stones to cement to oxidized metal.
Depending on what your project calls for, you can get a solid color slab, understated veining, pronounced veining, or a variety of other pattern variances like you'd see in natural stone.
Whether you're going bold or subtle with your Dekton design choice, there's a color, pattern, and finish combination to suit your needs.
Ease of Maintenance
In terms of lifetime value of the product, one of the biggest advantages is that Dekton is very easy to clean and to maintain.
Again, being a nonporous material, you don't have to worry about food or drink spills leaving indelible stains on your countertop or other surface. You also won't need harsh or dangerous chemicals to clean up any messes that do occur.
Warm water and a nonabrasive sponge or cloth are usually sufficient for all cleanup needs. If you do have a stubborn section, using a mild soap helps.
If it's ever necessary, a pH-balanced cleaner can also be used. That includes:
Windex

General dish soap

Glass cooktop cleaners
When dealing with specific messes, including dyes, marker, or ink, acetone or rubbing alcohol will usually resolve the issue. (Remember, these dyes and inks are not penetrating into the material itself. You'll just need to clean the surface, and you won't see any lasting damage.)
If you're ever unsure about a particular soap or cleaner, always spot test in an inconspicuous place before using it on the entire surface.
Strength
While Dekton has something for nearly every budget, it's still not the cheapest material on the market. Like any high-quality product, though, you often see the financial benefits over time.
Given Dekton's extreme strength and durability, it is very resistant to any scratching, chipping, or cracking. Even when used in exterior settings or high-use commercial applications, it's unlikely you'll need to invest in repairs or replacement. With every year you don't have to spend on costly maintenance or upkeep, it increases the lifetime value of that product.
Even after years of consistent, hard use, a Dekton surface can look as pristine as the day it was installed. For many, this causes that higher initial cost to make more sense.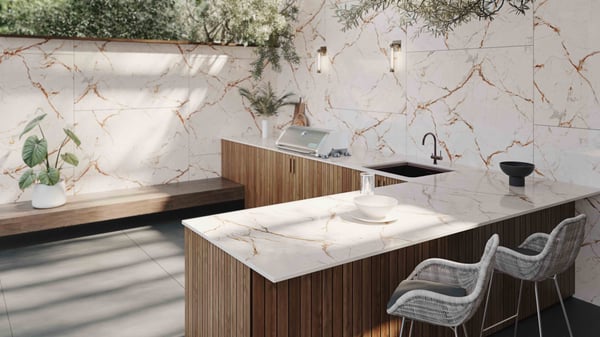 Fade Resistance
Dekton's coloring is meant to last a lifetime. Even with exterior use and direct UV exposure, it will not fade, discolor, or otherwise negatively change over time.
This is particularly great news for people who intend to install Dekton in any number of outdoor spaces.
The material is durable enough to handle those changes in weather and temperature, and it won't end up looking faded or discolored down the line.
Scratch Resistance
Whether you're investing in Dekton for countertops, flooring, or some other application, its resistance to scratching is a massive benefit.
You don't have to constantly worry about using your Dekton product lightly. You can simply go about your everyday life, and Dekton will resist the everyday scratches and unsightly dings that other architectural surfaces can amass over time.
Stain Resistance
Especially if you're looking to use Dekton in an outdoor kitchen setting, stain resistance matters. Even when it comes in contact with notoriously problematic food and beverages (think acidic foods, oils, vinegar, and wine), you don't have to worry.
Its nonporous properties mean Dekton is impervious to those materials sinking in and staining. It also means you don't have to panic or rush if a glass of wine does get knocked over every now and again.
This property helps keep your Dekton surface looking and performing its best for decades.
Non-Combustible Material
Some countertop materials do not interact well with heat. Too much heat can burn, discolor, or even crack certain materials.
That's not the case with Dekton, which is rated for up to 400 degrees Celsius (about 752 degrees Fahrenheit).
Note: even though it's possible to put hot pans or to operate countertop appliances, such as Crock-Pots, directly on your Dekton surface, the company still recommends using heat pads or other protectors.
Want to Learn More about Dekton for Your Northern Virginia or Maryland Outdoor Living Space?
Interested in Dekton for your patio, screen porch, or outdoor kitchen? Still have questions about whether it's the right material for your Northern Virginia or Maryland project?
Don't hesitate to contact us or leave a comment.
We're Design Builders, and for decades, we've specializes in high-end outdoor living spaces. From pricing to advantages to installation considerations, we're happy to answer any of your questions!