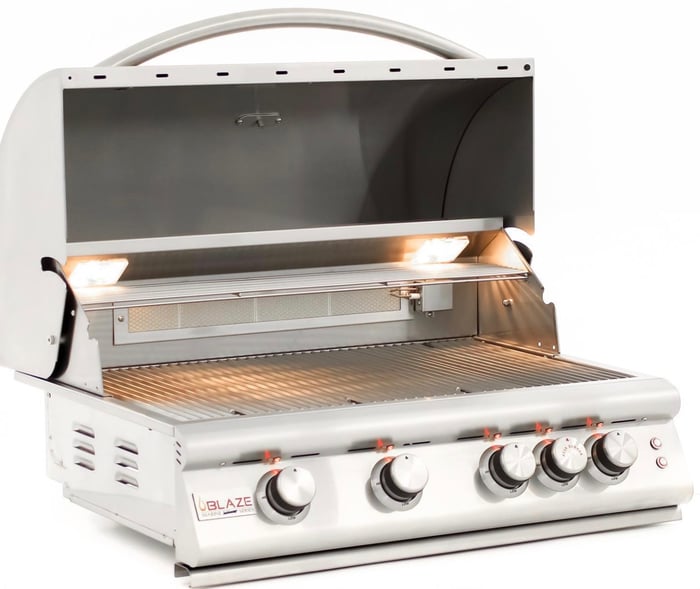 As a homeowner, you might or might not be familiar with the Blaze brand. Grilling enthusiasts are sure to know all about them, but others might only know them as one in a long line of grill options. Blaze, however, distinguishes itself from other brands in a number of ways—check out these top competitive advantages here—with one key difference being the long line of outdoor kitchen products Blaze provides.
Everything in the Blaze Outdoor Kitchen Line
If you thought Blaze was just grills, think again! Here's what you can get in their various product lines:
OK. We'll start with the obvious stuff. Blaze is definitely most known for its grills, and these include several varieties: built-in gas grills, freestanding gas grills, charcoal grills, and electric grills.
To accompany your main grill, Blaze also provides side burners and built-in gas griddles. These are ideal for the outdoor chef and entertainer who wants to create more complex and involved dishes in their outdoor cooking area.
Griddles can be used for everything from burgers and paninis to hash browns and eggs, while side burners are great for cooking up extra side dishes or complements to your meal. (Think warmed sauerkraut over kielbasa, classic boiled corn on the cob, or baked beans beside your burgers.)
Other available accessories with more specialized applications include ceramic pizza stones and rotisserie kits.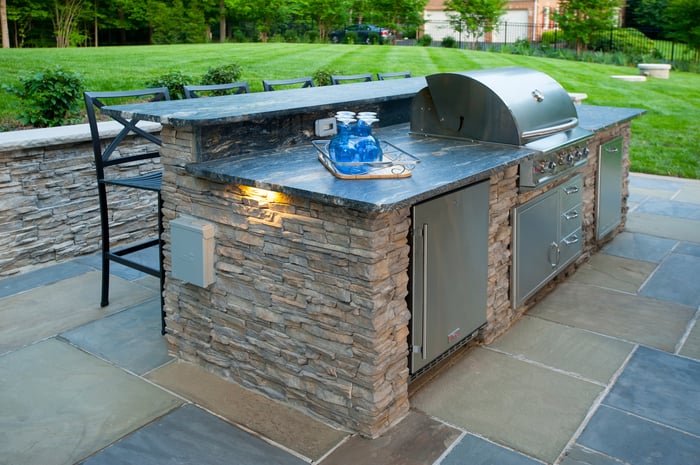 Available in a variety of sizes and drawer configurations, kitchen storage has become an increasingly popular element in outdoor kitchen design. Stainless steel is a perennial favorite for outdoor living spaces because of its durability and resistance to the elements. Every piece within the Blaze storage line can be found in stainless steel.
Like storage, the popularity of outdoor refrigeration has been on the rise for several years now—and shows no sign of slowing down. As people treat outdoor kitchens more and more like usable space within the home, conveniences usually reserved for the interior kitchen are progressively making their way into the outdoor space.
Refrigeration can provide a number of benefits.
1. If your outdoor kitchen is far from your interior kitchen, it can save you a lot of awkward back-and-forth with armfuls of food and beverages.
2. It can provide extra storage for meat, wine, or anything else that takes up space in your main interior refrigerator.
3. It's a major convenience for people who love to entertain outdoors, saving you and your guests multiple trips inside just to fill up wine glasses or refresh other drinks.
Another major bonus for the outdoor entertainer is a beverage center with a built-in sink and ice bin. This not only provides readily available ice throughout the party, but it also offers a station to wash up before eating or to clean up dishes as the night progresses.
For those looking for a self-contained, freestanding barbecue solution, the Blaze BBQ grill islands could be the answer. These packages come with several outdoor musts, including a grill, trash/propane drawer, and a customizable cabinet frame.
Designing Your Ideal Outdoor Kitchen
As designers and builders of outdoor kitchens in the Washington, DC; Virginia; and Maryland regions, we understand how overwhelming it can be when creating a space like this. From too many options to logistical nightmares trying to get multiple brands to stylistically and literally fit together, there are lots of challenges to overcome.
If you absolutely love your Blaze grill and are thinking about updating your outdoor living space with a thoughtful, beautiful, sophisticated outdoor kitchen, you could conceivably outfit your entire space in Blaze products. We discuss some of the benefits of designing a kitchen in this fashion here.
If you have any questions about outdoor kitchens in general or the Blaze brand specifically, feel free to reach out. We'd love to talk through your dream kitchen with you!