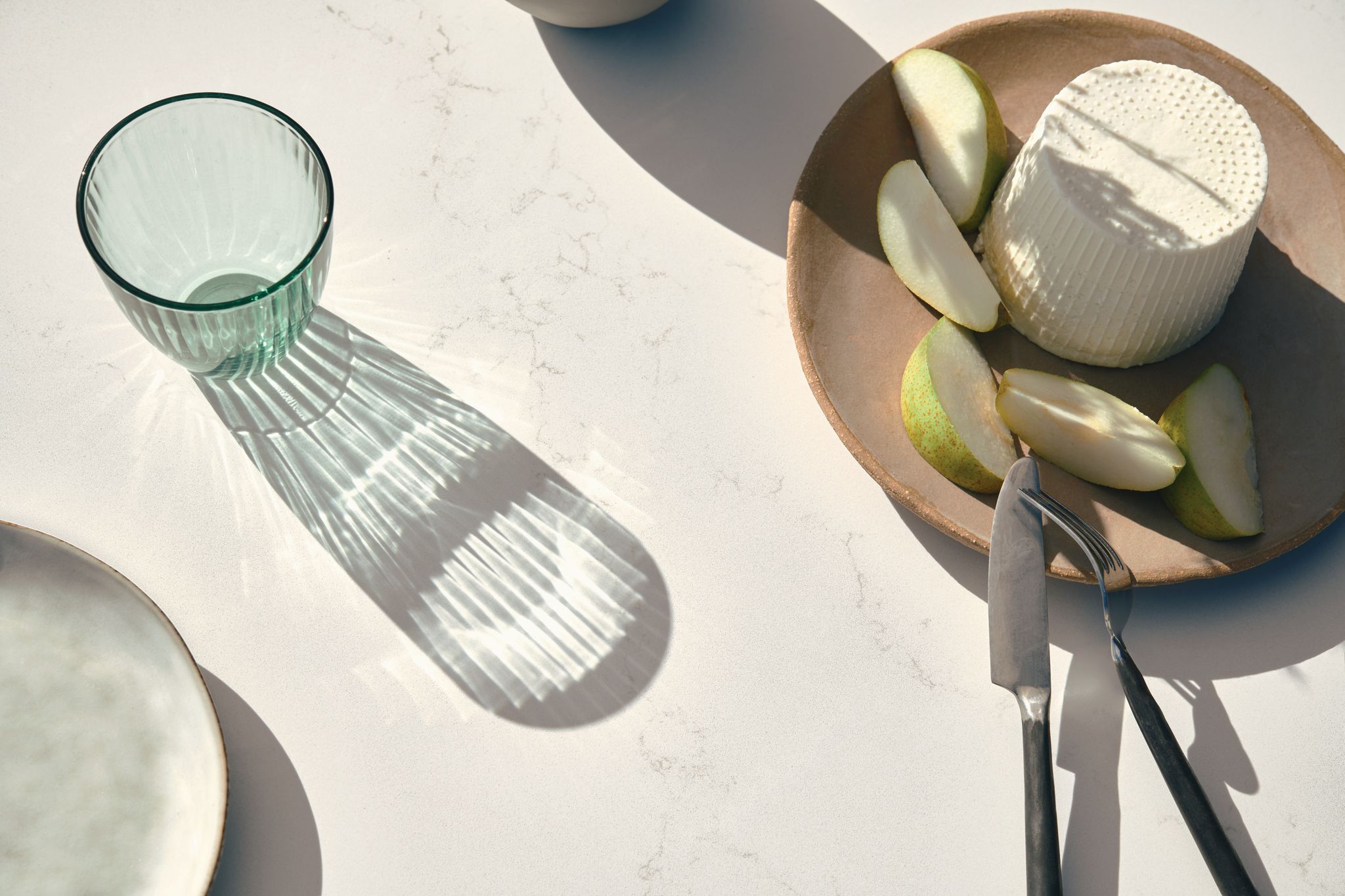 In a word, yes! The new line of outdoor quartz countertops from Caesarstone (the Solaris outdoor collection) is the perfect choice for the Washington, DC; Virginia; and Maryland regions, and here are 5 reasons why.
5 Reasons Your DMV Outdoor Kitchen Needs Quartz Countertops
Quartz Countertops Are Nonporous
Quartz is a nonporous material, meaning it doesn't allow any liquid to sink in and penetrate the surface. This gives quartz its characteristic resistance to staining, but it also means it doesn't allow mold or mildew to develop. Because water can't get in, quartz doesn't provide an environment that's conducive to the development of mildew, mold, or other water-produced nuisances. In the DMV, this is a significant consideration. Average yearly precipitation usually hovers somewhere around 40 inches.
Quartz Countertops Can Withstand Big Temperature Swings
According to Caesarstone testing, their Solaris line can withstand ambient temperatures from 122 degrees Fahrenheit to −13 degrees Fahrenheit. Even though the DMV experiences big fluctuations in temperature from summer to winter, those numbers are well within the expected range in this part of the world.
The Solaris Outdoor Collection Is Ideal for Countertops
The quartz surfaces within the Solaris line were made with countertops in mind. They are also ideal to use as poolside bar tops or outdoor dining table surfaces. (Some people even consider using them for vanity tops, but an interior quartz product will likely be a more cost-effective way to approach that use case.)
Outdoor kitchens are increasingly popular in the Northern Virginia, DC, and Maryland areas, and every year, they become more beautiful, functional, and aesthetically comparable to interior kitchens. Even though this is a relatively new product offering, outdoor-compatible quartz has already become a popular choice for homeowners in the DMV. (Don't forget to check out these other hot kitchen trends that hit in 2020.)
Outdoor Quartz Countertops Are UV Resistant
The DMV experiences all four seasons, and that includes plenty of intense sunshine in the warmer months. Caesarstone's Solaris countertops are designed to be resistant to UV. This ensures they won't color fade or yellow, even when exposed to extreme and prolonged sun.
Quartz Countertops Can Withstand Severe Weather
One of the biggest selling points of outdoor quartz countertops is their resistance to cracking and their overall durability. Whether the wild weather entails flying debris from high winds or hail, homeowners can feel confident their quartz countertops aren't going to dent, chip, or crack. (Nothing, of course, is indestructible, though. It's always a good idea to cover your counters if the weather turns overly stormy.)
Interested in even more benefits of outdoor quartz countertops? Read this list of top 10 advantages we put together.
Do you live in the Washington, DC; Virginia; or Maryland region? Are you wondering if quartz countertops are right for your outdoor kitchen? Shoot us a quick email, give us a call at (301) 875-2781, or leave a comment below. We'd love to discuss your next project.