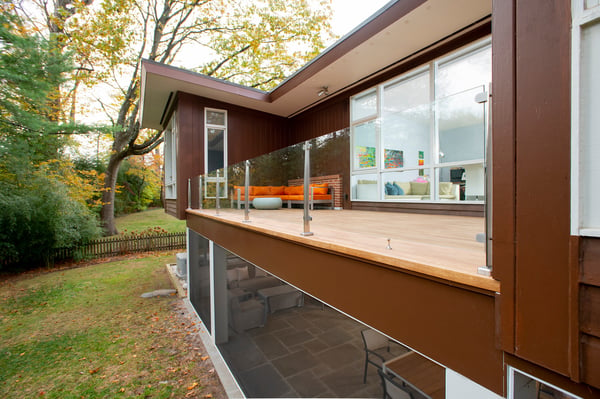 The overall design aesthetic of a deck or outdoor living space is driven by something a bit unexpected…and even a little overlooked: the railing system. That's right. The railing system you choose plays a big part in determining your overall aesthetic. Given it's such an integral design aspect, let's explore six of your most common railing options.
Vinyl
Whenever Design Builders offers an estimate, it's assuming the baseline option of a vinyl handrail system. Our go-to manufacturer for this product is Wolf railing. Of all the railing options, it's the most attractive price point.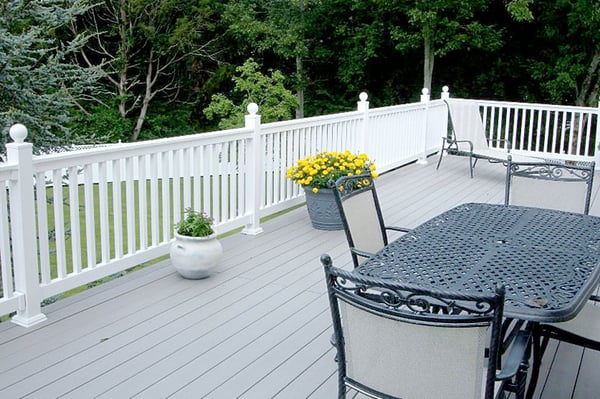 The Highlights
Affordable
Low maintenance
Long lasting
Detectable "shine" to the hard plastic
Not solid (vinyl pieces are hollow with interior metal strengtheners)
Moderately customizable (can change out balusters, top caps, and more)
Composite Rail
The first upgrade from vinyl is composite railing. Some of your manufacturer options here include TimberTech AZEK and Trex. Composite is more expensive than vinyl, but it requires more time to put together and, ultimately, feels more substantial.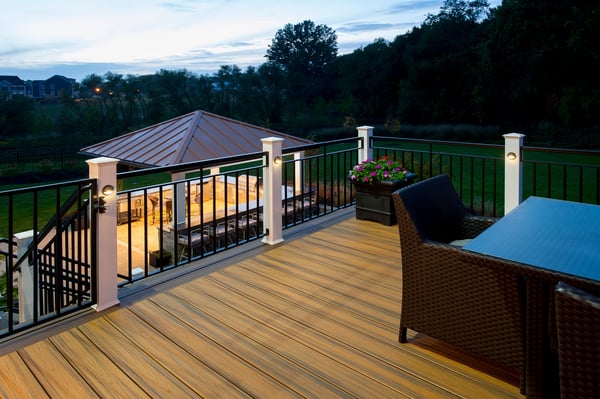 The Highlights
More of a matte look (compared to vinyl)
Solid pieces (not hollow like vinyl)
Fully screwed together construction (no shifting or noise within the stair system)
Long lasting
Powder-Coated Aluminum
The next tier up from composite rail is powder-coated aluminum. This option is pricier than vinyl or composite but provides great value. Manufacturers include Trex, TimberTech, and Fortress Building Products.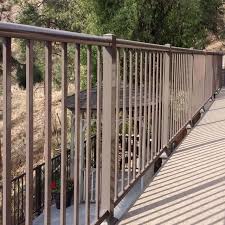 The Highlights
Minimalist aesthetic (smaller pieces)
Clean, polished-looking finish
Several color options
Emulates the look of wrought iron
Resists corrosion, even in harsh weather
Long lasting
Wrought Iron
The most customizable of your railing options, wrought iron also comes with a higher price tag. Design Builders works with three different welders, meaning every wrought iron job is entirely custom. Every component in this railing system can be individually selected for shape, style, and color. The simpler the design, the less expensive the project; the more intense the design, the higher the cost is driven.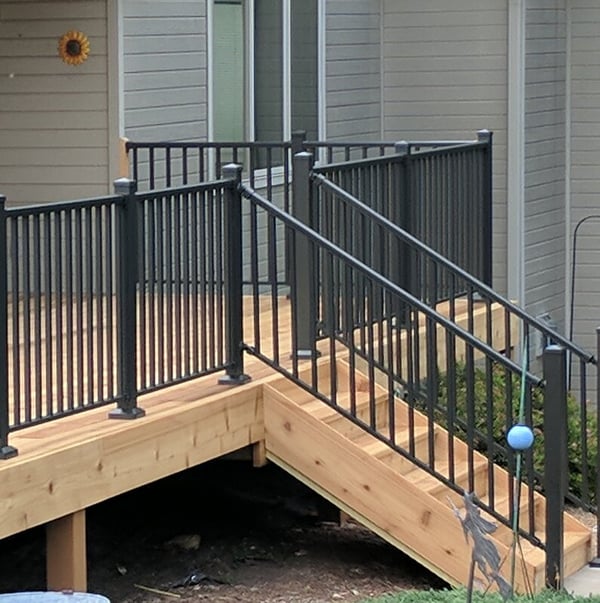 The Highlights
Expensive but entirely customizable
Powder coated to nearly any color desired
Secure and durable
Low maintenance
Long lasting
Cable Rail
Like wrought iron, a cable rail system can be quite expensive, but it has more room for budget adjustments. If you opt for pressure-treated wood components (as opposed to metal), that can drive your price down. There are some restrictions to keep in mind, though. The top cap needs to be metal or hardwood. These materials, while pricey, are highly structural and prevent the cables, which span the open space, from drooping.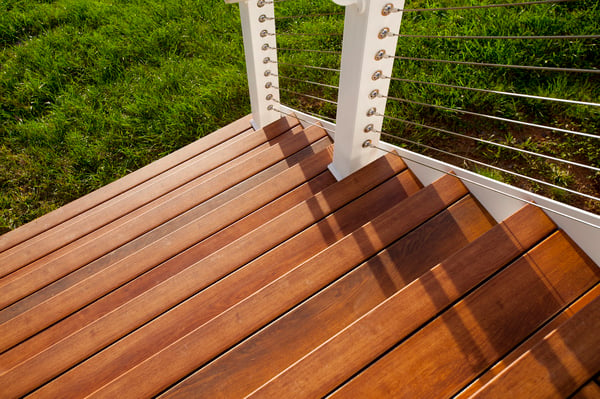 The Highlights
Minimalist look
Compatible with view preservation
Strong, durable material
Long lasting
Glass Rail
Arguably the least common railing installation, glass is a highly contemporary option, but it does come with the highest price tag. Because of the expense, this railing system isn't ideal for every job. This leads some homeowners to just install glass in key portions of the project, such as where a view needs to be maintained. Our preferred manufacturer for these glass rail systems is Canadian company InvisiRail.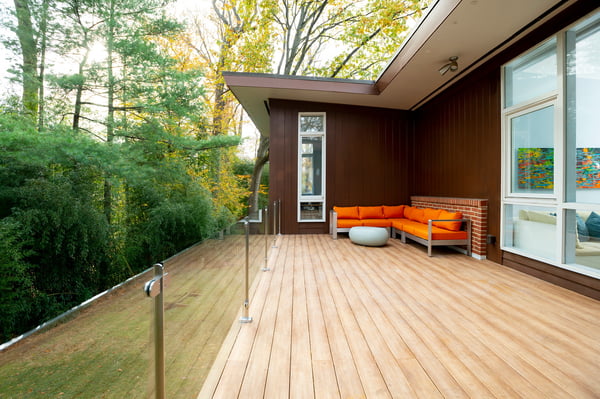 The Highlights
Highly contemporary, highly expensive
Ideal for view preservation
Not an afterthought or add-on but typically a featured part of the build
Long lasting
Your selection of railing often dictates what kind of columns and trim you'll be adding. If, for example, you choose a vinyl railing system, you're essentially married to vinyl sleeves around your posts. Similarly, if you upgrade the railings, you're committing to upgrading the columns to something like PVC.
If you're feeling overwhelmed by your railing choices and the design implications for the rest of the project, reach out to Design Builders today. We provide custom exterior builds in the Washington, DC; Virginia; and Maryland regions, and we'd love to talk through your project today!