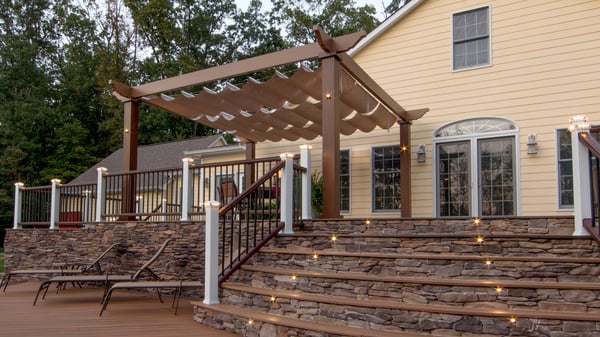 Pergolas today are hugely desired additions to outdoor living spaces, and they only seem to be increasing in popularity. With so many styles, colors, and materials to choose from now, it's little surprise. There truly seems to be a pergola for just about any home and aesthetic preference. If you're thinking about adding one to your space, here are three key things to keep in mind:
Louvres and Pergolas Don't Mix
Structureworks, one of the most known and established names in the pergola business, makes a recommendation to anyone looking into these structures: don't opt for louvres. Across the board, the quality level of the manufacturers seems to be lacking, and it makes more work for you, the homeowner. Given the louvre design, dirt and grime can build up over time and eventually cause the louvres not to open in the way they're intended. You can hose off and wash your louvres every year to try to mitigate this problem, but then you're no longer getting the benefit of a truly low-maintenance exterior structure. If you're diligent about maintenance, it might never be an issue, but if you're looking for a set-it-and-forget-it pergola, avoid louvres.
Want a Curved Pergola? No Problem!
When many people think of pergolas, they think of the traditional square look. This aesthetic tends to still be quite popular on the Eastern Seaboard, but on the West Coast, contractors and design and build firms see a greater leaning toward the contemporary. When looking into designs for custom pergolas, curves and arches are particularly popular. To achieve that look, the structure should be made from aluminum or cellular PVC, which itself wraps around an aluminum core. If you desire a curved pergola in your residence, it's certainly possible, but you'll need to consult with your contractor to ascertain if it's within budget. Curves are not generally done in the more cost-effective materials, such as vinyl or fiberglass.
There Are More Ways Than Ever for Your Pergola to Offer Shade
If you want your pergola to provide significant shade, consider a screen panel or canopy solution. Structureworks just recently released their veil screen panels, which are portable visual screens that can also be set up as a standalone system. Umbra shade panels are another custom and artistic, as well as functional, addition to any pergola. Depending on your needs and budget, canopy solutions can be stationary, manually retractable, or motorized.
While there are lots of considerations to think through when deciding on the right pergola for your home, these are three key things to keep in mind during the planning phase.
With several circumstances lining up in 2020, it's actually a great time to invest in a pergola. So, if you're located in the Virginia, Maryland, or DC area, reach out to Design Builders today to discuss your pergola-related options. We're a high-end custom design and build firm, and pergolas are one of our specialties. We'd love to use our expertise to get your project off the ground today!