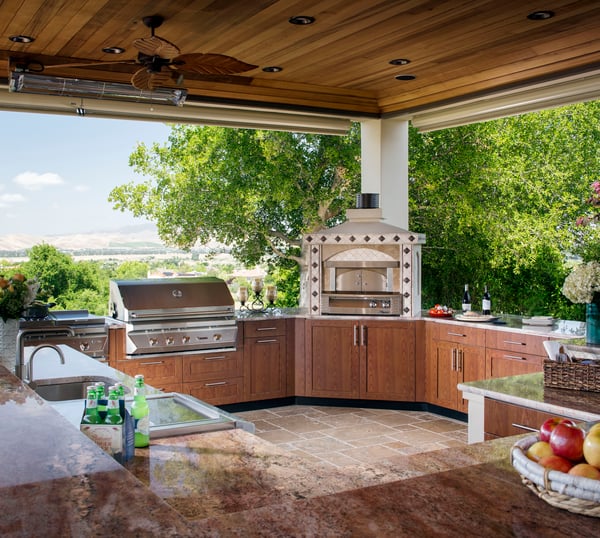 (Photo courtesy of Danver)
With the increased demand for outdoor living spaces over the past two decades, outdoor countertops have gone through a transformation. For many homeowners and contractors alike, natural stone has fallen somewhat out of favor. Engineered stone, including Caesarstone's line of outdoor quartz countertops, has surged in popularity recently. This is largely due to these three issues with natural stone outdoor countertops.
3 Issues When Choosing Natural Stone Counters
Noticeable Seams
One of the most prevalent complaints about natural stone countertops is the visibility of seams. (A seam is simply an area where two pieces of stone meet.) Seams tend to be more noticeable with natural stone because you must mix an artificial product to bind the pieces together at any junction. This meeting of natural and artificial coloring can be visually apparent.
Note, if you're looking for them, seams are always going to be at least somewhat visible. This is true of both natural stone and engineered products. Minimizing the appearance of seams comes down to two main factors.
One, choose a material other than natural stone. With an engineered epoxy applied to an engineered stone, you can get an incredibly close color match.
Two, choose your installer carefully. A highly experienced, skilled contractor is often more adept at hiding seams than someone who doesn't have numerous countertop installs under the belt.
Maintenance Requirements
One issue that surprises many homeowners is the maintenance requirements associated with natural stone countertops. Depending on the natural stone you choose, those maintenance requirements will vary.
Take granite, for example. It's one of the most popular choices for outdoor countertops. However, it is recommended that you seal granite after installation.
Never assume your installer did this. If you have any doubts or questions, make sure to ask the contractor if this important step has been taken. With the wear and tear countertops undergo, they can wear down quickly without the proper treatment. This is particularly evident anywhere water hits the countertops. (The area around a sink is nearly always the first to wear or to stain.)
If your heart is set on natural stone, there is good news. Sealing a countertop is not that difficult of a process. The counter just needs to be cleared of all items and cleaned. A sealer can then be sprayed in a uniform layer, and any excess can be removed. Today, there are also two-in-one cleaners and sealers to make this process even more seamless and easy.
To make your natural stone countertops look optimal, you can also periodically buff them. Coupled with the sealing, this will make your countertops look and perform great.
Durability Issues
It's important to remember that not all natural stone materials are the same. Limestone, for example, is considered a soft rock, and it can easily scratch. If you're considering this material for a countertop—an area that gets notoriously frequent and hard use—you're going to need to seal, treat, and maintain it properly to avoid functional and aesthetic issues.
Similar scratching issues can be had with travertine and marble. (Marble is particularly susceptible to damage when exposed to acidic elements.)
Softer stones like these can also be prone to staining if not properly treated and maintained.
If you're highly attached to the exact color of your countertops, you should also be aware that certain sealers can slightly alter the color.
Are Natural Stone Counters Right for Your Outdoor Kitchen?
None of this is to say natural stone won't work with your outdoor kitchen. You just need to be aware of and comfortable with all the specifics of keeping your natural stone outdoor countertops looking and working their best.
An engineered product can reduce some of those maintenance issues and increase durability. However, if you love natural stone, it's absolutely an option on the table.
Building an outdoor kitchen in the Northern Virginia or Maryland area? Want to talk through your countertop options? Reach out today. We're always happy to help!