Is Zuri as slippery and smooth as it looks?
When compared to other types of decking, Zuri Premium Decking by Royal Building Products looks incredibly smooth. For homeowners without a Zuri decking installer, this can play into the common (and valid) concern about how slippery their decking material is going to be, especially if they have children.
As weather conditions conditions change, slipping can be quite dangerous, so it's important to know: How slippery is Zuri PVC decking, and how does it compare to Zuri competitors?
What concerns are associated with slippery deck boards? Why do they matter?
Having a slick deck can range from a minor nuisance to a serious injury risk depending on the shape of your custom deck design or unique outdoor living space. For example, if your space incorporates stairs, slipping on a deck board could mean tumbling down those stairs, which obviously increases the risk of injury. This can be true of Zuri deck boards and alternatives to Zuri, whether they are wet or not.
Any amount of slipping can represent a serious risk to the elderly and small, clumsy children, as well as pets and other guests who are liable to use the deck even infrequently. Because of the risk factor involved, and because some decking materials are slick even when dry, slipping is a legitimate concern that should be considered when determining the optimal decking product for your deck.
Manufacturing requirements
All types of Zuri decking, Fiberon, and more must meet certain requirements to ensure they are safe in a number of ways, including their slip factor. This is necessary to ensure industry safety standards are upheld, and to secure compliance with the Americans with Disabilities Act of 1990 (ADA). Decking materials that do not meet ADA standards are not able to be sold on the market.
While Zuri is ADA compliant as stated, it's not prone to being slippery in comparison to other deck products, particularly wood composite decking. You'll never have to doube Zuri ADA compliance.
Appearance versus performance
Low-maintenance Zuri decking looks very slick when it's wet. However, the almost perfectly smooth, rubber-like sheen doesn't to diminished performance. Even in the rain, Zuri isn't any more slippery than Trex, Fiberon, or AZEK decking; in the dry, it's even less slippery than other decking products.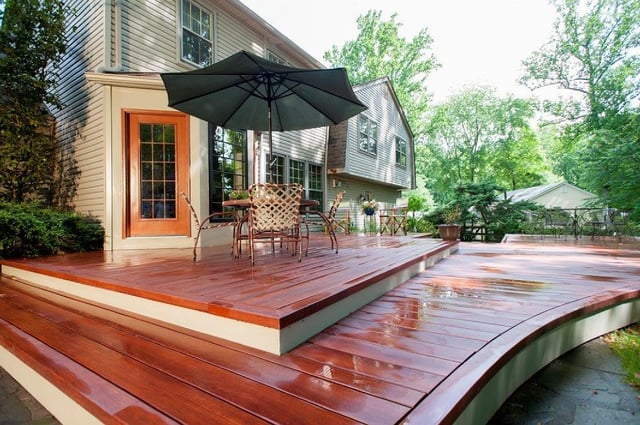 Raised edges on composite deck boards
Some composite decking materials incorporate large raised edges on the deck boards to minimize slipping issues. The downside to using these raised edges is that they can accumulate dirt, dust, and grime when they get trapped in the ridges. This increases the necessity for maintenance and cleaning, and it also makes that cleaning more difficult to do thoroughly.
Zuri's texture is printed from real pieces of hardwood
Unlike those composite decking products, Zuri doesn't have raised edges; from a distance it appears quite smooth or polished. However, the closer you inspect the boards, the more the incorporated wood texture becomes apparent. This is actually a desirable aesthetic, as the texture - present on a Zuri board's top acrylic layer - represents an authentic wood pattern obtained from real pieces of hardwood that is bestowed on Zuri decking.
To the naked eye, the Zuri decking texture looks very smooth. While the authentic wood pattern can be perceived with a casual examination, individual boards can appear to be slippery from the right perspective.
Running your finger along a low-maintenance Zuri deck board gives you a better idea of the level of texture present on the product. Much moreso than with sight alone, touching the decking reveals a large depth to its wood patterns that contributes to its low degree of slipperiness.
The extent of Zuri's authentic wood pattern is most evident under a microscope. If given the chance to observe the porch product in this way, your gaze would be met with a world of pockets, dips, and ridges ingrained into the surface acrylic. That said, the textures are not so dramatic as to trap dirt and negate the low upkeep Zuri decking contractors promise.
In summary
As any experienced Zuri deck builder will tell you, premium Zuri decking is not as smooth as it may first appear. The authentic wood textures that make it so attractive aesthetically - all composite decking materials strive to look as much like real wood as possible - contribute to some of the slip-resistant characteristics Zuri boards offer, even in wet conditions.