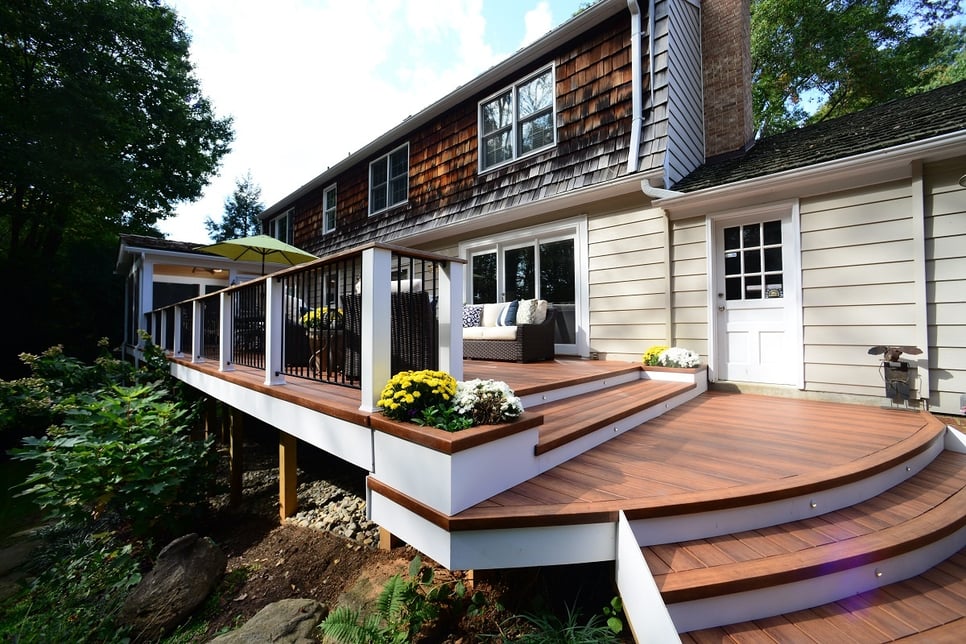 If you're considering adding a Zuri deck to your home in 2020, you have a lot of options to consider. From the actual Zuri material to the layout and logistics of your deck, how you want to revamp your outdoor space in 2020 includes a laundry list of variables. To help inspire you and possibly generate some ideas you want to incorporate into your project, take a look at this new Zuri deck construction job in Potomac, Maryland.
Potomac, Maryland, Zuri Deck Project: Inspiration for your back yard
Potomac Project Features Two-Area Outdoor Living Space
This project demonstrates that a deck job doesn't need to be limited to just a deck. By creating multiple living areas within the outdoor space, you can maximize the utility and visual appeal of the entire area.
In this project specifically, the owners opted to install a large deck (approximately five hundred square feet), and they finished that off with a screened porch area. This offers a fully open-air experience with the deck as well as a more protected, private space with the screened porch.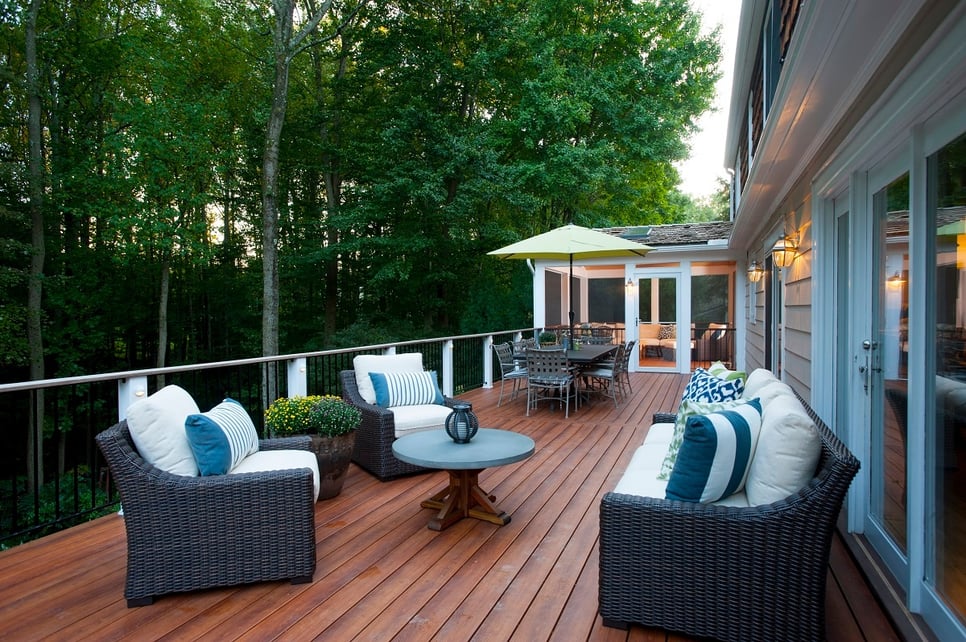 A Combination of Zuri Decking and Natural Wood
The other important design feature this project illustrates is that Zuri premium decking doesn't have to be your exclusive decking material. It can just be used in strategic areas of an outdoor living space. In the Potomac project, the homeowners decided to install Zuri decking on the actual exposed exterior decking section and genuine mahogany tongue-and-groove porch boards for the interior screened porch.
For them, this was a perfect compromise because they liked the look of natural wood but wanted the staying power and low-maintenance aspect of composite decking. With this mixing and matching of composite and natural, they got real wood inside (where a roofed structure would protect it from the sun and elements), and they got the beauty, low maintenance, and durability of Zuri outside (where it would take the brunt of UV exposure and other weather-related impact).
This was the savviest way to approach a project such as this because exposed real wood would have aged much faster than any composite and would have required expensive, time-consuming annual maintenance. Also, the overhang on the screened area effectively keeps all water away from that interior space and facilitates drainage, so there's no risk of puddling and damage to the genuine mahogany.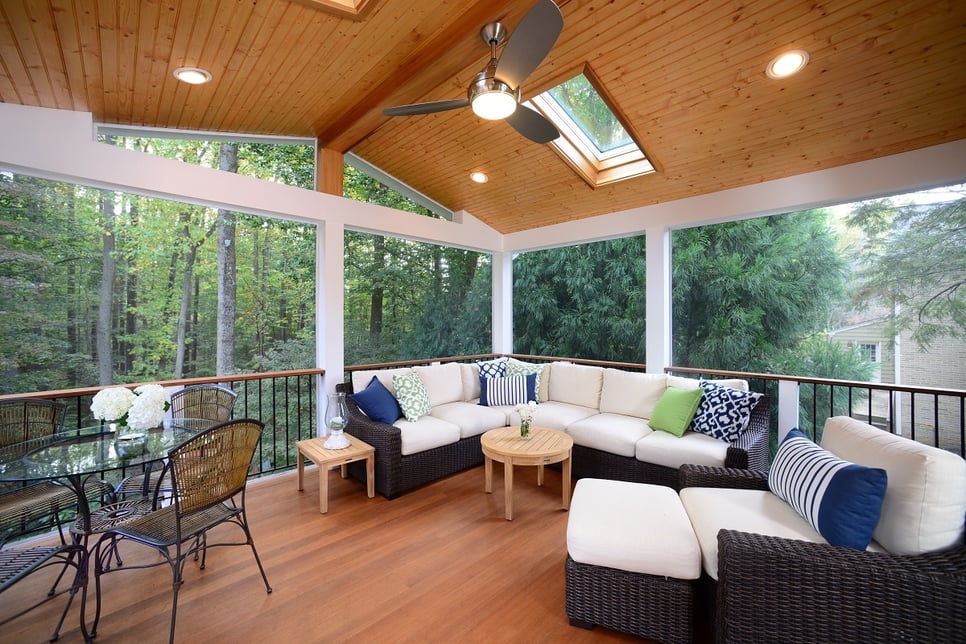 Overall Design: Big Impact in Small Details
This Potomac deck and screen porch utilized many subtle, small design flourishes that all add up to create a seamless, stunning end result. The following are just a few examples:
Tongue-and-groove mahogany porch boards finish with an entirely flat surface for optimal utility and aesthetics.
There are no gaps between the actual deck boards, which means there isn't space for dust, animal hair, or other grime to collect over time.
Using two different types of decking material (Zuri boards and mahogany boards) creates a nice visual barrier between the screen porch area and the deck itself. The composite being Zuri, however, means that even though there is a demarcation between the outdoor areas, it creates the illusion everything is natural wood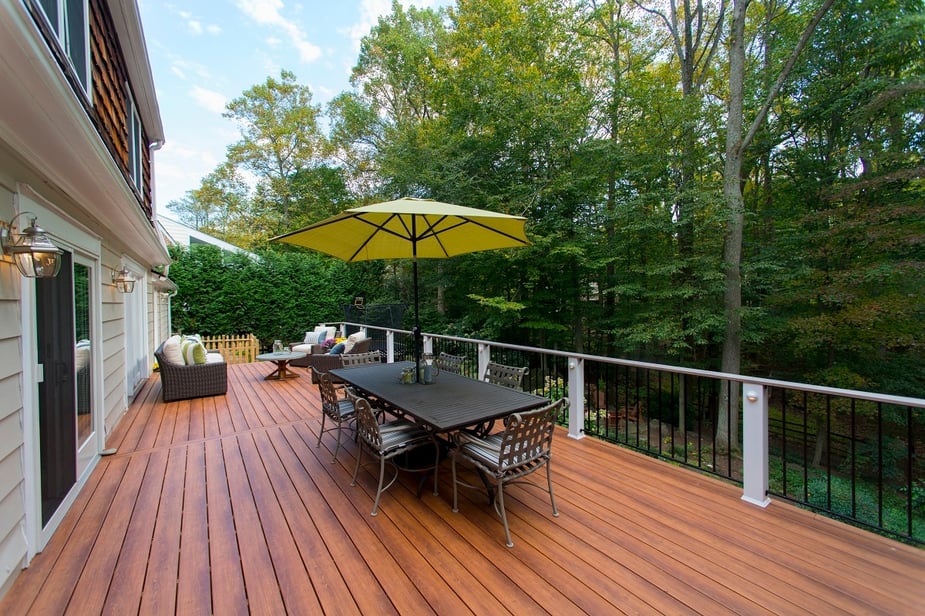 Finishing Touches: Beyond the Decking
Just as important as the actual decking material are the decking accessories. In this project, the design accessories had to be conscious not to impede the view of the backyard. To keep that view as open as possible, the project utilized a black wrought iron banister, which effectively vanished into the scenery without obstructing the view.
As with any design project, it also needed to blend seamlessly into the existing home, which, in this case, had a cedar shake roof that needed to be pulled into the design scheme.
To aid flow between the living spaces, a wide door was added between the dining room and screen porch, and flower boxes were built at elevation changes in the deck to visually break up the forty-foot expanse of decking.
For more information about this Potomac Zuri project or for questions about how to incorporate these design elements into your next construction job, feel free to reach out to a representative of Design Builders, Inc., today!