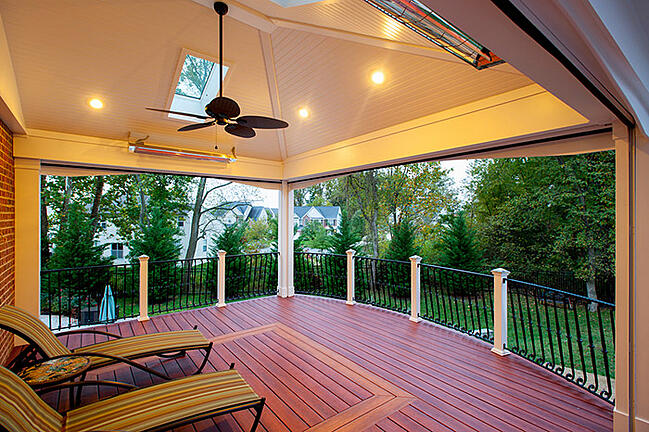 Zuri Decking - High Quality Decking Material

for the Mid-Atlantic Region
If you're thinking about having a deck built and are trying to decide whether you should use real wood or opt for a synthetic decking material, there are a number of things to consider. How will you be using the deck? Are you willing to devote a decent amount of time to maintenance and upkeep? How long do you want it to last?
While ultimately this is a personal decision, consider this a vote of confidence for Zuri Decking's 2014 line of synthetic decking. Some may worry that synthetic decking won't look or feel as good as natural wood, but that's definitely not the case with this product. If you want a good looking hardwood deck – or at least one that looks like hardwood – your search can stop here.
Realistic-looking colors and textures. At DesignBuildersMD, we've worked with all kinds of decking material – natural and synthetic – and can say with confidence that this is some of the most attractive synthetic decking we've ever seen. It not only looks like natural exotic timber, but incorporates authentic grain textures that make it feel natural, too. A big part of this is Zuri Decking's success at minimizing the pattern repetition in the grain – each piece really seems like a unique piece of wood.
Set it and forget it. Other synthetic decks have promised low maintenance in the past, but this year's Zuri Decking actually delivers it. You'll never have to stain, paint, or reseal it, and it's resistant to just about everything – stains, scratches, moisture, fading, and even slips and falls. Once our Zuri Decking contractors install it, all you have to do is enjoy it for years to come.
Easy professional installation. Zuri recommends professional installation – and many municipalities require it – and the company has provided thorough and straightforward instructions. This benefits you because it means fewer issues with installation than with other materials, and it allows us to get your new deck up and ready in no time.
All in all, we highly recommend the latest line of Zuri Decking Material to anyone looking to add a deck in Virginia, Maryland, and the surrounding areas.