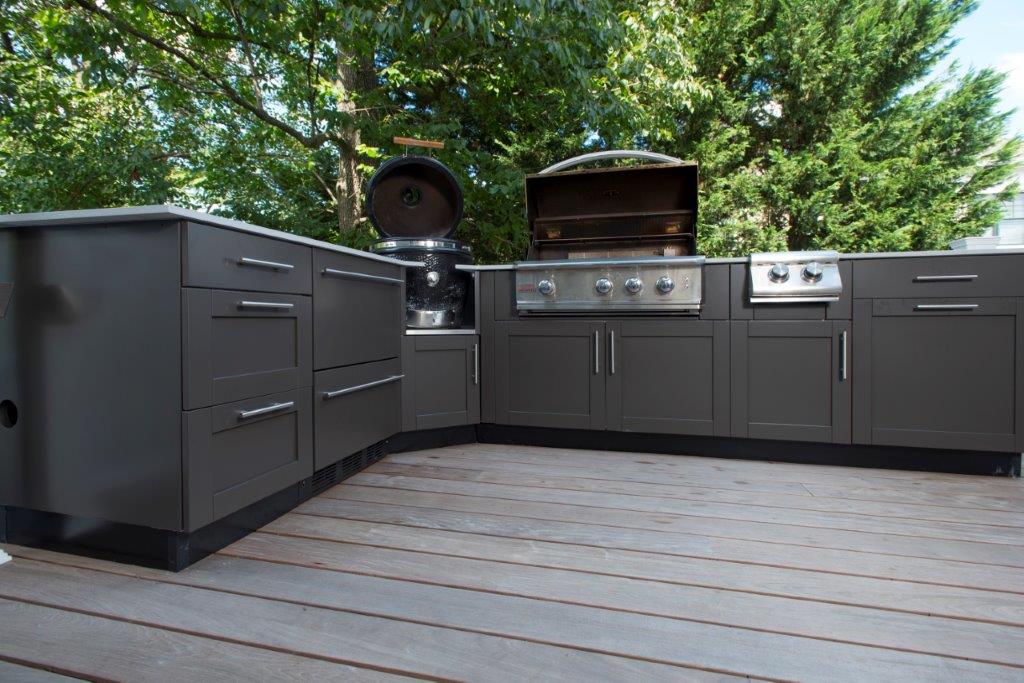 "Where can I purchase Danver stainless outdoor kitchen cabinets?"
If you're considering stainless steel outdoor kitchen cabinets, you're probably concerned about fitting new stainless steel kitchen cabinets into an existing or intended deck or porch design scheme. While you might assume that custom cabinetry is your only choice, there are other options. Semi-custom kitchen cabinetry is one such alternative, and these stainless steel cabinets are available from a number of sources.
What Makes Cabinetry "Semi-Custom"?
Semi-custom essentially means a company provides a variety of options you can apply to your outdoor kitchen, but if you need something outside those choices, the company might not be able to fulfill the request. For example, Danver stainless steel cabinets come in 3" increments ranging from 9" to 48". However, there are fillers as small as 1" to work around any layout that doesn't work with those 3" increments. In this way, powder coated stainless steel cabinets by Danver are technically semi-custom because they offer a set range of sizes from which customers can choose — even though the versatility of the fillers ensures the cabinets work with nearly any design concept. The same holds true for standard, brushed stainless steel Danver cabinets.
Direct Purchase
If you have found specific stainless steel outdoor kitchen cabinets that are right for you and you know the manufacturer, you can order directly from that cabinet maker via their website or phone order. Some companies, like Viking and Danver stainless outdoor kitchens, will put you in touch with their dealer network to ensure your needs are met succinctly. This means of direct purchase is efficient, and it's great if you have any lingering questions or specific inquiries about how the cabinetry will work with your outdoor living space because you can speak to a cabinet installation expert.
However, even if you don't know the manufacturer of your desired outdoor stainless steel cabinets, there are indirect methods of purchase that are equally as effective. Please note that this generally holds true for products across the decking market, and that an experienced, certified deck contractor in Maryland or Virginia will be able to advise you on products optimal for your situation.
Indirect Purchase
Because stainless steel cabinet brands are not always known by name, they frequently offer their products through numerous dealer networks. These can span numerous industries and include kitchen and bath design shops, interior designers, architects, landscape architects, home builders, and similar outlets. Design Builders would be an example, as Danver outdoor cabinets are purchased as part of a larger project as more of an add-on than a full feature. This is a very common avenue for consumers, as it usually consolidates the purchasing and installation process.
As a consumer, you have several avenues to explore within these avenues to stainless steel outdoor cabinet brands. One place to start is with local brick-and-mortar establishments, where an interior designer, architect, or builder can answer your questions directly. You can also contact a manufacturer for answers to more techinical questions. If local showrooms are hard to find, scouring Google for websites or phone numbers to contact is a good follow-up.
Trade Shows
If none of these avenues lend the results you want, there are always trade shows. You'll have to research when these trade shows come through your area, but they are an excellent way to see the quality and diversity of the outdoor cabinetry available as well as pose any questions about how that cabinetry will work in your outdoor living space to industry experts.
Whichever outlet you seek out for outdoor cabinetry, the actual manufacturer - like Danver outdoor kitchens - can be considered the "hub" of the wagon wheel, and there are numerous spokes through which to access those products.
For more information about custom or semi-custom stainless steel outdoor kitchen cabinets and venues through which to purchase them, please contact a Design Builders, Inc. representative today.