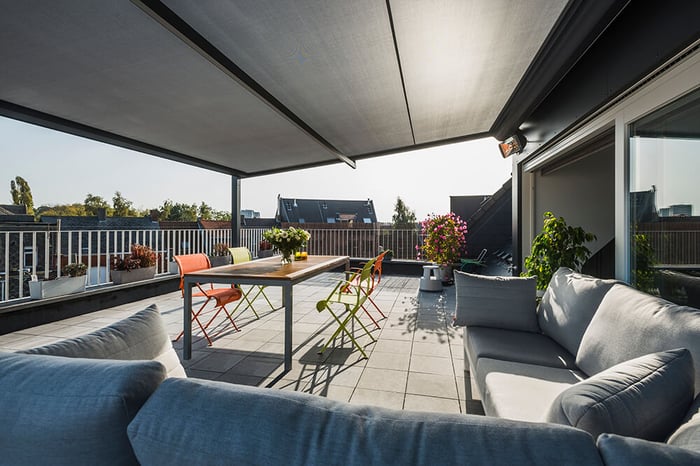 If you're like most people over the last year and a half, you've been thinking about how to turn your backyard into the outdoor living space you've always wanted. (Check out these benefits of an outdoor living space—in 2022 and beyond.) If you're looking for sleek, clean lines; sophisticated design; and versatile functionality, take a further look into what Renson has to offer. From pergolas to carports, here are the company's main product offerings.
5 Renson Products to Elevate Any Outdoor Living Space
Aluminum Pergolas
Pergolas are the primary product offering from Renson. The hallmarks of a Renson aluminum pergola include the following:
High-quality materials and craftsmanship for aesthetics, functionality, and durability
Minimalistic design
Personalization options
Limited maintenance requirements
Pergolas can be freestanding or attached to a façade. They are equally feasible in a residential or commercial setting.
Optional additions include
automatic solar shading,
LED lighting,
audio options,
heating elements,
and more.
Check out the entire line of pergolas here.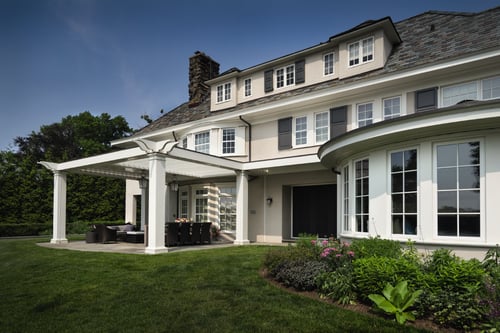 Porches
Want extra living space in your home? Looking to match the architectural style of the existing property? With Renson products, you can turn any patio, deck, or porch into additional livable square footage.
These kinds of spaces effectively blur the line between indoor and outdoor living. Several optional features allow these spaces to transition seamlessly between open-air areas and enclosures:
Louvered roof
Retractable Zipshade screens
Sliding glass walls
When everything is closed, you get additional privacy; light control; bug protection; and shelter from rain, wind, direct sunlight, pollen, and more.
(Are bugs, insects, and creepy-crawlies of particular concern in your part of the world? Check out these best practices for keeping the bugs at bay throughout the DMV.)
Learn more about the Renson line of porches.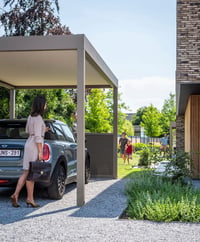 Carports
Limited on garage space but want to protect your vehicle from the elements? An Algarve canvas carport could be the answer. This is essentially a rigid roof made from sheet metal that also contains an anti-condensation layer.
Unlike other bulky, unattractive carport options, the Renson solution is sleek, slender, modern, and minimalistic.
Create a freestanding structure, attach it to your façade, or even extend it above your front door. (You'll never have to run through the rain from your car to the front door again!)
Discover their aluminum carports here.
Siding



Give any home a uniform, sophisticated, and stylish aesthetic with the siding options from Renson. Styles range from modern to classic.
Siding comes in the following options:
Vertical façade cladding
Horizontal façade cladding
Solar façade cladding
Browse the Renson siding collection now.
Garden Elements
The garden elements on offer include these products:
eSafe package drop mailbox
Outdoor lighting
Aluminum benches
Aluminum planter boxes
Freestanding walls
Pairing these garden elements with other structural pieces from Renson helps ensure your entire space has a seamless, uniform look.
Learn about the entire collection of Renson garden elements.
Thinking about building a private oasis in your own backyard? Live in the Northern Virginia or Maryland area? Request a quote for your dream project today.