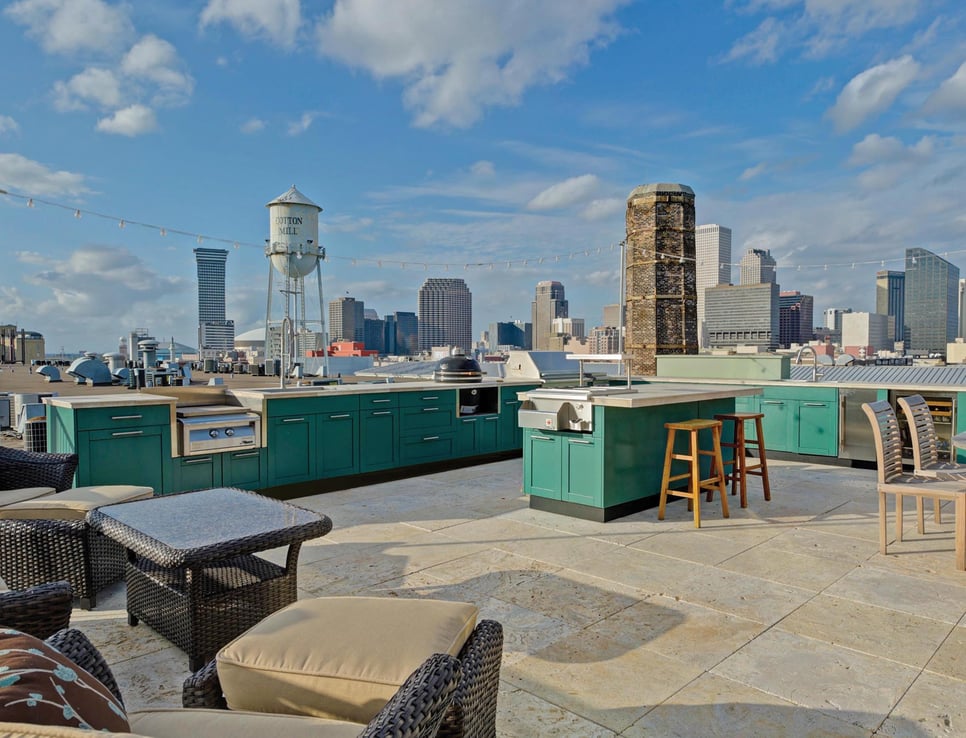 Rooftop deck with outdoor kitchen. Image used with permission from Danver Outdoor Kitchens
Best Deck Materials to Use for a Rooftop Deck or Rooftop Deck Replacement
A rooftop deck is fundamentally different than a ground-level deck, and that extends to the materials you should use as well. Because of the extreme sun and weather exposure a rooftop deck will have to endure, you and your design and build team will need to carefully think through exactly what you want to use to give you the best aesthetics, price point, and longevity.
Pressure-Treated Decking
One common and cost-effective product that people gravitate toward with rooftop projects is pressure-treated wood. Although it will require frequent maintenance due to the level of exposure it must sustain, this type of wood is generally up to the task.
Hardwood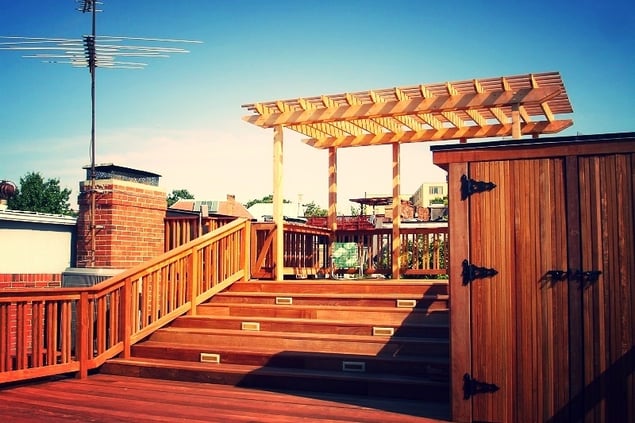 Choosing hardwood will mean more up-front cost—as compared to pressure-treated decking. While more durable and resistant to the extreme temperature and weather fluctuations a rooftop deck must endure, it will still require frequent maintenance (such as staining) to keep it looking pristine.
Capstock Composite Decking
Although many brands of capstock composite decking boards are highly recommended for ground-level decks, including Zuri, Azek, and more, professional build teams tend to discourage these products for rooftop decks. The amount of sun and exposure can lead to fading and other aesthetic failings over time.
Vinyl Decking
Vinyl decking options, such as Duradek, can be feasible options for rooftop projects. While these products aren't going to look as high-end or beautiful as some of the capstock composite options on the market today, they can be reasonably priced, nice looking, and a good fit for everything a rooftop space will put your chosen material through.
Deck Tiles
There is a wide variety of available deck tile options, including stone tiles and Mbrico porcelain tiles. However, once you introduce stone, large structural questions come into play. That is, can the existing building handle the amount of weight and strain added by so many stone tiles? If stone is the desired rooftop material, it might necessitate structural upgrades to the building, such as steel columns and new beams.
If your budget can accommodate those kinds of alterations, however, the sky really becomes the limit in terms of that rooftop structure. Other options, such as Mbrico tile decks, sidestep the issues associated with stone tiles other than cost. Mbrico tile decks are a solid rooftop decking option and come with a host of benefits, including strength, durability, and integration with Proline Radiant Heat systems.
Synthetic Turf of Synthetic Grass
Often, people will build rooftop decks in urban areas where there isn't a lot of extra space to build outward. This often means people are looking for these rooftop structures to serve as small green spaces in the midst of city life. In those cases, people choose to add synthetic turf or synthetic grass. Some even convert the area into a small putting green. In terms of the construction plan, these structures are built just like decks. There's a substrate base, and the synthetic material is then placed on top of that.
What Not to Use: PVC
Generally speaking, PVC is not recommended for rooftop decks. It can expand and contract drastically with temperature fluctuations, making it less than ideal for these high-exposure structures.
If you work with your design and build team, there are lots of creative, nontraditional ways to utilize any rooftop space. For more information about how you can customize your rooftop structure, please feel free to contact a representative of Design Builders, Inc., today!