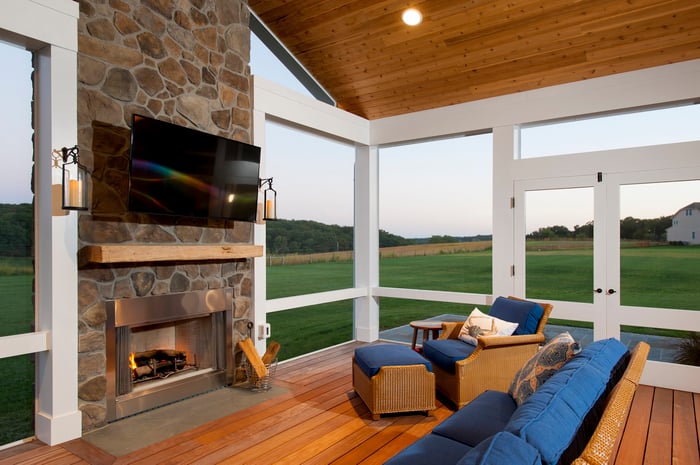 Screened-in porches are a big investment, and maintenance is always a major consideration. If a home improvement project is going to take a lot of time or money to maintain, that needs to be factored into the overall cost. Luckily, the best ways to clean screens in a SCREENEZE® screen porch are easy, straightforward, and cost effective.
3 Methods for Cleaning Screen Fabric on a SCREENEZE Porch
The screen fabric in a screened-in porch is exposed to the elements and will accumulate dirt, grime, pollen, and other crud over time. If you're using screen fabric supplied by SCREENEZE manufacturers, here are the recommended maintenance methods:
Hose Down Your Screen Fabric
For light everyday cleaning, simply hosing down your screens is very effective. Always spray from inside the screen porch out.
Begin on a low amount of hose pressure, and only increase the intensity if the dirt and grime are stubbornly clinging to your screens.
Note: SCREENEZE does not recommend ever using a pressure washer on your screen fabric.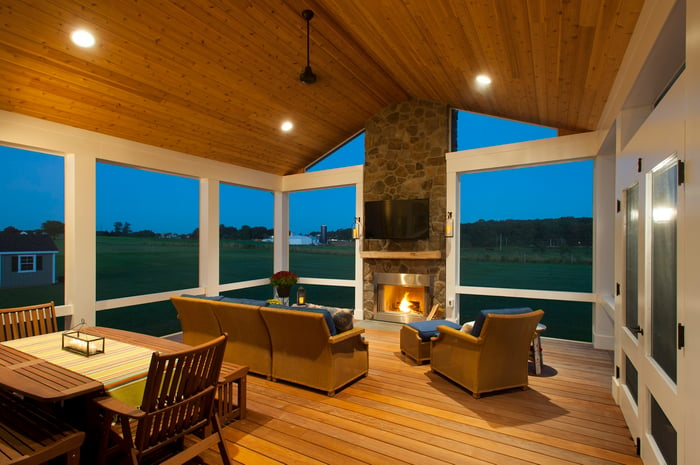 Clean Screen Fabric with Mild Soap and Water
This should be your go-to cleaning method for deeper, more thorough cleans. This is particularly useful during pollen season.
Here are some tips for cleaning success:
Avoid overly harsh chemicals or soap.
Opt for mild all-purpose cleaners.
If you're using a brush to scrub, make sure it isn't stiff enough to tear, rip, or puncture your screen fabric.
Warm water dislodges dirt and grime faster and more effectively than cold water.
Don't forget to clean the screen frame, as well as the fabric.
Thoroughly rinse away any soap or residue after cleaning.
How often you use this cleaning method will depend on how dirty your screens get over the course of the year. This will vary based on geography, as well as daily wear and tear. (Children, pets, lots of traffic, and frequent use can all contribute to dirty screen fabric.)
Generally, this level of cleaning can be done twice a year. Spring and fall are popular times.
Vacuum Loose, Dry Dust
For anyone living in very dry locations, you know how much dust can accumulate everywhere! Your screen fabric is no exception.
If you're consistently seeing dust on your screens, a quick, light-pressure vacuum is your best option.
You can use a handheld vacuum for this, or you can use the handheld attachments on any upright vacuum.
Apply even, gentle pressure while vacuuming. (Don't push too hard against the screens.)
While you've got the vacuum out, it's also a great time to catch any piles of dirt lying in corners or on windowsills.
If you live in a wet climate, a vacuum can be ineffective on your screen fabric. You'll likely need to spray with a hose or scrub with mild soap and water to remove your dirt and pollen.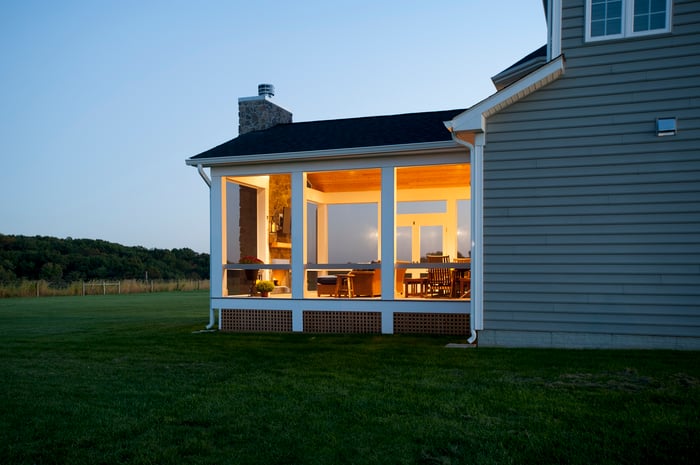 Have Any Questions about the Best Way to Clean Screens on a Screened-in Porch?
Want more information about how to clean or to maintain the screens in your SCREENEZE screened-in porch?
Reach out today. We're Design Builders, a custom high-end design and build firm specializing in Northern Virginia and Maryland outdoor living spaces. We've installed many SCREENEZE projects over the years, and we'd be happy to discuss any questions you have about the product!