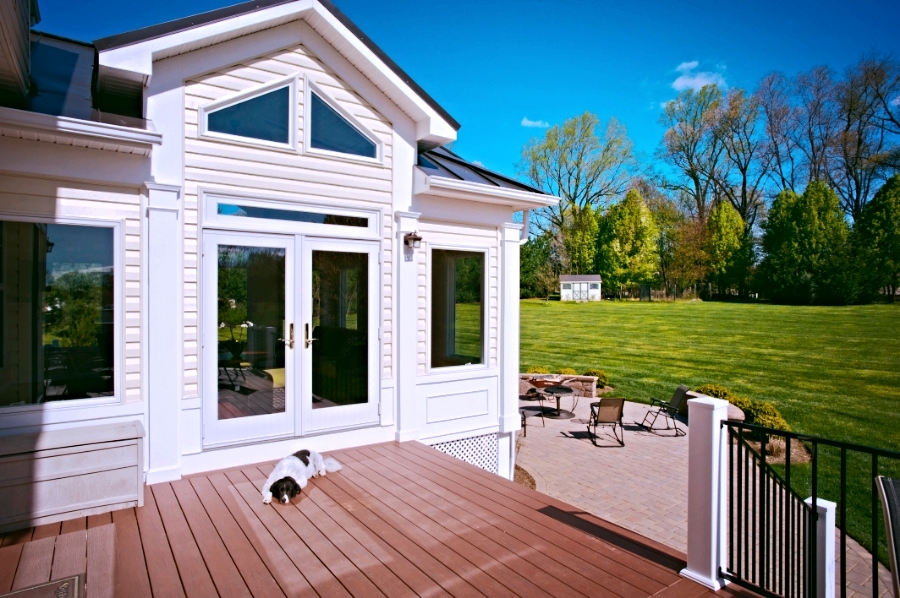 When it comes to contemporary decks in the District, there are numerous options for high-quality materials. A truly high-end deck project, however, won't just focus on quality decking or quality rails. It's about ensuring every detail of the deck is carefully considered and thoughtfully chosen. For your contemporary deck, consider both the quality of materials used and design features made possible through those materials.
Framing
One of the sturdiest and most high quality materials to use for framing is stainless steel. This can be used for joists, beams, columns, or any combination of those (and even outdoor kitchen cabinets). Stainless steel offers a lot of benefits: It won't rust, even when exposed to harsh DC winters or intense DC summers, and it lends itself to very clean design lines. It can span large areas for a straight, minimalistic, contemporary framing scheme.
Decking
There is no shortage of quality decking options that will work in a contemporary Washington, DC, deck project.
·

Hardwoods
Washington, DC, does experience drastic seasons. Summers are hot, and winters are extreme, so if you're going to choose a natural wood, it needs to be a hardwood. Hardwoods are less likely to expand and contract with temperature variations, and they don't soak up water and/or splinter too easily. Choice hardwoods (for quality and visual appeal) include teak, mahogany, and ipe.
Softwoods such as cedar, while beautiful, simply don't last as long. They are too malleable and are prone to shape distortion as well as gouges, nicks, and scratches.
·

Synthetic Decking
If you want the highest quality synthetic decking available, Zuri Premium Decking is your best bet. This product actually looks like natural wood but offers all the durability of a synthetic decking. It's also essentially maintenance-free, which offers a large convenience factor.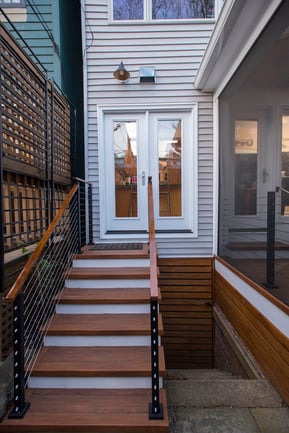 Railings
As with the framing, railing systems in contemporary decks are often stainless steel. The posts and the cables can both be made from this material.
If stainless steel is not desired for any reason, the other popular railing option is a glass system. Glass does provide an extremely streamlined and contemporary look, but there is always the issue of maintenance. The glass will have to be cleaned on both sides, and depending on the height and specific deck design, this might be anywhere from a slight inconvenience to extremely difficult. This is definitely something to factor into your deck design. If you want a contemporary deck that uses glass, work with your design team to facilitate the ease of maintenance.
The third popular railing material is wrought iron. The balusters can be either horizontal or vertical, depending on your particular design scheme. Like stainless steel and glass, wrought iron also offers a very clean, contemporary look. Wrought iron can also be powder coated to match or complement any existing color scheme—with the main home, the deck itself, or both. Where wrought iron meets concrete, there is the potential for rust to form, but this isn't typically an issue where wrought iron meets wood, such as would be seen in a contemporary deck design.