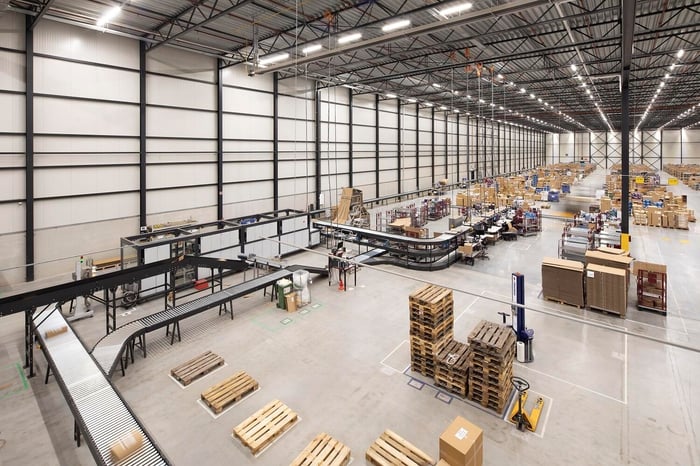 5 Benefits of Supply Chain Management for Trex Customers
As a leading name in wood-alternative decking, Trex is one of the most popular options among our customers building new decks, screened porches, and other outdoor living spaces. With so many continued supply chain woes happening around the world, Trex is leading the way with its robust, nimble, and eco-friendly business logistics management practices. For those looking to use this brand in their next outdoor living project, here are the five top benefits of supply chain management (SCM) for their customers.
Key Advantages of Supply Chain Management When Working with Trex
With Effective Supply Chain Management, Trex Products Are More Likely to Be Available
The last thing you want is to have your heart set on a certain brand, style, and color of decking board, deck railing, lighting option, or other outdoor accessory only to find you can't get that product for some indeterminate number of months.
One of the biggest advantages of using Trex in this pandemic-affected building landscape is the higher likelihood the materials you want will be in stock at a location convenient to you.
When materials are readily available, you…
Avoid delaying your project just to accommodate your materials list
Don't have to worry about a project dragging on and disrupting your life longer than necessary
Never have to compromise on your ideal project vision because a product isn't available
New Trex Production Facilities Are Helping Them Keep Pace with Product Demand
To ensure their customers have ready and available access to Trex products, the company has released plans to develop a new production site in Little Rock, Arkansas. This manufacturing facility will mark the third of its kind in the United States.
This large undertaking will help ensure Trex production can keep up with continued consumer demand for its industry-leading decking and railing products.
The same reasons drove recent capacity expansions at Trex manufacturing facilities in both Fernley, Nevada, and Winchester, Virginia.
Opening a manufacturing facility in Little Rock offers many strategic advantages:
Increasing access to Trex products and better serving customers in the middle of the country
Providing closer proximity to raw materials
Offering a large pool of qualified, skilled workers
Reducing costs and environmental impact through access to major transportation hubs
Better serving US and international distribution and retail partners
Proactive Supply Chain Management Allowed Them to Navigate Accelerated Growth through COVID-19
Trex has consistently been a high-growth company, and with the onset of the pandemic, those growth expectations only increased. They've always operated with the aim of capacity expansions, and thoughtfully creating and cultivating their supply chain has allowed for the seamless execution of those growth periods.
The release of Trex's Enhance product line, which is priced to compete with natural wood, combined with the effects of the pandemic, resulted in a significant surge in the do-it-yourself market. Even with the combination of these two elements, Trex was able to keep up with the significant demand. This comes down to the efficiency and strategy of its supply chain management.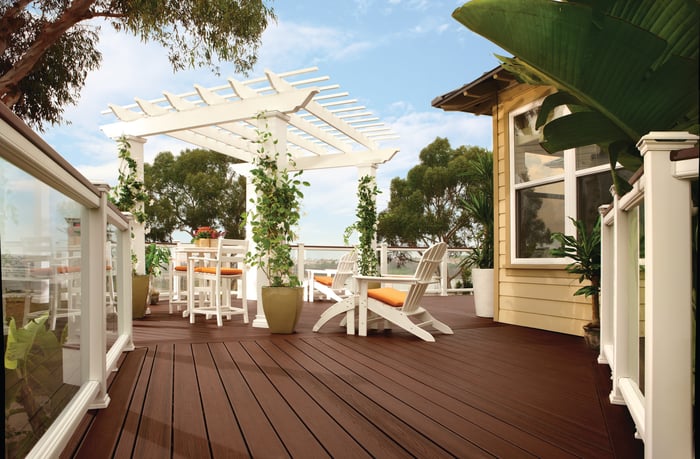 (Photo courtesy Trex)
Trex's SCM Strategy Allows Them to Be a Greener Company
For a growing number of customers, the eco-friendly aspect of Trex is one of the biggest selling points of the brand. Trex's high-performance, low-maintenance, eco-friendly composite decking is made primarily from recycled and reclaimed materials.
This adherence to green practices is a strong tenet of the company's supply chain approach. This includes:
Nearshoring to ensure the supply chain is as close to the manufacturing facilities as possible
Assembling or making all products within the United States

Some components do come from overseas, but the production process happens at the company's US facilities.

Minimizing miles materials and products travel to and from destinations
Environmental, social, and governance (ESG) principles are critical to the Trex mindset and business approach. There isn't any aspect of the business Trex doesn't view through the lens of ESG, and a robust, proactive supply chain makes that possible.
Trex's Business Model Requires Proactive Supply Chain Management
Because Trex is built around working with recycled materials, the company requires an extremely flexible, adaptable supply chain. Built into its supply chain model is the necessity to be fast and nimble, and those processes have served the company—and its customers—well through times of growth.
The primary benefits of proactive supply chain management include the following:
Being able to navigate drastic increases in volume
Enjoying risk mitigation by being flexible, nimble, and smart enough to have built-in redundancies

This helps to ensure raw materials always make it to Trex facilities.

Anticipating trends and shifts in the domestic and international landscapes and being able to adapt

These trends can be localized within sales and marketing, or they can be sweeping economic, geopolitical, and cultural shifts.
Ready to Design Your Next Project Using Trex?
Given the advantages of Trex's availability and environmentally friendly practices, many are interested in incorporating Trex products into their next outdoor living projects.
We're Design Builders, a custom design and build firm operating in Northern Virginia and Maryland. We've been building with Trex for decades and know firsthand how satisfied our customers have been with their decking, railing, lighting, and other products.
If you're interested in building your next outdoor living project, get a no-obligation quote today.