With high-end decking, it's very common to also have beautiful, durable, well-crafted railings. As with decking, though, there can be an overwhelming number of options. This applies to both styles and material. If you're currently weighing your options between composite railing and PVC, consider these pros and cons of the two material types: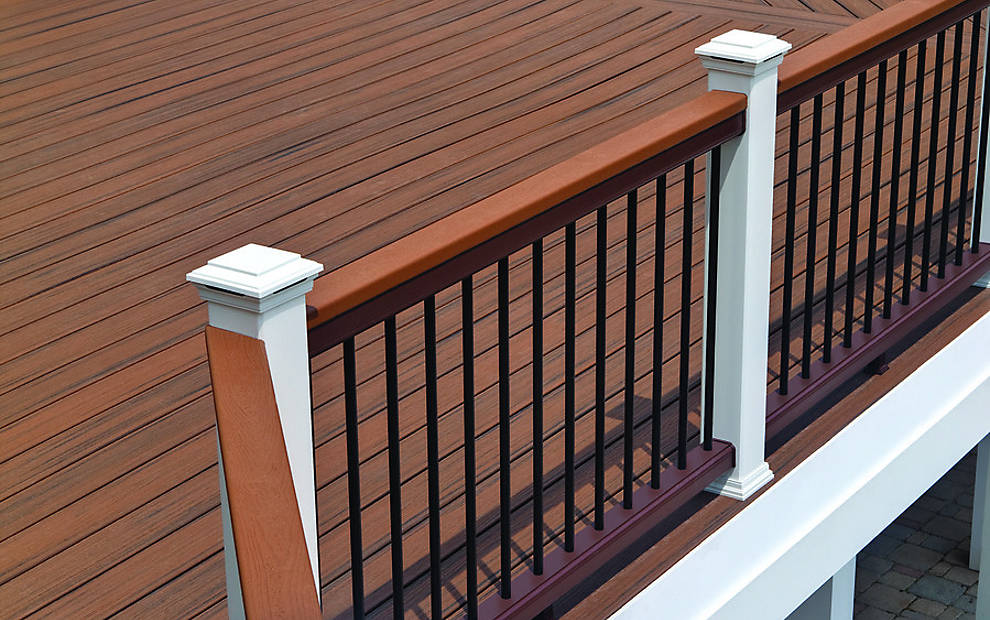 Pros of PVC Railing
Perhaps the most prominent benefit of PVC deck railing is the attractive price point. Especially when compared to expensive wood or custom metal, PVC tends to come in with a lower price tag. If your initial budget is absolutely set in stone and you have a hard upper limit, going with PVC could be your answer.
PVC deck railing presents a pretty straightforward installation process. This is another potential benefit for those working on a strict budget. By cutting down on installation time or even tackling the install yourself, you can save money on labor costs.
If you're not happy with the way your PVC railing looks initially you can always paint it. This allows for a wide range of options, ensuring you can match or complement your railing to just about any existing design scheme.
Cons of PVC Railing
One of the largest downfalls of PVC is its lack of durability, especially when exposed to extreme temperature conditions. After even a few years, PVC railings are prone to peeling or splitting. In extreme heat, you can also experience warping, twisting, and fading.
While that very first price tag can be desirable, the problem is the cost over the life of the project. If you have to frequently replace or repair sections, those expenses add up.
In most cases, it's very difficult to conceal the use of vinyl material. Even to the untrained eye, the product simply looks like vinyl, and for many homeowners, this makes it a less desirable material than composite, aluminum, or natural wood.
Pros of Composite Railing
Even when exposed to year after year of harsh winters and summers, composite railings tend to look the same as the day they were installed. They aren't prone to warping, cracking, splitting, splintering, or fading. This incredible durability is a major selling point for these kinds of railings. It also contributes to the value of the product. You won't be dealing with maintenance costs or replacing sections every few years; you just install it, sit back, and enjoy.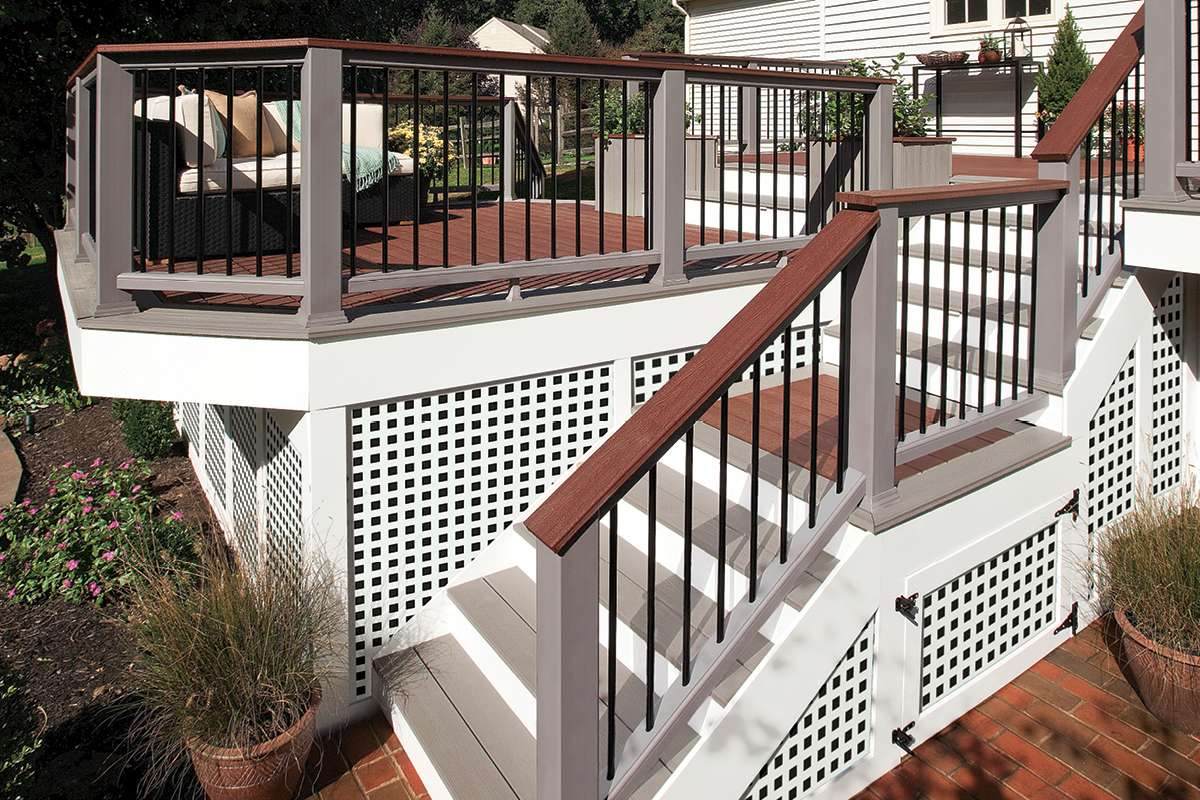 Unlike wood, which requires yearly sanding, painting, or staining, composite railings require none of this. Cleaning them is also simple and straightforward. All that's needed is a bit of water and mild soap. No special cleaners or harsh chemicals are required. Some companies that offer this product, such as Trex, even offer the extra peace of mind of a multiple-decade warranty against fading or staining.
As the industry for composite deck railings expands, the aesthetic value, color options, and style selection continue to grow. With more options available, more people are able to find what they consider the most beautiful look for their homes, whether that's a minimalist look or the more ornate post caps.
Trex is one well-known brand name in this industry, and their composite railings are made from at least 40 percent recycled material. For anyone looking to purchase a green product, composite is the way to go.
Cons of Composite Railings
Composite railings can come in at a higher initial price point than other commonly used materials, such as PVC or treated lumber. When you take into account the lack of maintenance over time, they are often eventually cheaper, but if your budget prohibits the up-front purchase, composite railings could be prohibitively expensive.
When it comes to decking in any capacity—boards, railings, or any accessories—some people are simply wedded to wood. For these people, no other material will suffice, and for those individuals, composite railings are simply not a good fit.
If you're interested in learning more about composite railings and who offers these products (think Trex) or if you're still trying to decide what material is best for your budget, climate, and project, feel free to reach out to us today. We'd love to chat!