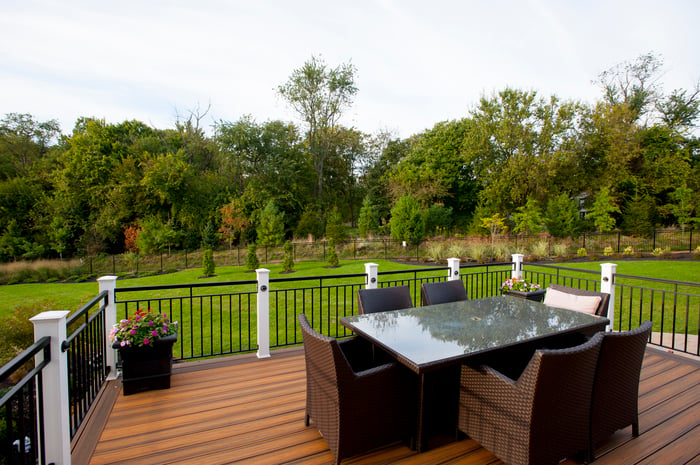 Augmented Reality Design Tool for Trex Decking
Want to add a deck to your home but feel overwhelmed by the idea of designing it? That's why Trex recently released the Trex® AR Deck Visualizer. The free app takes the guesswork out of early-stage deck design. Discover what this tool does, where you can get it, and why you want it in your deck design plans.
What Is the Trex AR Tool?
The Trex® AR Deck Visualizer is an augmented reality (AR) visualizer. It's an application that allows you to digitally create high-quality renderings of a deck.
It can digitally build a new deck from scratch, or you can use your existing deck as a backdrop for the AR visualizer tool. You can create these images in real time, and you get the benefit of panoramic views for a more immersive, realistic idea.
Within the app, you have access to the full range of Trex decking and railing products.
This includes all three levels of composite decking:
Transcend (best)
Select (better)
Enhance (better and good options)
It also includes their three lines of railing:
Signature (best)
Transcend (better)
Select (good)
Within the app, you can experiment with deck shape, product colors, and material combinations.
How to Get the Trex AR Visualizer Tool
The Trex AR Deck Visualizer is a free app.
It's available to iPhone users through the Apple App Store. Android users can get it on Google Play.
It downloads directly to your phone and uses your built-in camera to view your indoor or outdoor space.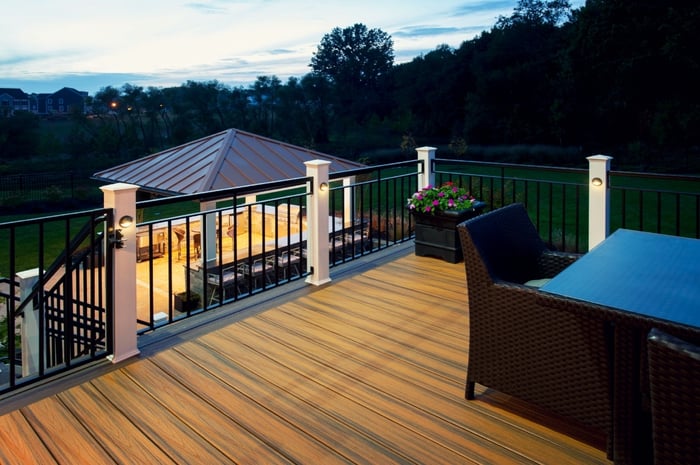 9 Benefits of the Trex AR Visualizer App
Why is this tool valuable? Here are the top nine reasons:
Have a Place to Start in an Overwhelming Process
Designing a deck involves a lot of decisions:
Deck configuration
Color schemes
Decking board type and style
Railing type and style
Whether you're building something from scratch or you're renovating an existing outdoor living space, it can feel pretty overwhelming.
This app serves as a deck color and railing style visualizer and is a great way to cycle through a lot of potential options quickly. It's an easy, effective way to start developing your deck design plans when you don't know where to start
See Your Deck before You Buy
Decks are a big investment. It makes sense you'd want to end up with a product that's exactly right. The Trex AR Deck Visualizer tool helps you start that process. You can pick and choose from available decking and railing elements until you have a rough, high-level idea of how you want your deck to look.
Enjoy Risk-Free and Unlimited Visualizing
Not sure if the classic white railings or the charcoal black are going to look best? Undecided between Spiced Rum and Island Mist composite boards?
With the Trex AR Deck Visualizer app, you get to see as many variations of your deck as you'd like. In real time.
With a few clicks, you can change…
The deck shape
The deck layout
The colors used
The combination of materials
When you're designing a deck from scratch, this helps you get a sense of what you like, what looks good together, and what works well with your existing home.
Best of all, the app can save you a lot of time and expense by narrowing your color selection before ordering samples.
Shop How You Want
Today's buyers are more informed than ever. Many don't come to a brand or salesperson until they've already done most of their research.
An app that allows you to independently experiment and to play with the available options lets you shop, learn, and interact with a brand the way you want.
Enjoy a User-Friendly and Intuitive App
This deck visualizer tool was created with the user in mind. It's meant to be simple, easy to use, and intuitive.
Design Your Deck on the Go
Play with the renderings and options anywhere you have your phone. This gives you the freedom to experiment and to design whenever inspiration strikes.
The portability of the app also means you can manipulate the renderings with another person.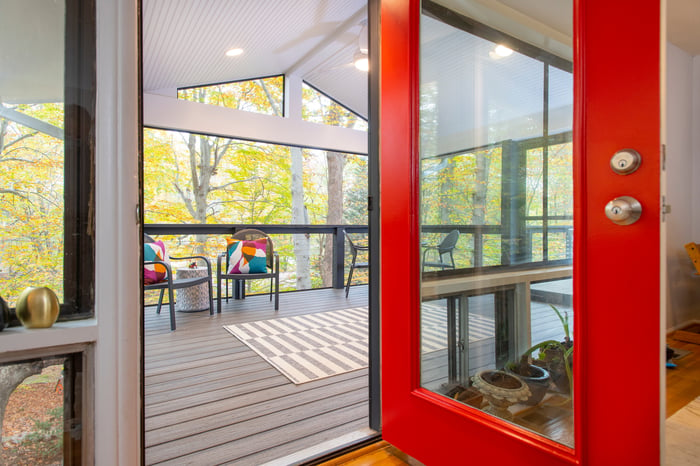 Email Preferred Styles to Yourself
From within the app, you can do several things:
Email yourself the styles you love
Email yourself basic information on the chosen materials, including linear feet of railing or square footage of decking
Take a shareable screenshot from the AR session
As another helpful bonus, whenever you leave the app, it also saves your last chosen options.
Take the Next Step with Handy In-App Features
Love what you've created? From inside the app, you can move your deck plans to the next stage:
Order samples of your selections (to see details and nuance in person)

Find a Trex retailer near you, if you're ready to purchase

Find local builders, if you want to have a third-party do your actual deck installation
If you're ready to take your deck plans to the next level, don't forget to check out the Trex Deck Designer. This is a more comprehensive deck designer tool that lets you control, handpick, and finalize every element of your deck.
The 3D deck design software is free to use, and if you're working with a local contractor, it can even save you money in the deck-building process. By having a finalized version of your deck in mind, you're less likely to make wholesale changes during the design and build process. This helps you avoid the expense, delays, and hassle of change orders.
Get All This Value for Free
Trex offers this app as a free download. It's a risk-free, no-obligation tool that has a ton of upside for homeowners.
Want a Partner for Your Northern Virginia or Maryland Home Decking Project?
Used the app? Picked out the elements you want for the deck in your Northern Virginia or Maryland home? Don't have the time or desire to make your deck a do-it-yourself project?
We're Design Builders, a custom design and build firm specializing in outdoor living spaces, including decks, screen porches, and outdoor kitchens. Reach out today! We're always happy to answer questions or to provide a decking quote.