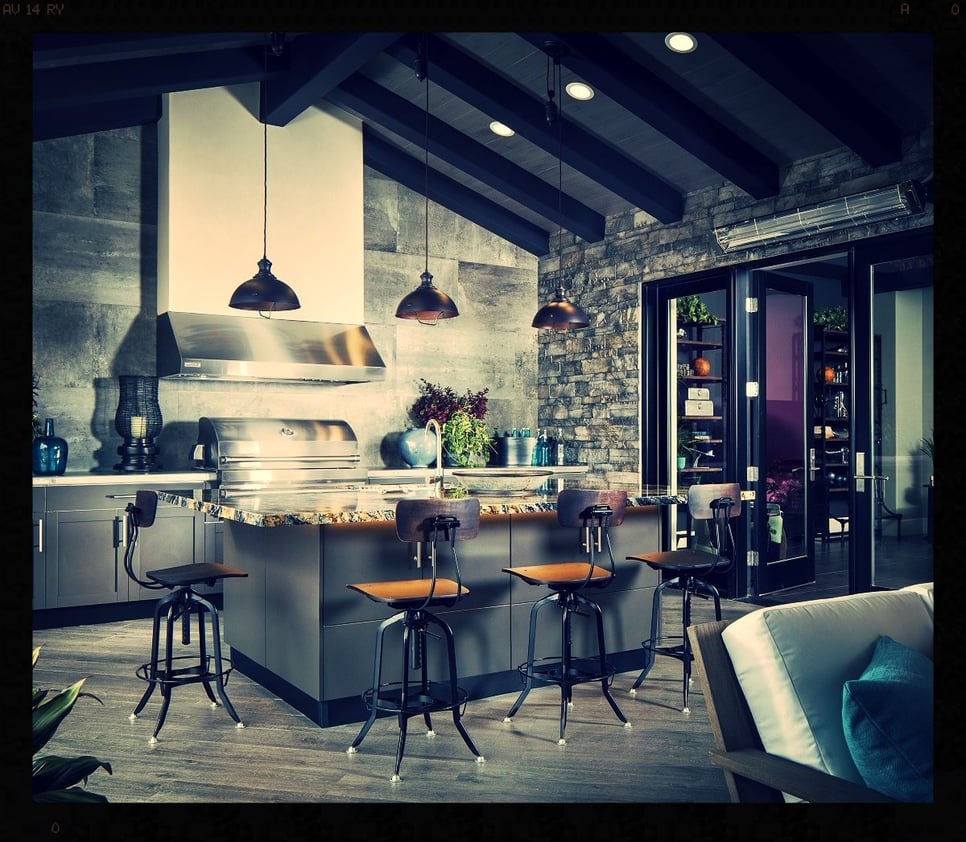 What's up-and-coming for outdoor kitchen cabinets according to the founder of Danver Stainless Outdoor Kitchens
Success in the upscale outdoor cabinetry industry requires companies to be dynamic. Because products in this market are so intertwined with the latest trends and design innovations, stainless steel cabinet brands must be at the forefront of these changes to stay relevant. No one knows this better than Mitchell Slater, president and founder of Danver Cabinets, who sat down with Design Builders to discuss prevailing industry trends to be aware of as homeowners are considering outdoor kitchen plans this year.
A Kitchen Isn't Just a Kitchen Anymore
While kitchens used to be valued based solely on functionality, new outdoor kitchen ideas have changed this dramatically over the past decade or so. This is a result of an increased quality of available outdoor kitchen appliances, furniture and cabinetry (like stainless steel Brown Jordan cabinets), and a slew of other factors that have enabled these backyard spaces to replicate the beauty, refinement, and utility of their indoor counterparts.
"One of the biggest trends in the industry is looking at an outdoor space as more than just an area for cooking," said Slater. "People are viewing these places as entertainment spaces, and that idea is currently being built into the construction itself."
To that end, more outdoor kitchens in Virginia and Maryland are being designed specifically for entertainment purposes. This includes everything from outdoor bar services built into compatible cabinetry to altering the layout of a screened porch to accommodate more people. Other innovations, like mobile cabinets and painted kitchen cabinets, facilitate this shift.
Aligning the Outside and Inside
Another major pattern you can see in an outdoor kitchen in Maryland is the increased desire for the outdoor space to not merely be an addition to the house but an extension of that space.
"There is an increasing trend for people to want to split their time between indoors and out," said Slater. "They want their outdoor areas to truly be part of the square footage of their homes."
This trend is a departure in mindset, and it directly affects the kind of outdoor appliances and items that go into creating those backyard grilling spaces. While homeowners used to be less selective of their furnishings outside, they now want the quality of an indoor kitchen with the hardiness required of outdoor living products. Stainless steel outdoor kitchen cabinets by Danver and Brown Jordan are thus particularly appealing, and are equally as viable for traditional kitchen remodels inside.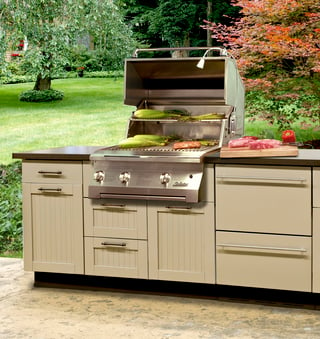 Beyond Grilling
The last major trend relates to another departure in mindset. When people used to think of outdoor spaces, they immediately thought about grills and grilling accessories, like the Green Egg Smoker or Blaze Grill; to some extent, that's still a focal point of these cooking areas. However, outdoor kitchens have evolved beyond just serving as places to grill, and that's where Danver cabinets can offer unique opportunities.
"Everyone's been doing grills and grilling appliances for years. People tell me they grill all year round, and that's great, but the real trend is toward creating an entertainment space - whether you like to grill or not," Slater said. "In this entertainment space, people want it to look really sharp. That's what people are looking for nowadays, and that's what design teams and architects are working toward."
As a result of a steadily increasing premium being placed on aesthetics by consumers, Danver cabinets and Brown Jordan outdoor kitchens are increasingly in demand with their versatility and selection.
"People want unique spaces from a looks standpoint. Every home has a different floor plan, and what Danver offers is the ability to have a different look for every kitchen. The sheer number of cabinets and hundreds of sizes make that possible. The cabinets also have the ability to fit any manufacturer's appliances, so we're definitely in the thick of this trend toward looks, style, design, and color."
For more information about up-and-coming trends in the outdoor kitchen industry, painted kitchen cabinets, or how to install Danver cabinets for your home, contact your local Danver cabinet installer. In Maryland, Virginia, and Washington, D.C., Design Builders, Inc. is your premier Danver cabinet retailer. Click here to schedule a free outdoor kitchen estimate, or here for more outdoor kitchen pictures.
Photos in this article provided by Danver Stainless Outdoor Cabinets