Construction projects are notorious for being expensive, time consuming, and stressful, which is precisely why CoConstruct was created. The people behind the software took the primary complaints and issues homeowners experienced during these projects and addressed them through their new platform. With that in mind, here are five common problems with the construction process and how CoConstruct seeks to fix them.
5 Ways CoConstruct Can Make a Construction Project Easier
#1: CoConstruct's Discussion Board
Open communication between the contractor and the client during any construction project is essential to success. Without communication, the people involved in the project can't be certain they're on the same page, which can quickly lead to unhappy customers.
That's why the CoConstruct platform has made communication a priority. Comments and messaging can be added about specific items or about the project in general. This discussion board keeps track of all prior discussion threads, so there's never any confusion or misunderstanding about the various decisions made, and all relevant parties can go back and access those records at any time.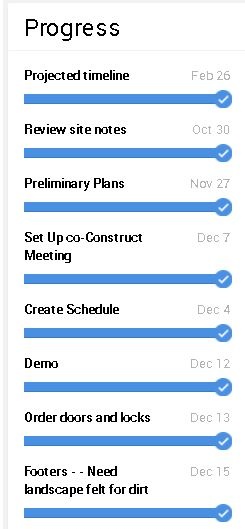 #2: Schedule Sharing
Whenever a home project gets knocked off schedule, much of the client's frustration often stems from not knowing why. If you're fully communicative with that client and are clear about the reasons for any delay, however, a lot of those negative feelings can be avoided.
CoConstruct helps facilitate total transparency between contractors and clients in this regard. Contractors can share either the project calendar or the project Gantt chart (or both), meaning the client has access to real-time updates to the schedule. If, for example, there's a rain delay, a delivery or project might get moved out, and the client can simply log in to the CoConstruct system and see that information. This schedule-sharing feature also means any meeting times that have been changed or canceled won't come as a surprise to the client, and there's no risk of waiting around for a subcontractor who is no longer planning on showing up.
#3: Decision-Making and Selections
Perhaps the biggest role a client plays in the remodel or home build is that of decision-maker. It's up to the client to make all the specific fixture selections, color choices, and so on. However, with work and family and everything else, it can be hard to keep track of what you've already decided on and even harder to remember when you said you'd have a final decision made on any given choice.
With CoConstruct, all those choices are there in one place. The client just needs to log in and make the relevant selections. This saves the contractor significant time by not having to track down the client every time the next decision is required.
There can even be deadlines inserted into the platform so the client knows exactly when something needs to be done in order to keep everything else on schedule.
By going through the platform, nobody needlessly wastes time meeting up in person or communicating back and forth. Just log in and make the selection at your own pace, and then everyone has immediate access to that final decision.
Clients can even filter out items that have already been decided, leaving them to view just the undecided choices.
#4: To-Do Lists for Contractors
Large construction projects are difficult to manage and keep organized—even for professionals—and that's why CoConstruct has a "to-do list" functionality for contractors. This makes sure all people involved know what they are responsible for handling and when these tasks need to get done. These lists can also be made visible to the client, which adds an extra level of accountability.
With a big project that involves lots of people and lots of individual tasks, this feature helps make sure nothing accidentally slips through the cracks.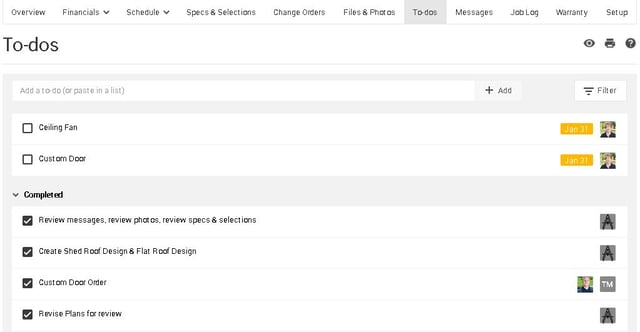 #5: Warranty Options
Warranties are a great way to give yourself peace of mind. With a warranty, you know you aren't financially liable if something is defective or not functioning as promised, and with CoConstruct, all your warranty-related information can be organized in one place.
As far as contractors go, they can guarantee they finish their jobs strong by ensuring any warranty-related loose ends are tied up after the build or remodel is complete.
Just as with all other aspects of the job, the client and contractor can always communicate about any warranty issues directly through the CoConstruct platform.
For more information about ways CoConstruct can facilitate your home project, feel free to contact a representative of Design Builders, Inc., today!