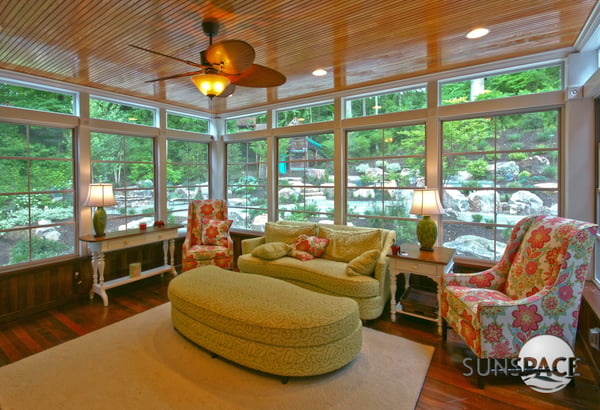 If you're thinking about transforming your exterior living space into a three-season or four-season area, windows are very likely on your mind right now! With a lot of brands to consider, though, it can be tough to decide what's right for your space. To help out homeowners on the fence, here's a quick breakdown of how two big names in this industry compare: Sunspace WeatherMaster windows and Eze-Breeze.
5 Advantages of Sunspace WeatherMaster Windows over Eze-Breeze Windows
As a design and build firm working exclusively in the Washington, DC; Virginia; and Maryland regions, we specialize in high-end custom outdoor spaces. Based on our years of experience crafting and installing in these areas, here are the top advantages we've found Sunspace has over its competitor Eze-Breeze:
One Working Part
Sunspace windows have one working part: a spring clip. Should it fail, that piece can be swapped out, but in over fifteen years of installations, we've never had to replace this part.
Eze-Breeze, on the other hand, has lots of working parts—and that means lots of breaking parts. There are simply too many pieces that can potentially fail. This puts the homeowner in a precarious situation, having to wait for that replacement piece in order to have a functional window again.
Pieces Aren't Plastic
Eze-Breeze not only has too many parts, but those parts are plastic. Over time, they will get brittle, the plastic will degrade, and they will fail. Especially in regions like the greater Washington, DC, area, which experience harsh winters and low temperatures, the pieces can become especially vulnerable to breakage.
Don't Have to Worry about Unavailable Pieces
Going back again to the excess of working parts in an Eze-Breeze window, many homeowners are coming up against the same problem. When the pieces do start to fail, it's sometimes been years since the installation, and the exact part or piece isn't available anymore. There aren't too many options for the homeowner at this point.
This is never a problem or consideration with a Sunspace window because there aren't any parts to replace!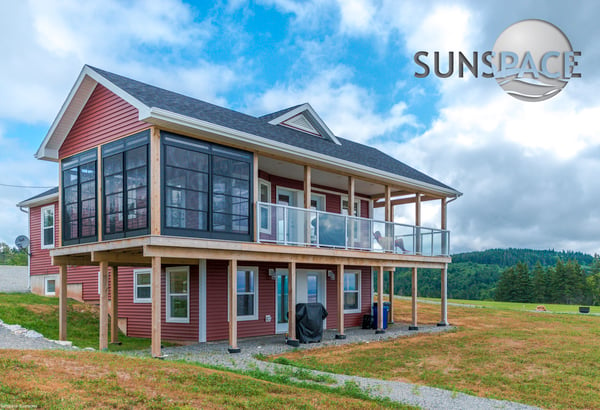 All Four Sashes Are the Same Size
In a Sunspace window, all sashes are identical size; in an Eze-Breeze system, each of the sashes is a different size. If a homeowner crosses those sashes, it's going to be a problem putting them back in. This means the hassle and potential expense of calling your installer and having to deal with the problem.
Aluminum Frame, PVC Plastic Track
A Sunspace window has an aluminum frame but a PVC plastic track. An Eze-Breeze system is aluminum on both accounts. That means you're scraping metal against metal. In a Sunspace window, an occasional shot of silicone spray can clear out any accumulated dirt and grime, and the window will open just as smoothly as the day it was installed.
*Bonus Benefit* ViewFlex Vinyl
With a Sunspace window, all vents are glazed with a product called ViewFlex vinyl. It's an incredibly resilient, tough material, and it means you don't have to install (or worry about) glass windows in your outdoor living space. For a full breakdown of all the things we love about ViewFlex, read our blog here.
Looking to replace your existing window system? Starting a screened-in porch from scratch? Simply have a question about Sunspace WeatherMaster windows? Whatever stage of the process you're in, feel free to reach out to us, or leave us a comment below. We'll get back to you right away!