Selecting Flooring and Wall Coverings for Your Sun Room
Sun Room Series Part 3
The Sun Room Series is a five-part blog series that will cover everything you need to know about planning, building, and finishing your new sun room.
We've discussed where you're going to build your new sun room and how you're going to heat and cool it. Now it's time to indulge your inner architect and determine what kind of flooring and wall coverings you want for your new addition.
Hoping to use this room to satisfy your longtime craving for a log cabin atmosphere? If you're going for that natural look, opt for tongue and groove cedar paneling on the ceiling and walls. This type of material will give your room a rich, warm feel, while adding dimension and color in an understated way.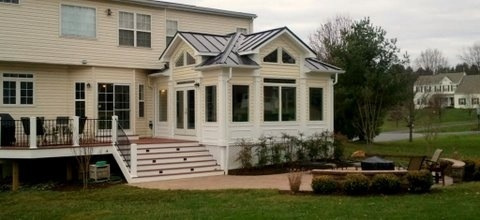 For those who prefer a clean, modern look, drywall and paint are your best options. These finishings are also the right choice for someone who changes their mind often about color and decorating – you'll always have the freedom to slather on another coat of paint should you tire of the existing shade.
Flooring is another important consideration that can affect the entire look of a room. As we have said in previous posts, whether your sun room is an expansion of an existing room in your house or an add-on will affect what your options are for flooring.
If you're going for a more casual, porch-like atmosphere, tile flooring may be the right choice. It will also keep the area cool on hot summer days. Hardwood flooring can be a beautiful complement to tongue and groove paneling. Either a floating hardwood floor or a traditionally installed flooring system can enhance the richness of the room. Going for warm and cozy? Carpeting is your best bet.
Up next in Part 4 of the Sun Room Series: Let there be light.
Sun Room Series Part 1: Location