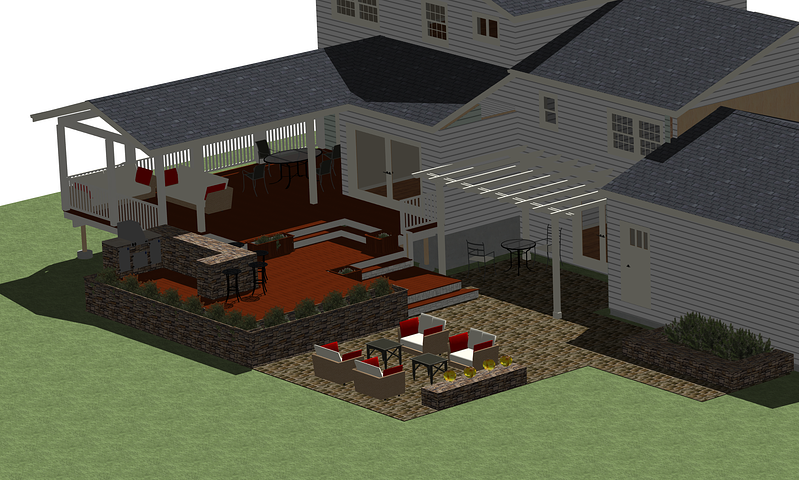 Why it is important to hire a decking contractor with strong design capabilities
You know you want a deck. You've been dreaming of one for years now. Having barbecues with friends and family members. Inviting people over for the big game or to watch fireworks on the 4th.
And while you have a vague picture of what you want, you still expect the deck contractor you hire to come with suggestions and design ideas of their own. If there is something specific you want that cannot be fulfilled for example, you want someone who can offer a viable alternative. In short, you don't just want someone to help you build your deck; you want a partner to help you design it.
But how can you determine whether or not your decking contractor has any design skills?
They have a degree.
While not in itself a guarantee of good design, if your contractor or someone on their staff studied design in school, you know they have a helpful base of knowledge to draw from. College programs teach basic design principles, offer practical lessons in building, and share the history of design, so your contractor will be exposed to a number of styles and ideas.
This can be especially helpful when dealing with the practical use of deck space and aesthetics. Decking contractors with a strong design fundation will provide a better outcome for their clients.
They are experienced.
So what if they don't have a formal design background? If your contract doesn't have a degree, it shouldn't be a deal-breaker. Many successful deck contractors have been around the work so much they've picked up design principles through hands-on work. In fact, this can even be more valuable than learning it in a classroom because most colleges won't be sharing specific design ideas for decks. With practical experience, you get to see what really works – and doesn't – when you're out in the field.
You like other work they've done.
This one is pretty simple: if you want to know if you're going to like the design aesthetic of a contractor, take a look at their other work, and ask them how much input they had on the design. Chances are pretty good that, if you like the other projects they've worked on, you'll like what they will do for you as well. This is why good decking contractors always have their portfolios available for review on their website and in-person. The best way to tell if you like a particular builder's style is to see it for yourself and ask yourself if you would be happy with a similar deck.
They can speak intelligently about making your space functional.
For anyone who is in the business of designing and creating a physical object, it's not just about making a pretty picture that you can enjoy. Deck builders who understand design will talk to you about making a functional space and ask you questions about how you plan to use your deck. That means thinking about walkways, furniture placement, where the door is going to be, where the grill will be, and so on. Make a mistake in your design and you lose functional space because people will be walking right through the middle of it. You have to balance aesthetics with functionality, and everything should be designed around lifestyle, furniture layout, and how you want to use it.
When looking for contractors who fit your design aesthetic, there are a couple of things you should do. Check for crowded furniture in portfolio pictures, because you always want it to look natural, and this can be a sign that the contractor didn't properly plan out the deck as a functional space. You can also blatantly ask about their design philosophy. Do they preference light? Space? Matching the look of the house? What matters to them? Ultimately, you want someone whose design abilities match your aesthetic preferences.