Important Screened-In Porch Building Codes for NOVA Homeowners

If you've ever contracted a screened room build, you may already be familiar with the International Residential Code (IRC). The IRC is a comprehensive guide to construction regulations for one- and two-family homes that are three stories or less in height. It is the authority on all things contracting.
The IRC features provisions on building, plumbing, mechanical, fuel, gas, energy, and electrical procedures. Every three years, the International Code Council (ICC) puts out a new version of the IRC with updated regulations incorporating new technologies and techniques.
The latest version of the IRC includes codes on virtually every aspect of buildings and construction, from basement renovations to carbon monoxide detector requirements to deck construction. These codes are also unique to different areas and geographical regions, such as beachfront properties, mountain properties, and homes located within earthquake zones. This means that while all states abide by the same set of rules, states choose to enforce different rules than others according to their climate and geographical landscape.
Top 6 IRC Codes in North Virginia for Screen Rooms

Northern Virginia strictly enforces many different rules and requirements regarding the construction of screened-in porches. If you are thinking of adding a screened room to your home, there are several critical local codes you should be aware of.
Hurricane ties. According to local code, screen rooms and decks must incorporate hurricane ties on every single joist-to-beam connection. Hurricane ties will help make your structure more resistant to hurricanes and high winds because they are designed to prevent uplift, racking, sliding, and overturning. Without proper ties, your unique screen porch could potentially fail under the pressure of high winds.


DTT2Z bracket. In the past, railing posts on decks and porches could be attached to the framing with two simple bolts. The latest version of the code, however, mandates that every railing post on a screened-in porch must be connected to the framing with a DTT2Z bracket. DTT2Z brackets connect railing posts to the frame for stronger, safer railings.


Outlets. In northern Virginia, every deck and screened-in porch must have an electrical outlet. Local ordinances demand that exterior outlets be designed to be weatherproof and tamperproof for safety reasons, with protective watertight casings.


Illuminated stairs. According to local code, deck stairs must be illuminated by sufficient outdoor lighting. If existing house lights from do not provide adequate coverage, then additional outdoor lighting fixtures will have to be added. While dim lighting is an obvious safety hazard, you may not have known that it is addressed by NOVA construction regulations.


Exterior door light. When converting a door into a window, you must install an exterior light. Local ordinances require there to be a light switch on the inside of a screened porch that controls the light on the outside of the door. Exterior lights can also add security and beauty to your structure.


Lateral stability. Screened rooms may require some type of bracing to achieve lateral stability, typically where the posts connect to the beam. A laterally unstable structure is able to twist, buckle sideways, or fall over.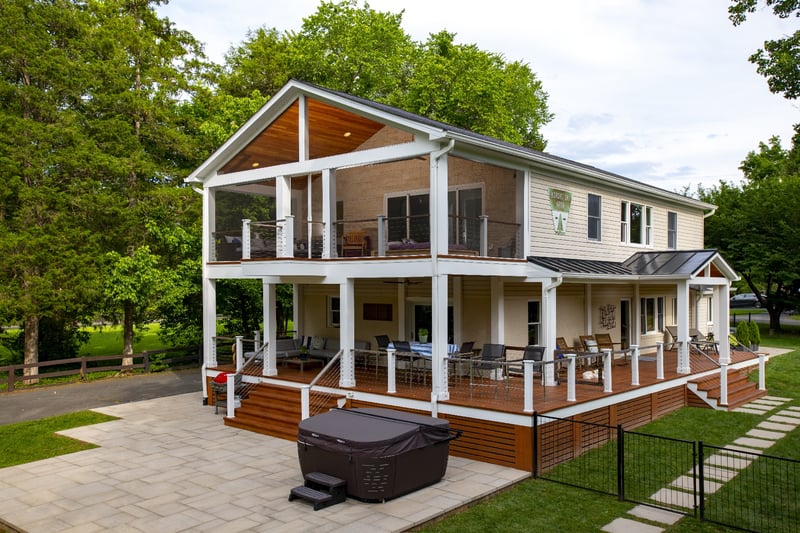 Why Are Building Codes for Your Screened Porch Important?
One blog post cannot reasonably cover the numerous IRC codes all NOVA screened porch projects have to follow; the six aforementioned regulations are but a small sample of these codes. Closely following these rules is essential however for two main reasons:
To pass inspection. Once your screened-in porch is completed, it will need to be examined and approved by an inspector to be confirmed as up to code. Failing a final inspection can be costly and in severe cases may require a structure be rebuilt.


To ensure structures are safe and secure for the people who use them. Following IRC codes ideally results in a structurally sound screen room that will maintain its integrity for years to come.
It can be challenging to keep up with Virginia's constantly changing area codes, which is why it's important to consult with an experienced porch contractor in NOVA before beginning your build. A competent contractor can help you draft construction plans that are up to code and provide expert and code-approved building techniques.