Why Contractors (and Homeowners) Love Danver for Outdoor Living Spaces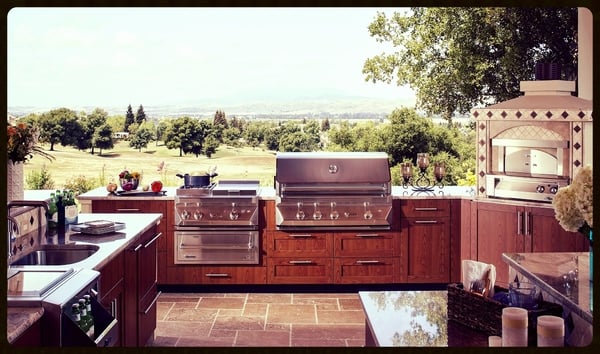 (Photo courtesy of Danver)
Danver Outdoor Kitchens specializes in various outdoor kitchen furniture, storage solutions, and cabinetry. For decades, homeowners and contractors have considered them one of the gold standard brands for outdoor living spaces. Here are five reasons using their products can save contractors and homeowners alike time, money, and headache.
5 Ways Danver Products Benefit Contractors and Homeowners
Cabinets Come with Predrilled Holes
Danver outdoor cabinetry was designed with the direct input and feedback of contractors. These builders were able to provide their insight and guidance about what they wanted in the assembling and installation of outdoor cabinetry, and Danver listened.
One important feature that came of this collaboration was predrilled holes.
This significantly reduces the necessary time onsite for installation, which benefits both the contractor and homeowner.
Nobody likes home improvement projects that run longer than necessary
Contractors Save Time and Money
Because the installation process is streamlined and faster for contractors, that translates to saved time and money.
Those savings can then be passed on to the homeowner. (A multiday project is going to be billed differently than a one-day installation.)
Home improvement projects that drag on are not only frustrating but can cause costly life disruptions. If your contractors can get in and out quickly, you'll have access to your new outdoor living space sooner, and you can stop worrying about missing or rearranging work to meet with contractors.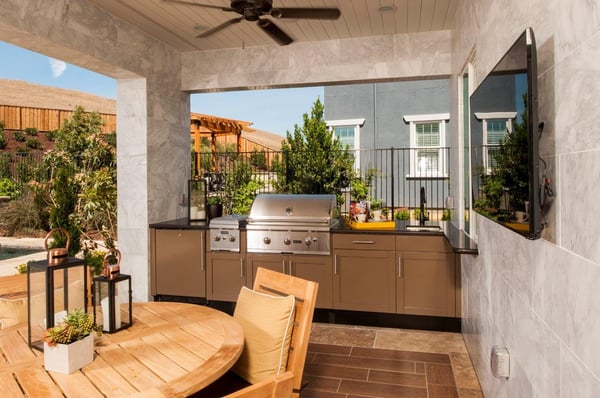 (Photo courtesy of Danver)
Contractors and Homeowners Deal with Fewer Callbacks
There's nothing worse in a home construction project than having to deal with callbacks. They're unexpected, disruptive, and potentially costly.
When the installation process for your outdoor cabinetry is simplified and streamlined, there are fewer opportunities for something to go wrong. That leads directly to fewer callbacks.
That means happier contractors and homeowners.
Danver Products Are Made from High-Quality Materials
From their cabinetry to their outdoor cooking tables, products within the Danver line are made with high-quality craftsmanship and materials, including stainless steel.
This provides the homeowner with several benefits:
The products are designed to withstand the outdoors and even extreme weather.
After years of use, the products can still look pristine.
Over the years, there's less need for repairs, maintenance, or replacement.
The ability to powder coat the stainless steel gives aesthetic options, and it offers an extra level of protection.
The designs are timeless, sleek, and modern, helping ensure your outdoor living space won't soon look dated.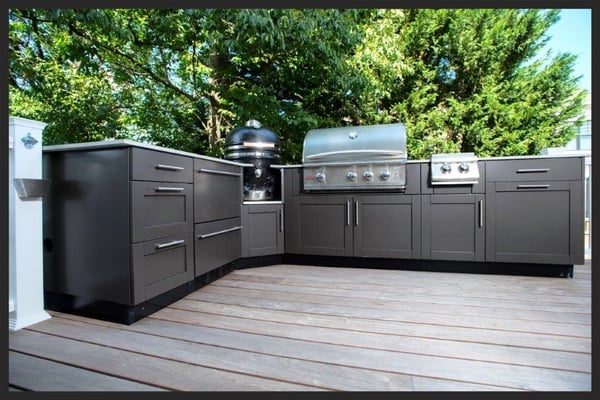 (Design Builders photo)
The Lifetime Value of Danver Products Is High
Are Danver Outdoor Kitchens products the cheapest initial option? No.
When you look at the lifetime value of the product, however, their appeal becomes more obvious.
From the onset, you will have a beautiful, durable, high-quality product. Then, over the years, you will save on maintenance, upkeep, repair, and replacement costs. These savings will help offset that initial financial difference between Danver and other outdoor living products.
Questions about Adding Danver to Your Northern Virginia or Maryland Home?
Interested in what Danver offers? Curious about the possibilities with your outdoor living space? Contact us today.
We're Design Builders, a custom design and build firm operating in Northern Virginia and Maryland. We specialize in high-end outdoor living spaces and top-tier brands, including Danver, Zuri, Infratech, and others. We're always happy to answer questions and talk shop on screen porches, decks, patios, and outdoor kitchens!