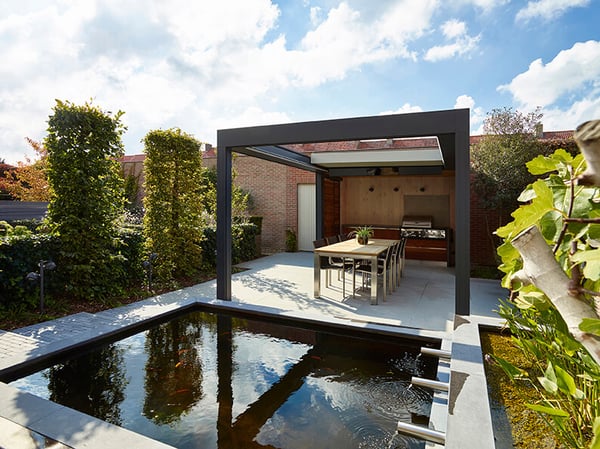 (Photos courtesy of Renson.)


Pergolas used to be quite limited in their functionality and options. Today, they are dynamic and highly customizable structures that can be added to just about any outdoor living space. Renson, an industry-leading purveyor of aluminum pergolas, offers a wide variety of customization options.
11 Ways You Can Customize Your Renson Aluminum Pergola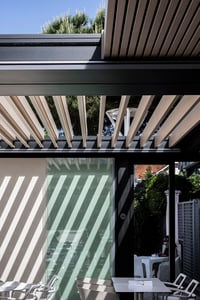 Louvered Roof
The blades of a Renson louvered roof rotate 150 degrees. This means you can get as much sun exposure as you desire, but it also means you can fully close the blades for a water-resistant roof. The louvers do close quickly, so you can transition from open to closed without a lot of time between.
Retractable Roof and Screens
If you're looking for something with even more functionality than a traditional louvered roof system, you can opt for a retractable roof. It comes in at a higher price tag, but it provides added convenience, ease of use, and luxury to your outdoor space.
The retractable roof utilizes patented technology from Renson.
Using remote operation, you can open or close both the roof and screens.
Dropdown Screens
Dropdown screens give you a wide range of protection. With these screens, you can protect yourself from any or all of the following:
Rain
Wind
Pollen
Insects or bugs
Without detracting from your view, these screens are a simple, elegant way to extend the amount of time throughout the year you can enjoy your pergola.
Integrated Screens
With ZipShade screens integrated into your pergola, you ensure your structure is windproof from any direction. When closed, you also get excellent bug protection. Based on your needs and aesthetic preferences, you can choose the screens that work best for your project.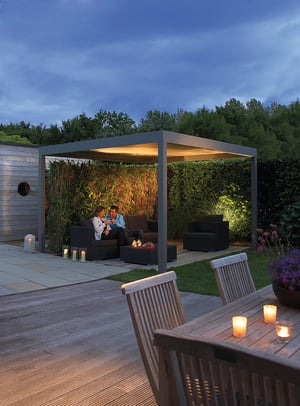 Lighting
Lighting is one of the most popular customization options with a Renson pergola. Lighting allows you to use the structure comfortably at any time of day or night. This is particularly useful if you intend to use your pergola for outdoor entertaining. With a simple light installation, you can entertain later into the day or night without having to worry about how dark it's getting.
(Pergola use has skyrocketed during the pandemic because these structures do provide a safe way to gather outdoors while still distancing. Click here for more information about how COVID-19 has changed pergola use.)
LED lighting can be integrated into any of the following areas:
Columns
Inside of the frame. (This can be directed upward or downward.)
Blades
Heating
Just as lights allow you to extend the amount of time you can use a pergola throughout the day, heating allows you to enjoy it for more months out of the year. While heating might not be able to stave off the coldest days of the year, an integrated heating system will certainly take the chill off early spring and late fall nights.
Sound Systems
If you're looking to install a pergola as a place to entertain outdoors, consider the integration of a sound system. This is yet another customization touch that can help make your pergola your own, creating a space that suits your exact needs.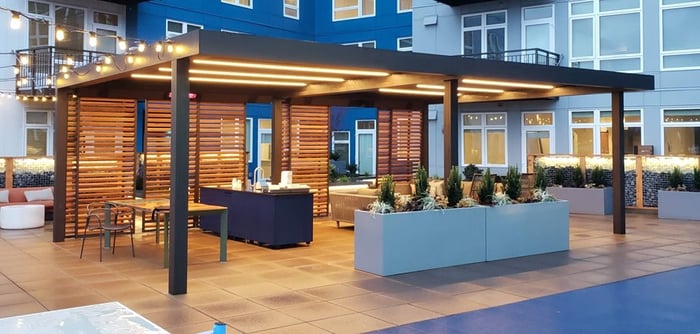 Color Options
Custom colors are always an appealing option because they give you the opportunity to complement or to match something already there. For private homeowners, this could be the existing home; for commercial businesses, this means the ability to seamlessly match branding colors.
Renson pergolas are available in over one hundred textured coating colors.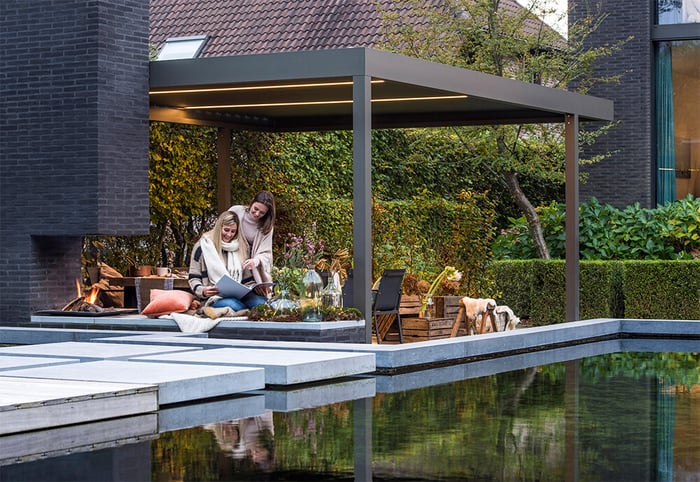 Custom Dimensions
Whatever the size of the job you need, a Renson pergola can accommodate. Their pergolas are made to measure within the maximum allowable dimensions.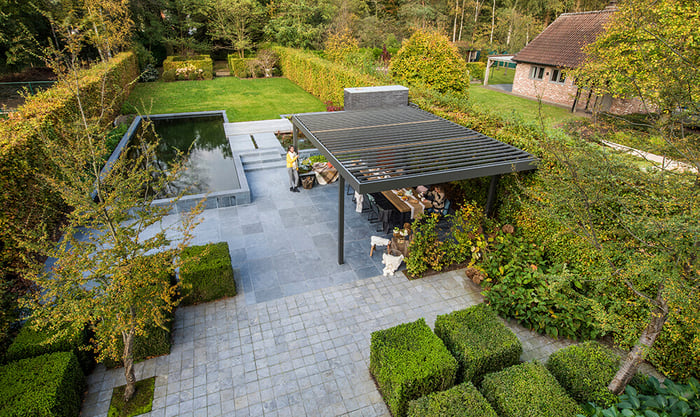 Various Installation Methods
Another area of customization is the actual installation method you want to use. Based on what you want out of the project and the specifics of your layout and design, you can install a pergola in any of the following ways:
Surface mounted
Fully integrated
Freestanding
Wall mounted
Sliding Panels and Sliding Walls
With sliding panels, you get vertical sun protection that allows you to actually influence where sunlight penetrates into your outdoor living space. (This is known as "dynamic sun protection.") Sliding panels are made from aluminum frames and louvers, which themselves can be either aluminum or wood.
Another customization option would be glass sliding walls. This gives an added level of elegance and sophistication to any pergola design.
We're Design Builders, a custom high-end design and build firm working in the Northern Virginia and Maryland region. If you're thinking about creating an outdoor living space and have any questions about Renson pergolas and whether they're right for you, reach out today. We're always happy to help!