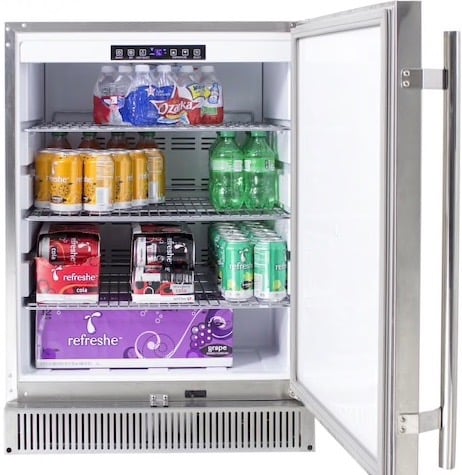 Over the past several years, outdoor refrigeration has gone from a welcome but rare bonus in an outdoor kitchen to a necessity. As outdoor kitchens continue to become more elaborate and sophisticated, more and more components are becoming commonplace.
As a premier design and build firm working in Northern Virginia and Maryland, we specialize in exterior living spaces, including outdoor kitchens, and today we're featuring one of the most popular refrigerator models from Blaze.
All about the Blaze BLZ-SSRF-50DH
High-Level Specifications
Note: we're featuring the 24-inch model in this article, but there is also a 20-inch model available for anyone looking for a smaller, more compact version of this unit.
Outdoor rated
2 cubic feet
Stainless steel
Width: 23.63" (compatible with a cutout width of 24.5")
Depth: 22"
Height: 34"
Weight: 85 pounds
Requires: 115 volts and 15 amps
Current price (via BBQGuys): $1,419.99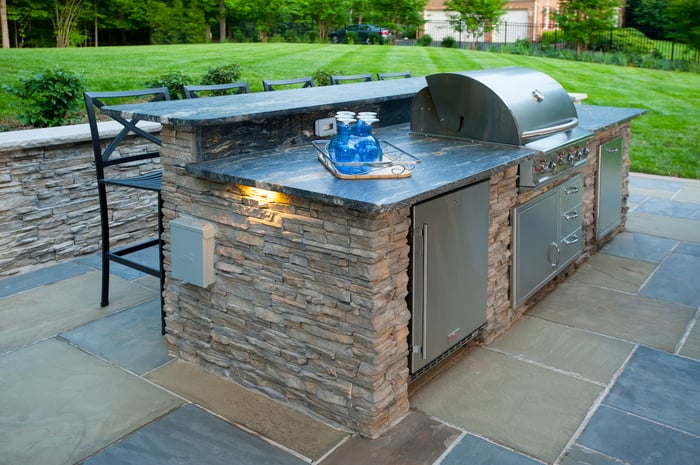 Stylish Design
This fridge (and many other Blaze products) is stainless steel. Like Danver, Blaze is another big proponent of this material. This offers not only the functional benefits of stainless steel (see below) but the aesthetic ones as well.
The fridge is modern and sleek, and the lines are simple and clean. It looks and feels luxurious, in large part, because of that stainless steel cladding.
Balking at the price? Keep this in mind: If you've made a significant investment in your outdoor kitchen, you want to ensure every component adds to the overall style. A poorly designed or poorly constructed fridge could end up being an eyesore that detracts from the overall appeal of the space. Every kitchen obviously requires a budget, but as you're looking for places to trim costs, remember that you don't want to save a few bucks here or there only to end up undermining the look of the entire project.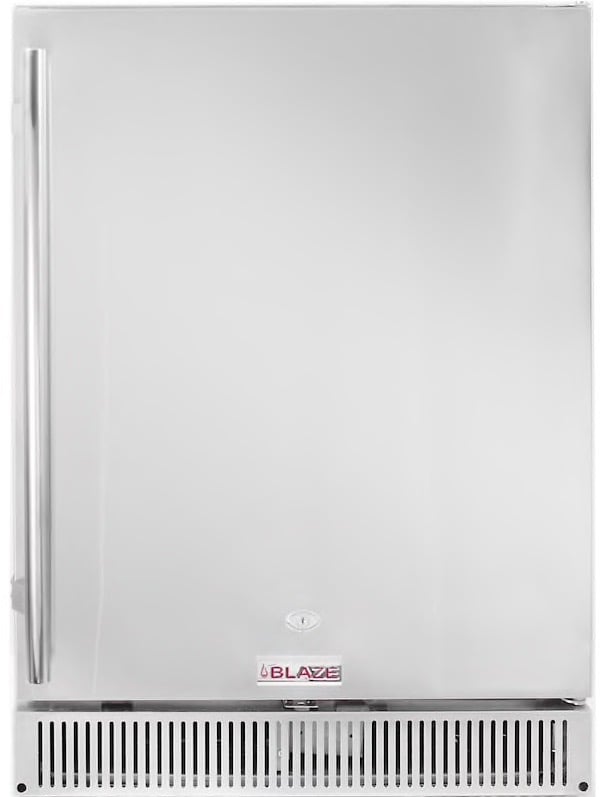 High-Quality Materials
Again, using the stainless steel cladding helps the fridge look great, but it also contributes to this being rated for outdoor use. Stainless steel is resistant to rusting and corrosion. Even when exposed to inclement weather, stainless steel will hold up extremely well.
(When choosing stainless steel, do be aware of the different available grades. A 304 stainless is sufficient and economical for most situations, but a 316 "marine grade" will offer chloride resistance. Always think about your specific environment when selecting a stainless steel.)
The fridge also features chrome wire shelving. Many outdoor fridges have glass shelves, but that brings the added worry of breakage, as well as cleaning issues. These shelves are sturdy, adjustable, and easy to maintain.
High-End Components
Some of the features and benefits of this fridge include the following:
UL certification verifying compliance with national safety standards.
Precise temperature management thanks to both a digital thermostat and an internal fan.
Temperature control panel on the outside of the chassis. (No need to open the door just to adjust the temperature.)
Carbon filter to help pull odors out of the fridge.
Internal LED light for ease of use, even at night.
Front venting makes it compatible with flush built-in installation to an outdoor kitchen island.
Factory-installed lock for added child safety and security.
Reversible door.
At over 5 cubic feet, the fridge can store well over ten dozen cans of soda.
This refrigerator is a popular model, but it's just one of many available Blaze fridges. Blaze is also one among many available brands. (Check out some of the refrigeration options from outdoor giant Danver.)
If you're unsure about what refrigeration is the best option for your outdoor kitchen, give us a shout! We can walk you through all the considerations and help you avoid the pitfalls of designing an outdoor kitchen in Northern Virginia or Maryland.