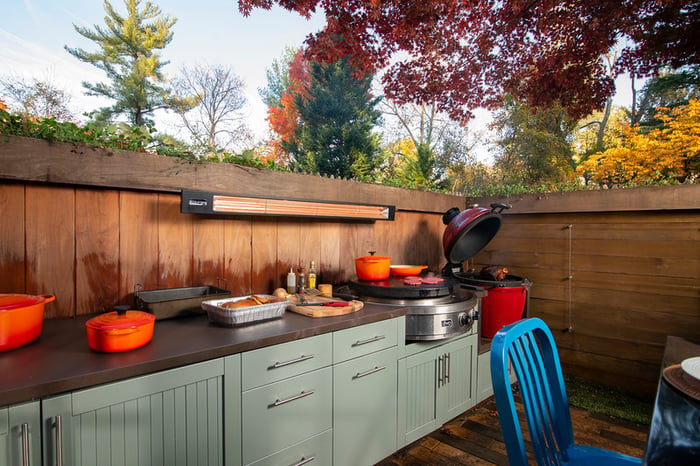 Outdoor countertops are a big investment, and not all countertop manufacturers or materials are created equal. That's why, when it comes to your exterior countertops, you want to make sure you're getting the best value possible. One way to help ensure this is by being very selective and careful about the manufacturer you're using. Here are some helpful tips to keep in mind when making this selection.
5 Tips to Get the Best Outdoor Countertops for Your Space
Learn as Much as You Can about the Countertop Manufacturer
The manufacturer can have a significant effect on the price of your countertop material and fabrication, so you want as much information as possible before making your decision. This can include learning about where in the world the countertops are actually manufactured.
Especially with a material like quartz, where resins, polymers, and other additives are included into the manufacturing process, make sure you know what's actually going into your countertops—and how that could affect the aesthetics and functionality of your product.
Note: Most people work with contractors to complete these kinds of projects. Those contractors often have relationships with vendors and manufacturers. That means these questions will likely be answered by the contractors rather than the actual fabricators.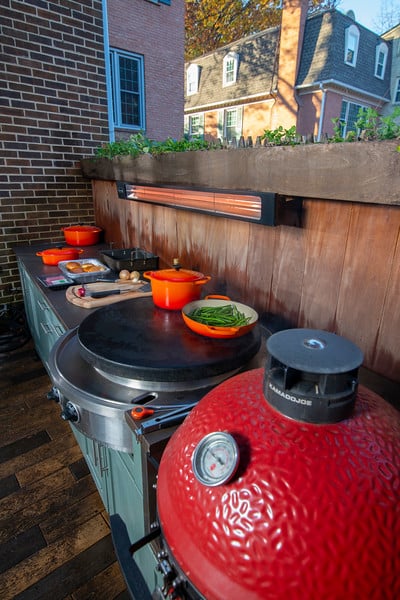 Consider Your Customization Options
The best part about creating an outdoor living space is customizing it to your preferences, lifestyle, and existing home. Done right, it can be an entirely personalized space that enhances your enjoyment of the overall home.
If you want to retain that customization option for your exterior countertops, you'll need to know if the pattern, color, and veining run all the way through the countertop or whether they're just surface level. If they run throughout the slab, you have much more leeway with your customization, including the type of beveling you can get on the edge. (Interested? Check out this breakdown of the most popular countertop edges.)
Understand the Warranty
A warranty is a great way to financially protect yourself whenever you make a sizable purchase, giving you that peace of mind. No homeowners should be left wondering if they have recourse should the countertops have manufacturing defects.
Ask the following questions:
Do the outdoor countertops come with a warranty?
If so, is that warranty transferrable?
Does the warranty have any relevant limitations?
What's the length of the warranty?
When it comes to warranties, it's also important to have realistic expectations. No matter the manufacturer, certain things are very unlikely to be covered. This includes the following.
Impact chips or dents.
Chemical damage.
Any issues that arise from installation errors.
Because installation is often not covered by a warranty, it's essential to vet your installers carefully.
Considering Design Builders for next outdoor living space? Click here to see our outdoor kitchen portfolio.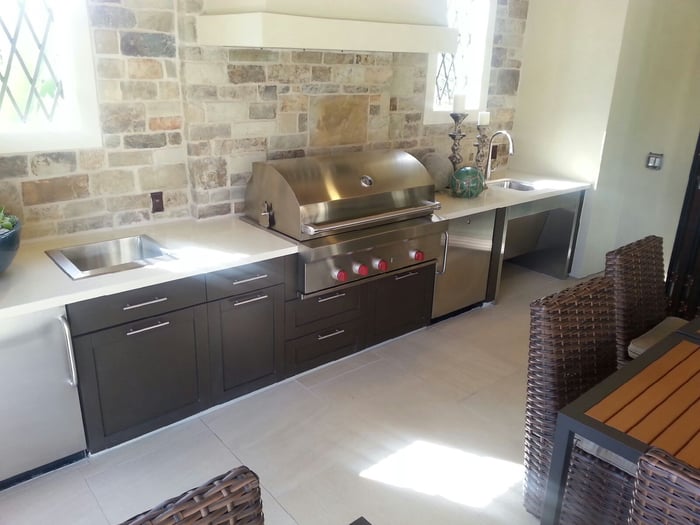 (Photo courtesy of Danver.)
Know What Colors and Patterns Are Available
You likely have an idea of what you want your exterior countertops to look like. Even if you don't know down to the last detail, you probably have a general sense. (For example, you prefer glass countertops over quartz countertops.)
Make sure to share your color, pattern, and material preferences with your design and build firm. This way, they can tailor their search to vendors who offer the aesthetics and functionality you want in your countertops.
Talk to Your Contractor about Prefabrication
This option isn't right for every job, but prefabrication is something worth asking your contractor about. A prefabricated counter is essentially a precut slab with finished edges. These are created in popular sizes and shapes. Because they're ready to go, these can save you a lot of time and money. (A custom job will require you to wait for the honing, edging, and cutting to be completed.)
Again, this isn't going to work for every outdoor living space or suit every customer's wants, but it's worth knowing it's an available option.
If you have any questions about outdoor countertops, please feel free to reach out.