3 New Trex Products for a Faster, Cheaper, More Durable Deck Install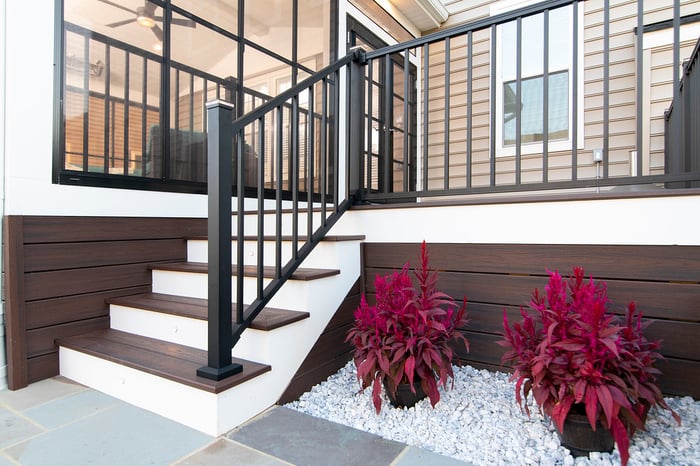 Any home improvement project can quickly become a big financial ask, and custom decking projects are no exception. It's no wonder homeowners are invested in creating the most beautiful, durable, and cost-effective decks possible. Recognizing this, Trex, a global leader in composite decking and outdoor living products, is built on a foundation of continual innovation. To get the most seamless, long-lasting decks that present the best long-term value, check out these three new Trex products that debuted at the 2022 International Builders' Show®.
Improve Deck Installations and Durability with These New Trex Products
Trex Universal Fastener Installation Tool
The new Trex Universal Fastener Installation Tool is the latest addition to Trex's hidden fastener system. The tool is designed to deliver a one-step process for driving each fastener, which can reduce installation time by up to 50 percent.
As a homeowner, this presents several benefits:
Save time. If you're a do-it-yourself deck installer, this tool will help you save a significant amount of time.
Save money. If you're using a custom deck builder to create your outdoor living space, this tool can reduce installation time. By reducing billable labor hours, you save money on the install.
Increase accuracy and uniformity of deck spacing. Trex Universal Fasteners and the new installation tool help ensure deck boards are perfectly spaced every time. Whether you're going the DIY or contractor install route, this gives your deck a seamless, professional look.
Hit the screw on the head. When you're putting together an entire deck, that adds up to a lot of screws. You lose a surprising amount of time navigating your bit perfectly into the screw head over and over again. With its specially designed nose cone design, this hassle is eliminated.
Stop worrying about tool replacement. The Universal Fastener Installation Tool is both lightweight and durable. This makes it easy to use and resistant to wear and tear. Installers don't have to worry about it breaking or needing to replace it frequently.
Have a successful DIY install. If you're interested in installing your deck yourself, this tool is intuitive and user-friendly enough for even the most novice deck builder. Designed with contractor feedback and input, the tool works equally well for DIYers and professionals.
Enjoy user-friendly details. Incorporating feedback from professional installers, the tool features several handy features that increase its usability. This includes a convenient bit holder on the underside and a rotatable handle for pushing or pulling from numerous angles.
Replace damaged boards with ease. Damaged deck boards—especially in the middle of a deck—can be time-consuming and costly to replace. (They're basically a homeowner's nightmare!) With the Universal Fastener Installation Tool, it's easier, faster, and less disruptive to replace these boards. It also means less time spent hassling with contractor callbacks.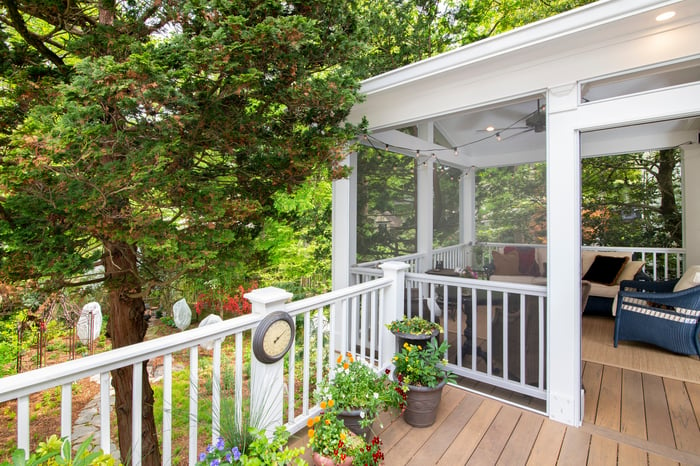 The Universal Fastener helps speed up deck install and increases the uniformity and accuracy of fastener placement. It does all this while still offering the benefits of the Trex hidden fastener system.
No visible screw heads. Hidden fasteners create a sleek, seamless appearance across the deck with no visible nails or screws.
Safer deck surface. Especially for families with small children and pets, not having nail or screw heads anywhere on the deck surface minimizes the chance of injury.
The Trex hidden fastener system can be used with most competitive decking boards. This means you can still benefit from the ease and convenience of hidden fasteners, even if you're not using Trex composite decking.
Less time and money. Just like the Universal Fastener Installation Tool, the hidden fasteners themselves were designed based on contractor feedback. The express purpose was to make deck installation faster and easier. This translates to time and financial savings.
Less waste. Trex created an all-in-one solution, meaning DIYers and professional deck builders no longer have to take bits and pieces from hidden fastener systems across several different companies. This saves out-of-pocket expense, but it also minimizes waste.
Trex®Seal™ Ledger Tape
When you ask contractors and professional deck installers, one part of the deck is routinely listed as the most likely to fail: the ledger. If it's not properly installed or protected, the ledger can degrade and ruin an otherwise beautiful, sturdy deck. If everything is only as strong as its weakest link, the ledger is often that weak link.
That was the inspiration behind Trex®Seal™ Ledger Tape. Eleven inches wide, this moisture barrier tape provides an alternative to traditional ledger flashing, and it comes with several distinct benefits.
Reinforced with an aluminum liner, the tape offers plenty of stability and durability.
Butyl-based tape provides superior waterproof properties.
With eleven inches of width, it can cover the entire ledger board.
Ensuring optimal protection, the tape seals any gaps that exist between the substructure and the ledger board.
Designed with a 5.5-inch double-release liner, the tape is easy to apply. This helps ensure an accurate installation that's compliant with Code AAMA 711.
Using this tape protects the most vulnerable part of a deck. This preserves the deck's overall integrity, longevity, and return on investment and minimizes the chance of premature failure.
This tape speeds up install, which saves the homeowner on billable labor hours. It also saves the DIYer on project time.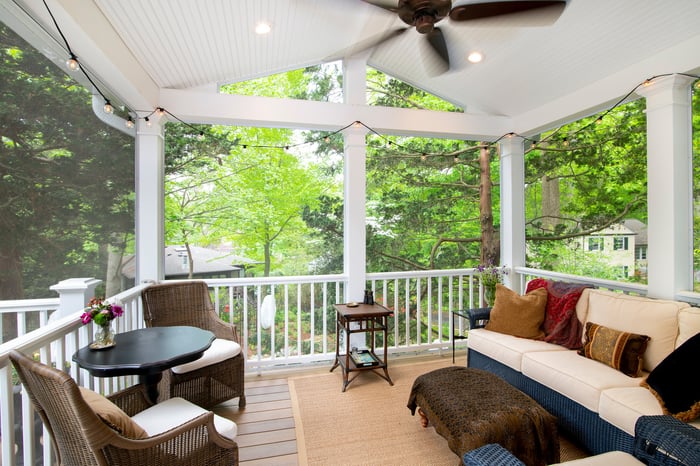 Trex®Protect™ Rim Joist Tape
The latest addition to Trex's butyl joist and beam tape collection is Trex®Protect™ Rim Joist Tape. At eleven inches wide, this tape is designed for rim joists specifically. As with other tapes in this line, it is meant to produce a waterproof barrier.
The Rim Joist tape…
Is compatible with any wood frame structure.
Offers a non-skid surface for increased safety and homeowner comfort.
Can be used on stairs, flat-blocked horizontal wood surfaces, and rim joists.
Reduces install time and expense by avoiding the need for multiple pieces of beam tape.
Enhances the deck's initial structural integrity and offers long-term protection against moisture penetration, water damage, and premature support system failure.
Trex's rim joist tape is the 11-inch version within the Trex®Protect™ line. Other versions include 1 5/8" for joists and 3 1/8" for beams.
Questions about Adding a Deck to Your Northern Virginia or Maryland Home?
Are you looking to remodel or to upgrade an existing deck in your Maryland or Northern Virginia home? Want to add one from scratch
If you're a do-it-yourselfer and you have any questions about these new Trex products, feel free to reach out. (Also, if you're looking for a professional to tackle the design and build, don't hesitate to reach out either!)
We're Design Builders, a custom high-end design and build firm specializing in outdoor living spaces for Northern Virginia and Maryland. We're always happy to answer your questions or to provide a decking quote for your dream deck project.