Move or Renovate? 5 Reasons to Close That Zillow Tab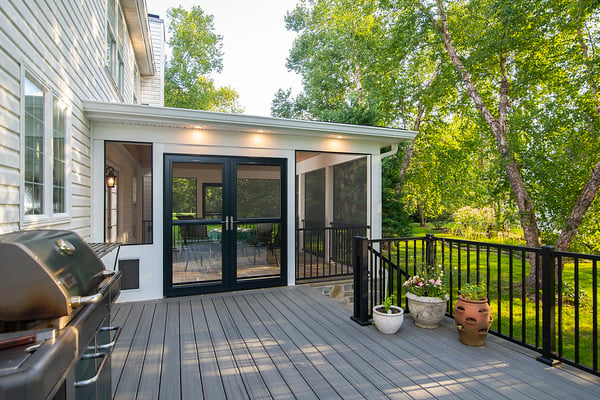 The decision whether to move or renovate your home is complicated and personal. Not only are there financial considerations, but you also have to think about logistical concerns, such as location. (Do you love where you currently live? Is it a great school district for your kids? Is it close to your work?) Given the current housing market, however, many signs indicate homeowners should hold off on selling and undertake home improvements instead.
5 Reasons Now Is the Perfect Time to Add an Outdoor Living Space
Mortgage Interest Rates Are Up
Remember those days when you could lock in a thirty-year fixed mortgage for under 3 percent? It wasn't that long ago. (December 2020 was the low-water mark at 2.68 percent.) Somehow those days feel very, very distant now.
Thirty-year fixed mortgages are currently hovering above 5 percent. Historically, that's still quite low, but with every percentage point interests rise, housing affordability goes down.
Especially if you've locked into one of those low rates, changing now could mean you'd get less house for the same mortgage. In that situation, home improvements can end up making a lot more sense than moving.
Home Prices Are Sky High
This is no surprise for people who've been looking to break into the housing market or have been watching their equity rise historically quickly. Housing prices have skyrocketed over the last few years.
While there's uncertainty about what those numbers are going to do over the next stretch, pandemic-influenced housing prices have made home ownership a less affordable game.
If you're already in a home you love, making improvements could be the way to go over a new purchase.
Keep the Location…Just Enjoy More Space
When you purchase a home, a lot of factors outside price go into that decision.
Location (relative to work, schools, hobbies, activities)

The property itself

Home layout

Added bonuses and features (gas stove, fireplace, bonus room)
Updating your home with an outdoor living space means you still get to enjoy all the things you love about your home. Now, you'll just have an extra area that gives you more space and more freedom to use the interior how you see fit.
Depending on what you need and your lifestyle, this exterior gathering space could open up room in the home for any of the following:
Guest bedroom

Home office

Extra room for expanding family

Workout space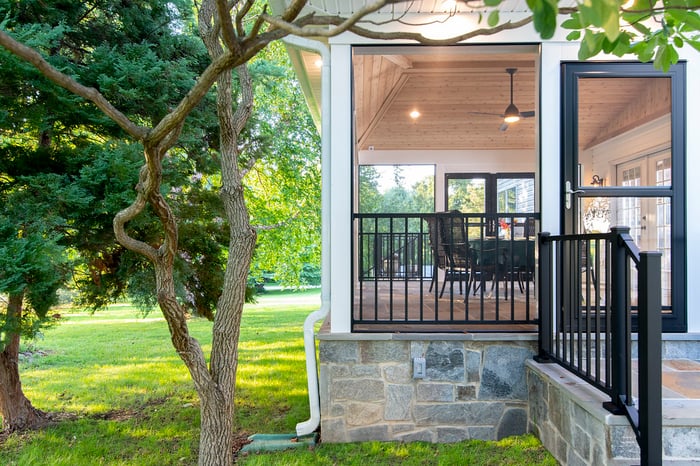 Capitalize on Enhanced ROI
The very way we think about outdoor living spaces has changed. Given the circumstances of the last few years, they're more valuable to people than ever.
Whatever the exterior project (a deck, screened porch, outdoor kitchen, or patio), it used to be reasonable to expect a 75 percent return on investment after five years. By about eight years, homeowners could be relatively confident the project had paid itself off.
Now, because these kinds of spaces are so highly prized, that traditional logic has gone out the window. With the higher value placed on them, the ROI potential has increased as well.
What does that mean? It's easier and faster to see a favorable return on these projects than ever before.
Have a Safe Space to Gather and to Entertain
Why are people so enamored with outdoor living spaces right now? Because it's no longer just about getting out of the sun, shielding the winds, or keeping the bugs out. You still get all those great screened porch benefits, but they also provide another big bonus.
You now have a safe space to gather and to entertain.
You can be social and see your loved ones, but you don't have to harbor all the same concerns or worry you would if you were meeting indoors.
Questions about an Outdoor Renovation in Your Northern Virginia or Maryland Home?
Wondering if an outdoor living space would be right for your Northern Virginia or Maryland home? Reach out today. Already have an idea of what you want? Get a free quote now.
We're Design Builders, a custom Northern Virginia and Maryland design build firm. We specialize in high-end outdoor living spaces, including decks, patios, screen porches, and outdoor kitchens. If you have any questions, we're always happy to help!