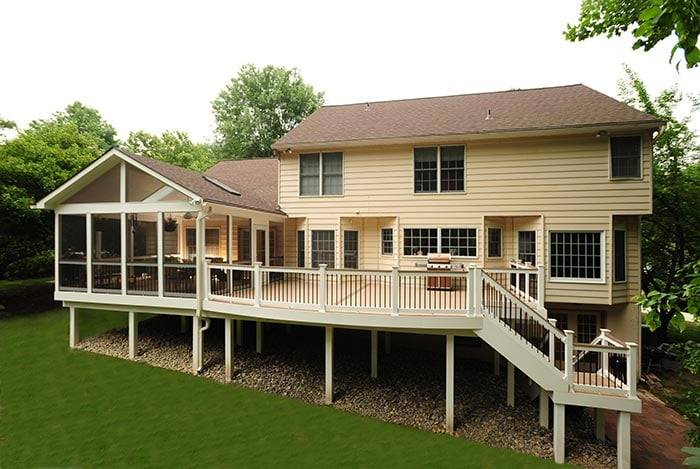 Summer is time for swimming in pools, grilling out, or just basking in the sun – but for many, it's hard to enjoy their backyard without being eaten alive by bugs, particularly mosquitos. This is especially true if you live in a humid area like Maryland or Virginia in the summer.
Here are the three most effective solutions to alleviate major problems with bugs, such as mosquitos and other unwanted pests.
1.Install a Mosquito Misting System
A system of nozzles is installed around your property and regularly sprays a fine mist of botanical insecticide, usually twice a day. The active ingredient in the insecticide is pyrethrin, which is derived from a flower extract, or a synthetic variant of pyrethrin, called permethrin. It works by flushing mosquitos out and impairing their nervous system. After spraying, sunlight rapidly degrades the substance, leaving your yard free of residue.
This increasingly popular solution is offered by Mist Away and a few other vendors. Though not without its limitations, it's unobtrusive and very effective, particularly when mosquito activity is high. Mosquito mist systems are often a good fit for homes that have a deck area with no roof.
Cost: For a typical quarter-acre lot, prices range between $2,500 and $4,500. Operating expenses will run between $2 and $3 per day during the mosquito season.
2.Hire a Bug Control Service
A technician from a company like Mosquito Squad will visit your property on a regular schedule to spray for bugs. Most often a barrier spray is used, which eliminates pests on contact. The technician will focus on areas most likely to harbor mosquitos, so residue from the treatment will keep them away for an extended period of time, usually 2 to 4 weeks.
Hiring a bug control service is the least expensive option, but also the least effective. You'll see the greatest reduction in pests the closer you are to the time your yard was sprayed. Weather conditions can also cause the spray to become ineffective faster. For these reasons, many companies offer to spray in between regularly scheduled visits for free if needed.
If you're the only person in your area taking advantage of the treatment, it also reduces its effectiveness. Pests from neighboring yards can make their way into yours and bite you before eating any of the treated foliage in your yard. However, if most of your neighborhood is using an effective bug control service, then it can greatly increase its effectiveness.
Cost: Most reputable services will offer you a free initial consultation. The first application will often cost more than the regular service – between $100 and 300. From there, typical monthly fees range from $25 to $75.
3.Add a Screened-In Porch
The most popular type of outdoor structure built for this purpose is a standard screened-in porch. With the right installation, you can keep insects out while still enjoying the beautiful weather and any outdoor views. Some people prefer this option because there's no exposure to insecticide chemicals.
In order to provide proper protection, the structure must be completely sealed off, including any floorboards, ceiling beams, and vented soffits. In the past, staples were used to keep screens in place, but newer installation systems, such as Screeneze, use a two piece system that provide 365-degree seal as well as helping to prevent rips that can let bugs inside.
Another option is to install a removable or retractable screen on an existing structure that you can take down after mosquito season. You can also convert an existing open deck into a screen porch to alleviate bug problems in your yard..
Cost: The range varies widely based on the size of the porch as well as the materials used, but typically the total cost of a screen porch in Maryland or Virginia is around $32,000 to $42,000, or about $125 per square foot of space. Improvements to outdoor living space can often recoup as much as 80 percent to 90 percent of their cost in resale value.