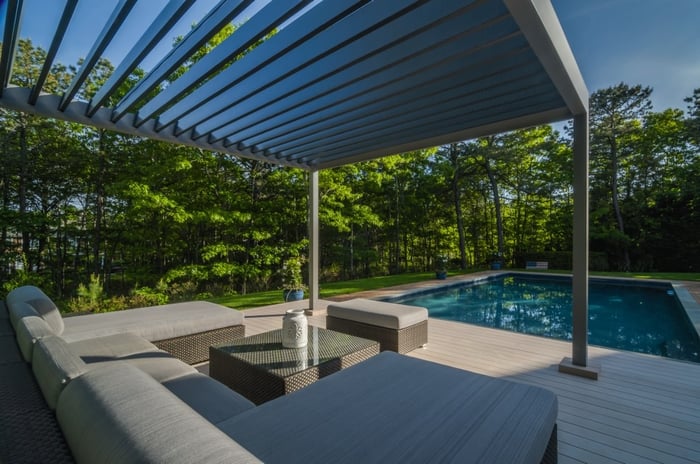 When choosing products and brands for an outdoor living space, one of the biggest considerations any homeowner has to make concerns maintenance. With certain materials, maintenance can be a huge commitment of time and finances. With that in mind, what are the maintenance requirements and recommendations for a Renson aluminum pergola?
Regular Cleaning
Pergolas are constantly exposed to many outdoor elements. Depending on where you're located, this can include any of the following:
Rain
Wind
Snow
Pollen
Sun and UV
Acid Rain
Extreme Temperatures (High or Low)
Because of this exposure to the outdoors, regular cleaning is always recommended for products that live outside.
The good news with a Renson aluminum pergola is that the maintenance burden is extremely low. Cleaning is only recommended once or twice a year.
Renson Maintenance Set
Every Renson patio cover can be cleaned with a maintenance set from Renson. The set includes the material for a two-stage cleaning process. First, you'll use Renson Clean. This removes anything accumulated on the canvas screens or canopy:
This concentrated product has been shown to last upwards of ten times longer than other aluminum cleaning products on the market.
The second stage is using Renson Protect. This is a protective layer that helps ensure your canopy stays immaculate year after year.
These sets can be found at any Renson dealer. (Find a dealer near you today.)
For the best results, Renson recommends using this specific maintenance set, but other products can be used as well. Even a damp rag will help remove a lot of dust and grease buildup.
Benefits of Regular Pergola Maintenance
Keeping your pergola in its best possible condition preserves the roof and paint appearance. With the proper protection, all the colors of materials used throughout the structure are sure to stay vibrant and intense.
Beyond aesthetics, proper maintenance also helps prolong the overall life of the product. This means, with a minimal amount of effort, time, and money, you can see a huge return on the investment you put into your outdoor pergola.
Extended Paintwork Guarantee
If you can provide evidence that you've registered your Renson product and used the approved maintenance set each year, you get access to the company's extended paintwork guarantee. This guarantee is upwards of fifteen years, and it covers both powder coating color and gloss.
Have Questions?
We're Design Builders, a custom design and build firm that operates in Northern Virginia and Maryland. We specialize in high-end outdoor living spaces, and Renson is just one of the trusted brands we use in our projects.
Have any questions about what structure or layout is right for your backyard? Want to know more about what sets Renson apart specifically? (Minimal maintenance is just one benefit of a Renson aluminum pergola.) Feel free to contact us today.
We're always happy to talk through your project or to offer a no-obligation quote!