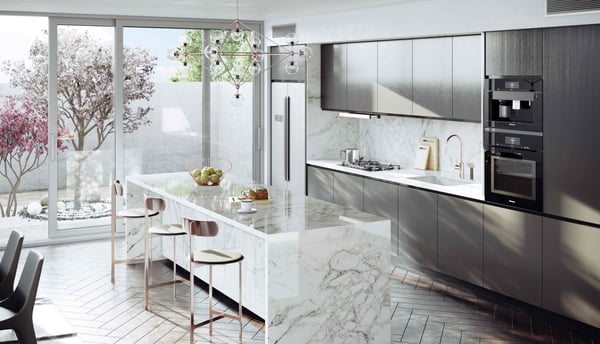 Discover How Dekton Remains Carbon Neutral throughout Its Life Cycle
With many companies claiming to be environmentally conscious (or carbon neutral or net zero), it can be hard to know exactly what that means for each company. Here's a breakdown of what it looks like for Dekton by Cosentino.
Cradle-to-Grave Carbon Neutrality: The 3 Phases of the Dekton Lifecycle
Dekton's sustainability approach revolves around a three-step process: calculating the exact carbon footprint of the company, reducing impact through strategic manufacturing processes, and consciously offsetting those calculated emissions.
By offsetting 100 percent of the carbon dioxide emitted throughout the Dekton lifecycle, Dekton stands today as the industry's only carbon-neutral architectural surface.
Stage 1: Raw Materials and Transport & Logistics
Dekton's relationship to environmental consciousness begins in the earliest stages with the extraction of raw materials required to produce all the Dekton products. Any carbon emissions created in this process are tracked and, ultimately, offset.
In order to maintain transparency and objectivity, accredited third-parties calculate and verify the footprint created during this process.
Another key component of Dekton's eco-friendly practices is the use of recycled and recovered materials within the Dekton products themselves. Over half of the Dekton line is composed of somewhere between 85 and 100 percent recycled or recovered material.
Stage 2: Fabrication Process
Calculating the company's existing carbon footprint and attempting to reduce that number continue through the fabrication process.
Here are just some key ways that's accomplished:
Every manufactured Dekton product is created using 100 percent certified renewable energy.
The production process uses 99 percent recycled water.
There is zero discharge in the Dekton manufacturing process.
The production process consciously recycles or reuses any waste or scrap materials generated during fabrication.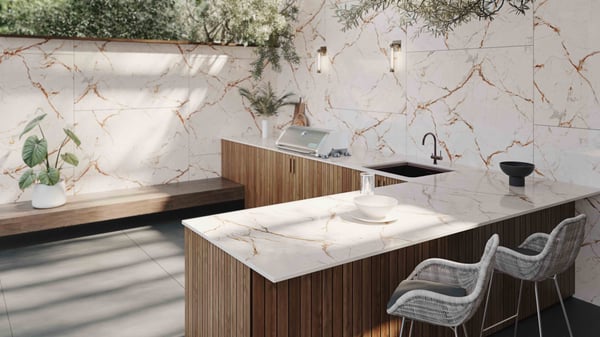 Stage 3: Global Distribution, Retail & Installation, and Final Customer
In 2021, Dekton offset about 80,000 tons of carbon dioxide through UN-recognized projects. This included investing in numerous projects aimed at offsetting greenhouse gas emissions.
Dekton also contributes to its environmentally friendly goal by being a robust, durable, highly energy-efficient line of façades and products. Due to the construction of Dekton products, when architects use Dekton in their builds, it contributes to securing credits for sustainable buildings.
Just some of Dekton's certifications include the following:
LEED
BREEAM
Green
Environmental Product Declaration (EPD), awarded by International EPD

®

Declare label
DGNB label
VOC (UL) GreenGuard Gold
VOC (Eurofins) A+
Interested in learning more? Get all the details on Cosentino's ESG journey to sustainability.
Think Dekton Would Be Right in Your New Northern Virginia or Maryland Outdoor Living Space?
If you're interested in creating an outdoor living space that's as sustainable and environmentally friendly as possible, don't hesitate to reach out to us at Design Builders.
We're specialize in high-end, custom screen porches, decks, and outdoor kitchens in the Northern Virginia and Maryland markets, and we're happy to discuss Dekton, as well as other materials that contribute to a sustainable end product.