Danver Cabinets, the makers of Brown Jordan outdoor kitchens as well as their own stainless steel outdoor cabinets, are not just a front runner in the United States deck accessories and porch add-ons market. The Wallingford, Connecticut-based American company is known globally for its popular outdoor cabinets, with unique and varied installations that have taken powder coated stainless steel cabinets by Danver to Canada, Scandinavia, and beyond.
Short Summers and Harsh Winters
Danver outdoor cabinets have been installed across the United States, but they have also made it to countries as far reaching as Norway. Alongside stainless steel Brown Jordan cabinets, they also receive business in places such as Canada. While both experience extreme winters—what Danver President Mitchell Slater jokingly referred to as "kind of short summers"—these environmental conditions are excellent indicators of why people actually choose Danver kitchen cabinets in the first place.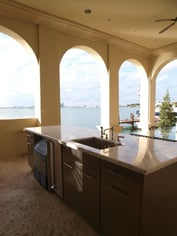 "The remoteness, the weather, these factors don't necessarily dictate whether or not somebody is doing to deal with us or want our product," said Slater. "Our cabinets are simply designed to withstand and hold up to those kinds of conditions."
Danver is truly in a unique position to provide low-maintenance outdoor kitchen cabinets that can combat such harsh winters and other environmental factors. By making their cabinets with 100 percent stainless steel, the units (with a bit of appropriate care and maintenance) are not going to rust, pit, tarnish, or otherwise be blemished in wet, cold, or other extreme conditions.
In this way, Danver Cabinets isn't pigeonholed into only providing cabinets to one country or one climate. Whether the customer lives where the cabinets will be exposed to extreme sun, large fluctuations in temperature, excessive moisture, or even salt water, their powder-coated stainless steel outdoor cabinets (as well as standards variants) are designed to withstand those environmental factors—even after long-term exposure.
Danver's installations across the globe speak to how universally appealing their design approach is, but they are also nods to the durability and versatility of their handiwork.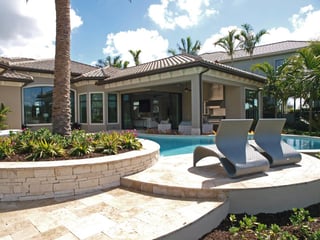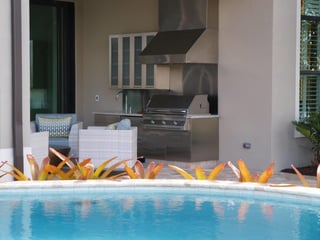 Danver stainless outdoor kitchens seen here with Danver outdoor kitchen cabinets, premium stainless steel outdoor cabinetry
The Most Unique Danver Kitchen Installation & Outdoor Kitchen Plans
While we'd argue all (properly installed) stainless steel Danver cabinets are a testament to their quality, beauty, and durability, when asked about one of the most unusual or unique cabinet jobs him and his armada of employees have ever tackled, Slater had no problem quickly coming up with his answer.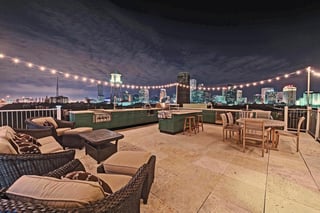 "Probably the most remote job Danver has ever undertaken was a custom houseboat that is now touring the boundary waters in Canada. We were less concerned about the weight of cabinets than we might have been on, say, a speedboat. That customer just wanted a great party space that could also be on the water."
While certainly a unique and somewhat unusual job, even this houseboat work serves to demonstrate what makes Danver so special within its industry. Cabinetry on a boat is necessarily going to be exposed to extreme weather conditions and (if taken into ocean waters) potentially corrosive salt. Danver's use of stainless steel puts it in a unique position to accommodate these kinds of jobs and confidently attest to the cabinets' ability to withstand those environmental conditions.
For more information about locations where Danver has installed its stainless steel outdoor kitchen cabinetry, or for details about Danver cabinets in Maryland and Danver cabinets in Virginia, please contact a representative of Design Builders, Inc. today.