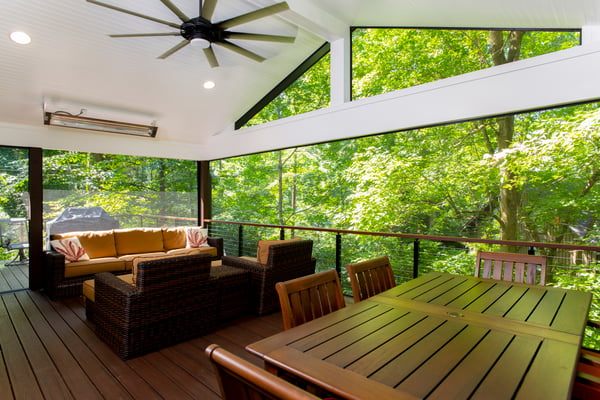 Over the past year, our industry (like so many) has changed, and one of the major shifts has come with screened-in porches. Here's what you need to know about this feature of outdoor living in 2021 and beyond.
Screen Porches Are the New Way to Social Distance
Even as we begin to look toward a post-pandemic future, it's unlikely everything will simply go back to the way it was before. Places where people can safely congregate are still going to be incredibly important, and that's where the screen porch comes in.
A screen porch allows people to be together and to entertain family and friends—without having to be stuck in a nonventilated interior space. It offers a semblance of normalcy in these upside-down crazy times.
At Design Builders, we create custom outdoor living spaces in the Washington, DC; Virginia; and Maryland markets, and we're seeing this shift firsthand. So many of our customers were planning on doing a bathroom upgrade or a basement remodel, but they decided to dedicate those funds to an outdoor living space instead.
That's because they looked at how they spend their time now and realized the outdoors have become a much more integral part of their day-to-day existence. For many homes, an exterior room is now the most important space.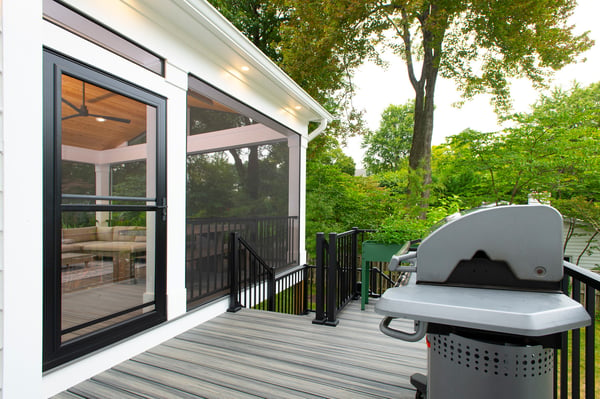 (We're also not the only ones to notice this phenomenon. Check out this interesting article about the role of porches in rekindling neighborhood connections.)
Screen Porches Are Going to Be Bigger Selling Points
Nobody has a crystal ball or knows exactly what the future is going to bring, but it's very likely this pandemic will change how we interact and how we think about germs, viruses, and bacteria forever. These issues of safety are going to continue to be a priority long after this particular crisis has passed.
It stands to reason, therefore, that screen porches and other outdoor living spaces that allow people to safely connect are going to continue to be a priority. Since they're seen less as extras and more as necessities, they could even increase the return on investment (ROI) homeowners see on the project.
(Screen porches already presented a very favorable ROI, and these market conditions should only increase that. Check out our full article on the ROI of screen porches here.)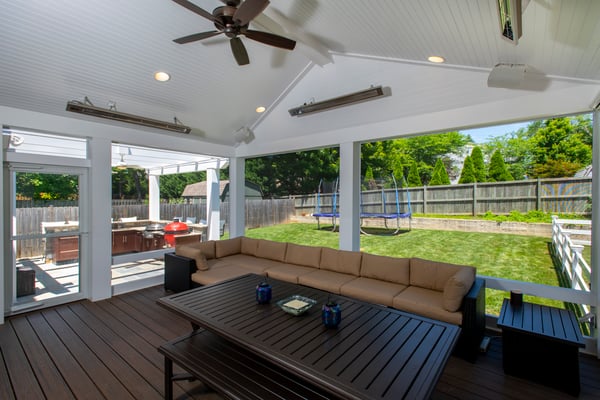 People Are Utilizing Every Square Inch of the Property
More so than ever, people are genuinely trying to find ways to use not only every inch of the home but of their yards and outdoor spaces as well. This is one big reason screened-in porches saw such a boost in 2020.
(For a breakdown of other industry changes coming in 2021, check out this article.)
With so many options available now, many homeowners are finding themselves at a bit of a loss about what project to undertake. That's when working with a professional design and build firm can be so helpful. Experts in outdoor living spaces can think outside the box, getting creative while also knowing what's going to be both feasible and cost effective.
If you reside in the DMV, and are looking at your property and wondering how to best utilize all your available space, reach out today. We specialize in creating a more enjoyable area for you to live that also presents excellent value should you choose to move. Give us a call at 301-875-2781, leave a comment below, or shoot us a quick message.