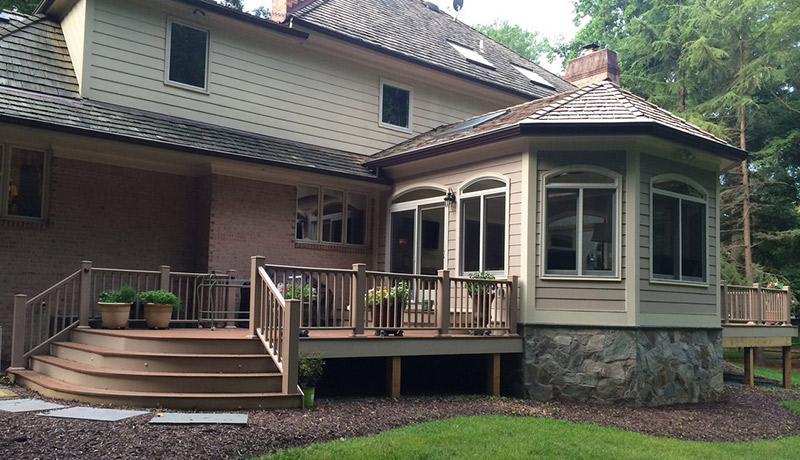 Ready to start your new deck project? Don't be too quick to pull the trigger before asking your decking contractor these 10 important questions.
With a major investment like a deck, it's important to ensure you cover your bases with your contractor. A quality deck can last years and add to the value of your home when it comes time to sell, but a deck that isn't built properly can end up costing you time, money, and hassle, and can even be a safety hazard.
Don't break ground on your new project before asking your decking contractor these 10 important questions.
Will you arrange for the permit?

By law, building a deck – any deck – requires a permit. If you don't get one, you may find yourself subject to fines that cost far more than getting the permit in the first place. Your project may also be delayed or even have to be completely demolished.



Are you licensed, bonded, and insured?

To protect yourself from legal liability, you want to ensure the contractor carries workers' compensation and general liability insurance. You can also verify their license once you get the contract, since it should be listed in the document.



Can you provide references?

If they're reluctant to do so, this is a big red flag. A good contractor won't just have references; they'll have references for clients that built a deck similar to yours. They should also be able to direct you to projects they've completed in the area that you can view to see their craftsmanship in person.



What's the down payment?

A contractor should never ask for the full payment up front, but it is standard to ask for around 30% of the final cost.



What type of warranty is included?

This is a sign that they stand by their work. Most contracts will include a one year warranty, but you may be able to find contractors who can provide up to five years of coverage. This is an important consideration when comparing bids.



Are you a member of NARI or NADRA?

The National Association of The Remodeling Industry (NARI) and the North American Deck and Railing Association (NADRA) are two organizations for industry professionals. While it isn't a necessary requirement, it does tell you that the contractor focuses on this type of work. Another good sign is if the contractor is a certified installer for the type of deck material that they'll be installing.



Who will be my main point of contact throughout the project?

If it's the same guy who sold you the project, then he's likely going to be hard to get a hold of during the day. Worse, if they can't tell you who the point of contact will be, then it tells you that the structure of their work crew may be unclear. Ideally, you want a construction manager who will be available to answer questions and concerns as they arise.



What's your specialty?

A good contractor will know what they do best, and their response can be very revealing about whether or not they're the right fit for your needs.



What does this quote include?

Some contractors make their bids appear lower by leaving out crucial parts of the process, such as job site clean-up, landscaping, grading, painting, or caulking. They may also use lower quality materials, trim detail, and railing. Make sure you're comparing apples to apples before going for a lower bid. Ask if the contractor anticipates any additional cost not included in the bid.



How long will the project take?

Make sure they have room in their schedule before signing a contract. You don't want to be locked in, only to wait several weeks or even months to get started. Also, ask if this time estimate takes into account possible weather disruptions. Obviously, your contractor can't predict the weather, but many pad a few extra days to ensure they can meet the time estimate they provide.
With responses to these 10 questions, you can rest assured that you've done your due diligence to ensure the quality of your final project and the experience of your contactor. Then you can just kick back and watch your new deck be built!