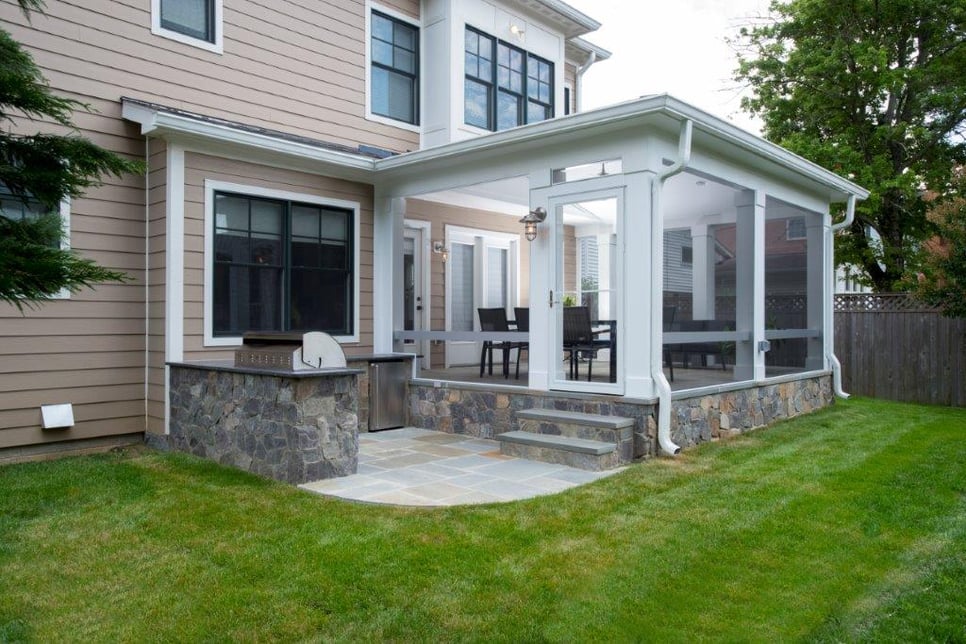 If you live in the Maryland, Virgina, DC area, and are entertaining the idea of building an outdoor screen room, you want to invest in creating a space that's as functional year-round as possible. This translates to designing a screened porch area that's comfortable and usable for as many months of the year as you can. Luckily, there are many ways to ensure your outdoor living space is fortified against bugs and the elements.
Building Usable Screen Rooms and Decks in the DMV
The first requirement of creating a year-round structure in Bethesda, Maryland is to opt for a screen room rather than a deck. A screened-in porch is more enclosed and lends itself to more utility throughout the year.
1. Install Outdoor Ceiling Fans
Let's face it. The summers here are HOT. You're going to want several strategically placed fans in your outdoor living space to keep it cool and to fight air stagnation and humidity. Ceiling fans, and particularly Minka-Aire designs, are a common and effective choice, and obviously the more fans used, the cooler the area will be.
As with many screen room design features, the necessity for fans (as well as the number and placement) depends largely on personal preference. If you enjoy the heat, less fans are going to be necessary. If, however, you dislike being in high temperatures, you'll want to devise ways to make sure your screen porch is cool and comfortable for you.
2. Consider Outdoor Heaters or an Outdoor Fireplace
While the winters in the DMV aren't like living in Minnesota, if you want to use your screen porch year round, some provisions for heating need to be made. These heaters can be gas or electric powered, or utilize infrared heating technology. It depends largely on preference as well as budget. Infrared heaters are generally considered a reliable option, and newer, slimmer models fit with most designs. We are a big fan of Infratech infrared heaters.
A fireplace is another option to generate heat during the cold months. Just like heaters, there are several options for fireplaces, namely natural wood, propane, or gas. Whatever style is chosen, a fireplace can also be a nice addition if your family celebrates the holidays during winter months. A fireplace is always a nice space to gather around and can provide lovely ambiance during winter get togethers.
If you decide to forego heaters entirely, your living experience in January and February with your screened porch will be weather dependent.

Infratech heaters can be recessed into a screened porch ceiling to preserve the overall aesthetic beauty of an outdoor living space.
3. Wind Preparedness and Countermeasures: Screening Systems
Heaters and/or fireplaces can work wonders to provide heat to a screen porch, but they can only do so much if there are no design features to combat the wind. To keep wind and inclement weather at bay, you need a vinyl window system. Several options in that regard are on the market, including:
These window inserts can be installed instead of screens. This is a more permanent solution to keeping wind, dust, bugs, or debris out of your screen porch area.
These vinyl windows are entirely retractable and can even be motorized. When they are retracted, they are entirely seamless and hidden. With the push of a button, the screen porch area can convert form an open-air space to an enclosed space that will keep out rain, wind, and any debris.
4. ProLine Radiant Heat
Radiant heating systems have many applications. They can be used to heat up floor tiles in your master bathroom as easily as they can be installed in your driveway or on your roof to combat snow accumulation. If you have an outdoor living space, you need to be able to access it, and ProLine radiant heat systems enable you to do that without having to shovel off your deck or patio.
If access to your screened porch is granted via a paver patio, Mbrico tile deck, or another compatible material, a ProLine radiant heat system may be the way to go.