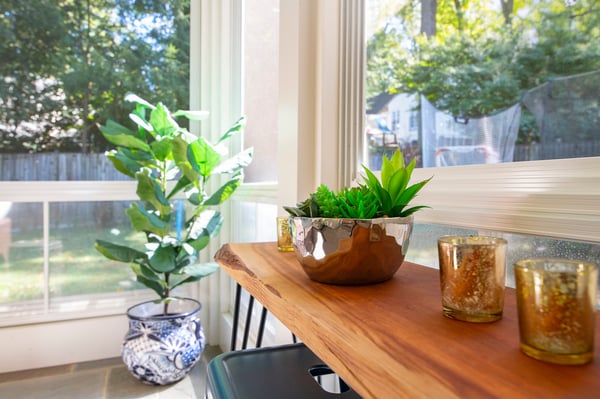 When it comes to outdoor living spaces, insects are a huge nuisance! It's a particularly big problem in the Northern Virginia and Maryland regions. During certain parts of the year in these areas, mosquitoes and other bugs can make your deck or porch feel downright unusable. If you're aiming for a bug-proof exterior living space, here are some best building practices to look for in your design and build firm.
Under-Deck Bug Screening
Installing screen meshing under your deck boards should be standard practice for all design and build firms that operate in areas with bugs. (If you're in talks with a company that doesn't plan to implement this step, that's a big red flag!)
If you're building a new deck, this is a particularly straightforward process. The builder will just place the screen mesh on top of the joists, and then the deck boards will go directly on top of that. This sandwiches the mesh between deck boards and joists, keeping it in place and ensuring there are no gaps for bugs to find their way in.
If the deck is an existing structure that you're not planning to renovate, bug screening can be added after the fact. This is usually done one of two ways.
With this approach, you cut the screen mesh to match each space between the already-installed boards. Most people do not opt for this solution because it is such a labor-intensive process. Because of this required manpower, it can become quite expensive for the homeowner. If you're working with a builder who is suggesting this, ask if he or she is willing to use a different method.
The far more common solution for an already-built deck is to simply staple the bug screens to the bottom of the joists. The screening should always be overlapped by one joist. This helps ensure the screen doesn't sag in any spot, and the overlap minimizes any chance of bugs finding their way into the exterior enclosure.
In either case, this is more work than a new build requires but less work than removing and reinstalling all your deck boards.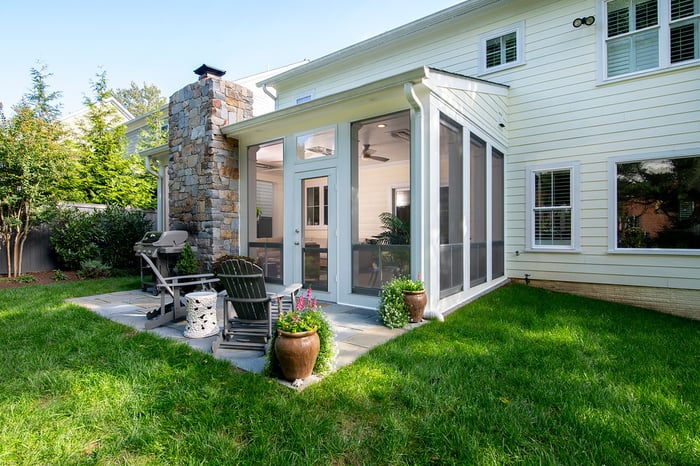 Ask Your Builder about These 4 Additional Precautions against Bugs
Above and beyond the under-deck insect mesh, make sure your design and build firm accounts for these additional measures to keep the bugs at bay.
Stop Gaps at the Posts
Some builders will simply place posts directly next to the siding of the home. This creates gaps that are not only unsightly but also offer opportunities for bugs to enter the structure.
The more thorough and effective strategy is to cut away the house siding and then attach the post. From there, the builder should flash to ensure water can't get in. A tri can then be put around every post. This makes a seamless visual transition between the new and existing structure, and it leaves no areas where bugs can enter from the side.
Run a "Perimeter" Board
Another essential tactic to keep bugs out is running a perimeter board around the porch. This allows the screen frame to sit flush on the deck's perimeter board. This effectively eliminates any gaps where bugs could enter.
Keep Bug Sweeps Tight
When installing bug sweeps on your door, make sure they are kept tight to the floor. It might mean you need to give the door a little extra push to close it fully, but this helps eliminate one of the often-overlooked ways bugs can enter an exterior living space: under the door.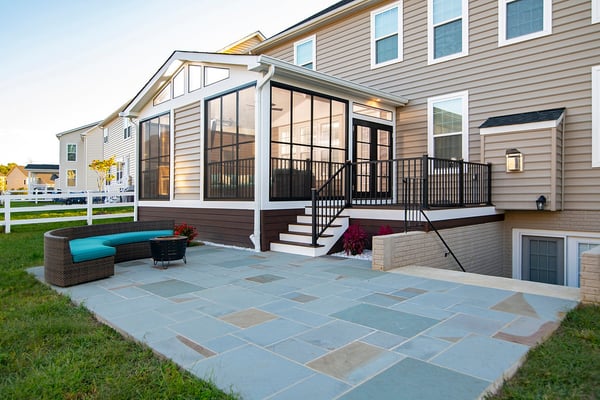 Opt for Fiberglass Screens
When choosing the bug screen for your outdoor living space, go with fiberglass over aluminum. It has better durability and greater longevity. (The last thing you want to deal with is a failing insect screen or having to frequently replace your under-deck screening!)
Additional Resources on Eliminating Bugs from Your Outdoor Living Area
Want more detailed information on how to keep your space free of bugs all year round? Check out these additional blogs:
Bonus resource: discover how to keep the interior of your home free of bugs too. Check out these top ten tips.
Whether you're building from scratch or looking to renovate what's there, make sure your design team has taken bugs fully into consideration. If you have any questions or concerns, don't hesitate to reach out. We're a design and build firm operating in the Northern Virginia and Maryland markets, and we're always happy to lend our expertise and guidance.