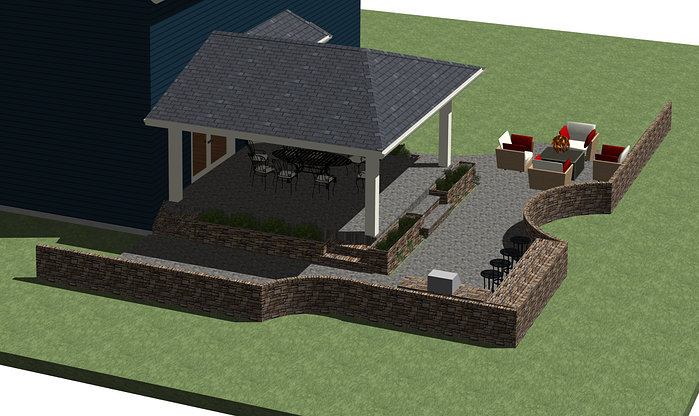 How to design a pleasant open patio in a mosquito-plagued neighborhood
Ali wanted a unique outdoor living space for the Bethesda home he had just purchased with his wife. Devoid of features other than a small grill and a retaining wall, his modest yard was to be remodeled based on his love for cooking and entertaining his family and friends.
However, Ali mentioned he had unwanted guests who bugged him, his wife, and his dog during the hotter months of the year. As a former Floridian, he was not fond of so-called 'Florida Rooms' – screened rooms and screen porches – that keep the mosquitoes and other winged insects at bay, but he said he was unwilling to relinquish an open floor plan allowing him access to multiple quadrants of his yard freely.
The Requirements
An outdoor kitchen area

A firepit seating area

A space for a table to accommodate 6-8 people

Enough green space for their dog to run

Replace the existing retaining wall with a more attractive one
.
The Proposal
Ali's demands were easily met. To satiate his desire for entertaining, he was presented with a large 16' by 18' covered patio with a hip roof that shields his friends from the sun during the hot Maryland summers. And as for the pesky bug issue, motorized retractable screens made by Phantom Screens were integrated into the beams of the porch's roof so as to preserve the yard's accessibility but also Ali's aesthetic requirements. While stowed away for most of the year, the screens are ready to thwart any bloodsucker's agenda at the push of a button when July and August roll around.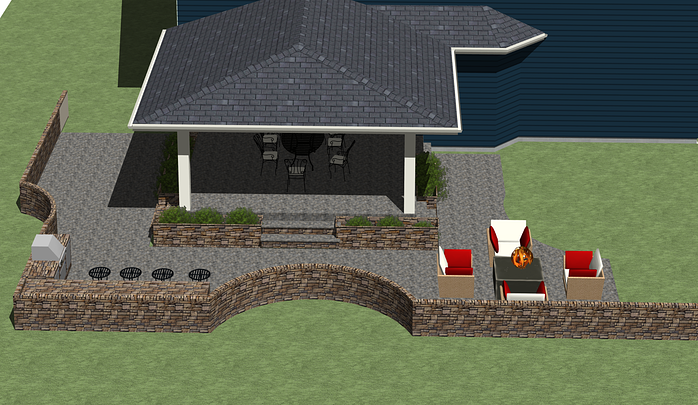 Flower boxes were also integrated into the design. Made of stone, they are dispersed around the perimeter of the motorized screened-in porch and are bookended by two steps on each side to permit Ali unobstructed access to any part of his yard. To continue the stone theme, the existing retaining wall was replaced with one made of 2" thermal cap flagstone.
The outdoor kitchen was strategically tucked away so as to not impede foot traffic and to act as a natural fence to certain parts of the yard. Per Ali's request, it features an Alfresco Grill as well as a Big Green Egg Smoker. He may also opt to include a warming drawer, miniature refrigerator, and trash container to complete the set. While generally you're not adding a deck to give yourself a grilling area, integrating one into your modeling pans is a classy if not practical move.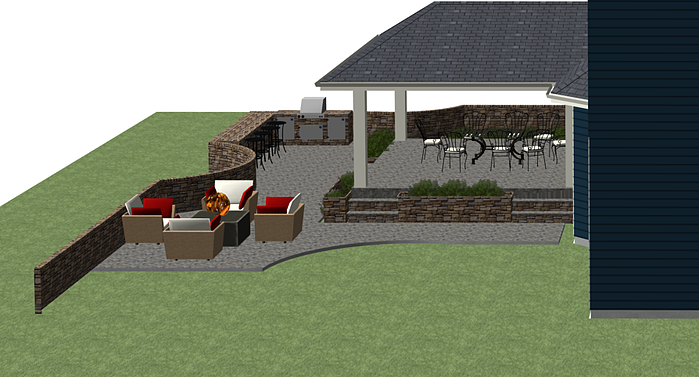 The outdoor gas firepit is easy to use and provides warmth as well as a casual ambiance. The columns included on the screen room and architecture matches the existing home and blends in seamlessly.
Designing outdoor living spaces can be a challenge, but it can also be a lot of fun. Between an imaginative patio contractor and an enthusiastic homeowner, one can create a beautiful and unique solution to any design challenge. In this case, Ali's design requests were all addressed and incorporated into the final project layout. The result is added value and enjoyment to his home once the most important step is completed: building it!