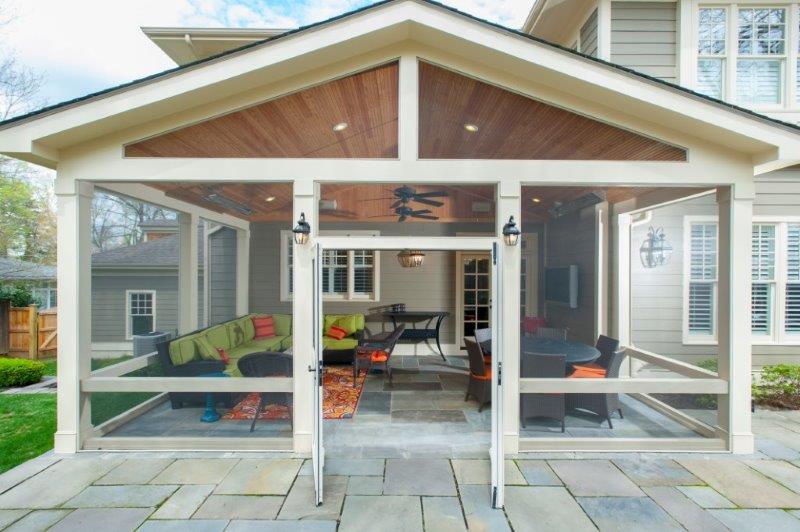 Four Considerations For Converting a Flagstone Patio into a Screened-In Porch
If you're considering some renovations to your outdoor living space, one common place people look to upgrade is the patio. If, for example, you want to convert an existing flagstone patio into a screened-in porch, that process is actually relatively straightforward and can completely change the utility, dynamic, and aesthetics of your outdoor space.
I: Get footers underneath the existing patio
The first step in any flagstone patio conversion is deciding how you're going to get footers underneath that existing patio. There are essentially two ways to approach this issue.
One, depending on the size of your existing patio, you could simply cut holes where the columns for the screened-in porch will go. You'll typically need about 30 inches by 30 inches to accommodate for a column. Once you've dug down, you'll simply pour the concrete and build the columns and roof from there. After this process is complete, you'll patch the affected areas with flagstone to finish the look. If not done carefully, this approach can look more patchwork, making it obvious the porch is a conversion job rather than a seamless feature in your outdoor space.
This is why some prefer the second approach, which involves digging a footer around the patio and then trenching and pouring concrete. To give the porch a more polished look, you'll have to add one to one and a half feet of flagstone around the edge to create a finished border.
Note, both approaches are feasible, and working with a qualified, experienced design and build crew can help ensure neither looks like a patchwork job.
II. Grout considerations for screen room conversions
Whichever construction approach you take, you might have to do some additional work with the grout. If your flagstone patio is relatively new, this is probably not necessary because nobody is going to notice the aesthetic difference between the new and existing grout and mortar.
If you're undertaking a patio conversion, however, it probably means you've had that patio for a while and are looking for a change. In that case, you're likely to already have some failing mortar and grout discoloration. To avoid that stark difference between the old and new grout and mortar, construction crews will typically re-grout and re-mortar the entire project in order to ensure everything looks brand new and congruent.
III. Wave Your Flagstone
Flagstone is natural stone and can, therefore, last an incredibly long time. If, however, you use salt or chemicals during the winter to combat snow and ice, that can result in flaking, cracking, splitting, or other damage to your flagstone pieces. These pieces should obviously be updated and not reused. If your flagstone hasn't experienced those issues, though, you can easily reuse that stone without compromising on quality, structural integrity of the stone, or looks.
IV. Any Colour You Like
One huge benefit of a flagstone-to-screened-in-porch conversion is that flagstone is not one consistent color. It typically incorporates browns, grays, blues, greens, and more. Therefore, when you add new pieces during your conversion, all the flagstone still looks natural and seamless together. You won't typically notice a difference between the old and new flagstone because of the arrays of color that naturally appear in that stone.
For more information about how to convert a patio to a screened-in porch or for questions about that process on your property, please feel free to reach out to a representative of Design Builders, Inc., today!