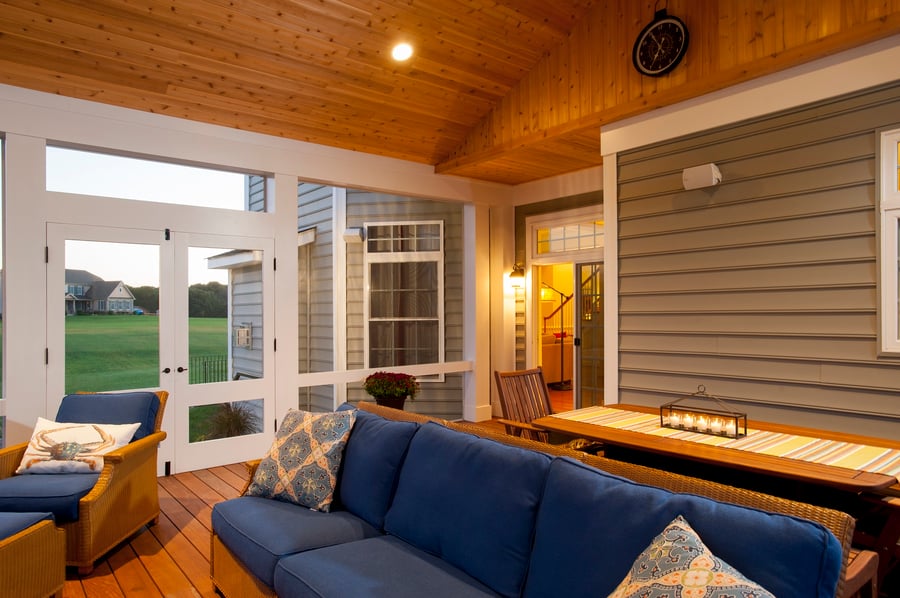 Dressing Up the House Wall of a High-End Screen Porch in Maryland and Virginia
Every outdoor living space project presents unique challenges and opportunities for creative problem solving. However, there are some issues that come up repeatedly among multiple upscale screen room projects. One such issue is how to dress up the house wall of that high-end screen porch. Your chosen solution will be based on several factors including budget, personal preference, and lifestyle.
Lifestyle-Specific Options
There are many design elements that can offer a finished look to the house wall, but if there's something specific to your lifestyle that can be incorporated, it can be a personal and appealing way to put a finishing touch on the screen porch area.
If money is not a deciding factor, a double-sided gas fireplace is a wonderful way to seamlessly integrate the outdoor space with the interior home. Of course, this is only an effective design feature if fires are a big part of the way you plan to use the outdoor space anyway.
Material Options
Making the house wall look as attractive as possible entails finding ways to avoid finishing it off with siding. Luckily there is a diverse array of options to ensure your high-end screened porch in Maryland looks exactly how you want it to, down to every detail.
Wood trim is the first of many options to complete the house wall. To seamlessly blend into the established design, this can match whatever wood the screen porch ceiling is made out of. One popular option is tongue and groove beadboard, but it's by no means the only option. Finishing off with wood trim will help conceptually link the house wall with the rest of the project.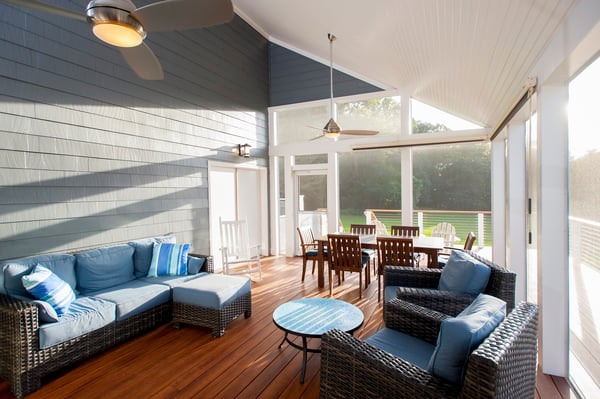 Rather than opting for just wood trim, the entire wall could be done in synthetic or natural wood. What you want to use will depend on budget and how much maintenance you want to put into the wood. As with wood trim, this can match the wood already used in the project to ensure it feels like one cohesive room.
PVC sheets are essentially like drywall for the outdoors. While drywall would obviously not withstand outside conditions, PVC will certainly survive. It also offers the benefit of being able to be custom painted. In this way, the house wall can match or complement the existing color scheme of the primary home. Painted PVC gives the impression of the screen porch area being an interior room. Depending on how you want to use your outdoor space, that might or might not be exactly what you're looking for.
If wood does not complement the outdoor space, natural stone is always a classic, rugged outdoor option. Stone is often a great choice because there's so much versatility and diversity in terms of color, texture, size, and shape. Just as with wood or any other material, the stone needs to either match the stone finish on the house or complement whatever finishing technique was used.
One of the main issues people have with stone is that it is quite heavy, so installation can be more labor intensive.
If you love the look of stone but want a lighter synthetic material, Eldorado Stone is a very popular option among high-end screen porch owners. The company offers a diverse array of synthetic textures, colors, and styles, so you are likely to have just as many options as with natural stone. Because of the lower weight, though, it is easier to install, which can mean less billable hours you're accountable for.
Tile is another popular option. A portion or entirety of the house wall can be done in this way. Again, you just have to make sure tile incorporates nicely into the rest of the outdoor design scheme, and it must make sense with the main house.