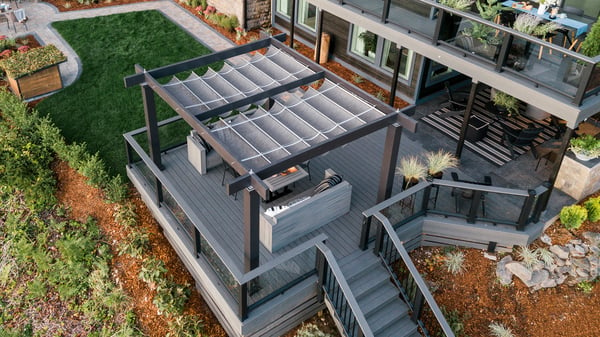 Over the years, pergolas have become increasingly popular additions to people's exterior living spaces. As their popularity has grown and more people have shown interest in them, their designs and utility have changed to accommodate. With that in mind, here's a little bit about how pergolas on the West Coast today differ from those on the Eastern Seaboard.
Traditional versus Contemporary Pergolas
The kind of pergola you add will be a reflection of your personal aesthetic and what kind of functionality you're looking to receive from the structure. Therefore, it's possible for all kinds of pergolas to appear on either coast—and anywhere between.
Still, though, traditional pergolas do tend to show up on the East Coast more often than not, and more contemporary structures appear on the West Coast. This is largely due to the architectural differences from seaboard to seaboard. Homes on the East Coast tend to be older and more traditional, making it logical that the pergolas added would be of a similar aesthetic. This is seen quite prominently in places like Washington, DC, and Northern Virginia. Similarly, the more contemporary homes of the West Coast call for more modern additions.
Rooftop Decks & Pergolas
In markets like DC, New York City, and Chicago, where urban space is at a premium, rooftop decks are extremely popular. Because people can't build out, their only option is to build up, and rooftop decks have become the most popular solution to that problem.
If, for example, you're in a DC condo or Brownstone and you're thinking about adding a pergola to your rooftop deck area, the most important factor to take into consideration is wind. Depending on the building codes and zoning of your exact location, you might have to go with a fiberglass pergola. Whether that pergola is added to a commercial or residential space, it must be anchored through the roof membrane and into the building itself. This offers added stability to counteract wind and weather.
In a place like Florida, though, where hurricanes and extreme wind are consistent issues, a pergola on a rooftop deck isn't necessarily recommended.
Go Local for Your Pergola Installation
The best course of action is always to talk with an experienced local contractor or design and build firm. This person can provide invaluable insight about specific local codes, weather patterns, and best practices for pergola installation. If they specialize in these structures, they can also likely provide clever workarounds from other jobs. If fiberglass, for example, isn't going to work for your situation, they could suggest something with aluminum reinforcement to give the structure the extra stability it needs. That kind of experience and knowledge can be the difference between you getting exactly what you envisioned and having to compromise.
If you're interested in adding a pergola to your Washington, DC, or Northern Virginia home, reach out today. We specialize in custom outdoor living spaces in the DMV and would love to workshop how best to add a pergola to your space.