So you live in the district and are thinking of a rooftop top deck ?
If you're interested in a rooftop deck project within the limits of Washington, DC, there are several things to keep in mind. Some of those considerations relate to rooftop deck projects in general, and some are special rules and regulations due to building in Washington, DC, itself. Regardless, make sure you and your design and build team take the following factors under advisement before launching into a rooftop project.

Rooftop Decks in Washington, DC: Everything You Need to Know before You Build
1. What Kind of Permit Do You Need?
The first thing you need to sort out with a rooftop project is the kind of permit you'll be required to obtain: residential or commercial. This is determined by how many people live in the building where you plan to add the rooftop structure.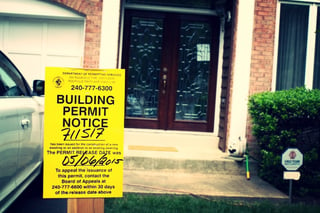 In buildings such as co-ops or condominiums, that rooftop project would be a commercial job, and there are some extra design requirements in that case. For example, the railing height must be higher than in a residential job, and there must be two forms of egress.
In commercial spaces, you'll also have to get the buy-in of all parties living within that building. This is typically done through a homeowners' association (HOA).
Depending on the height of the project, other permits could be necessary, such as a dumpster permit, parking permits for all employees, and street closure permits (to accommodate a crane).
2. Are You in a Historic Zone?
Whether your job is commercial or residential, you'll always have to factor in if you're in one of Washington, DC's historic zones. If you are, this poses several more hurdles and additional red tape to clear before building.
For example, in order to obtain your permit, you'll first have to gain approval from the historic board. In order to do that, the design will have to adhere to their stipulations, including not having any structure ten feet from the road and not being able to see the new structure from the side, rear, or front of the building.
In these instances, the historic board will also have a direct say in what the final project looks like and will ensure it's in keeping with the neighborhood's current aesthetic. Their opinions could influence the look, material, and design of your deck, stairs, railings, and beyond.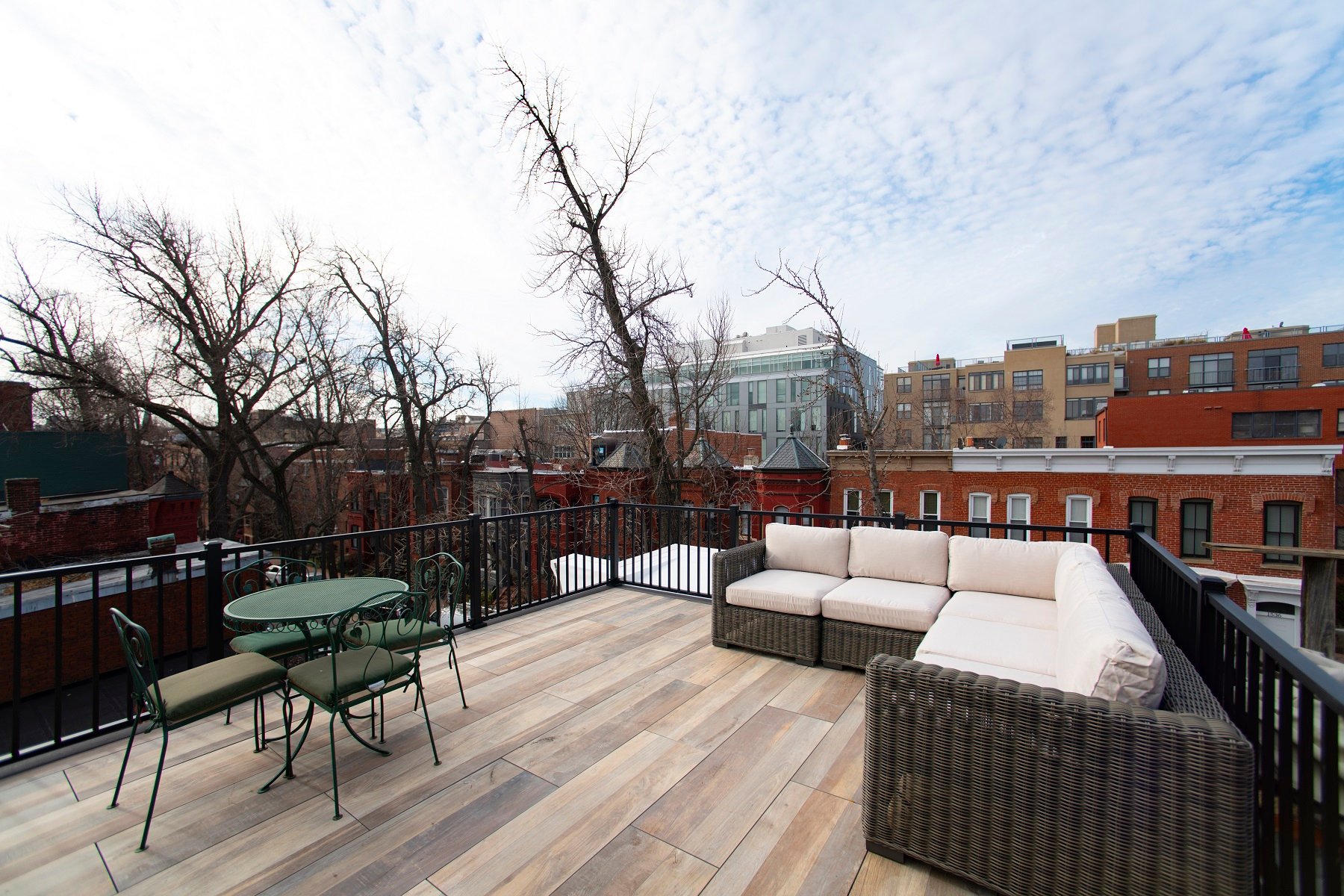 3. Trash Removal Considerations
Before you start to build, you'll also need to determine how your construction team will deal with the waste created during the project. If you determine you need a dumpster, you'll need to secure the necessary permits for that, including the permit to put the dumpster on the street.
You might also need a trash chute from the roof to the street level.
Rooftop deck in New Orleans sporting Danver stainless steel kitchen cabinets. Thanks to Danver Cabinets for image permission.
---
4. Crane Rentals: Price and Logistics
Most rooftop deck jobs will require at least one day of crane rental. Considering all the permits and construction equipment rental that these jobs necessitate, you're looking at upwards of $10,000 just in overhead setup before construction even starts.
You'll also need to determine if a crane can feasibly be used in that space. If power lines, trees, or other obstructions mean the crane's boom can't swing freely, this could pose a large problem for your job.
If you're seriously considering a rooftop project, these added expenses and logistics need to be factored into your budget and expectations. Because of the crane and because the process is naturally going to be slower (going up and down stairs and working in tight, confined spaces), the price point will simply be higher for rooftop jobs than ground-level decks.
5. Potential Materials for Your Rooftop Project
Many materials are possible in a rooftop deck, from decking boards to Mbrico deck tiles to stone tile decks. It largely depends on climate (how much harsh direct sun the deck will be exposed to) and the existing structure. That is, what can the original building accommodate?
It might be necessary to update the beams and rafters of the existing structure, and it's also common to simply redo the roof before installing the deck. After the deck has been installed, it becomes more difficult to gain access to the roof, so if it hasn't been done in ten to twenty years, updating the roof tends to be step one in this deck-building process. Also be aware that any attachments to the house will need to be flashed and waterproofed to avoid water problems down the line.
For more information about rooftop deck designs in Washington, DC, Maryland, or Virginia, give us a shout today!